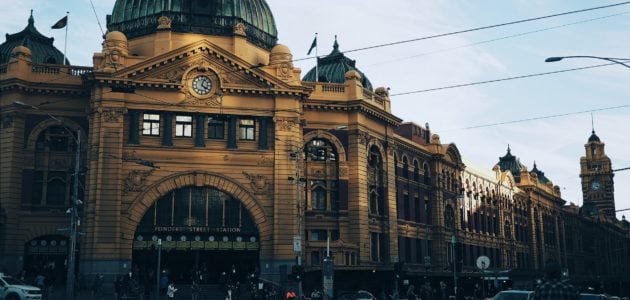 It's important to keep your acting muscles fit, flexible and working. How do you do that? With ongoing training. Here's some great places to study acting part-time in Melbourne and keep up the practice:
16th Street Actor's Studio have developed a reputation as the masterclass masters. They have managed to attract some of the best acting coaches from around the world to their facilities. They offer Masterclasses, Workshops and Technique Classes with the likes of Larry Moss, Elizabeth Kemp, Ian Rickson, Les Chantery and more. Classes run for 6 weeks, 1 class a week and cover a variety of techniques, like Uta Hagen, Chubbuck, as well as Improvisation and Director's Scene Study. Masterclasses are typically between 3 – 5 days and are much more intensive. If you are looking to explore a specific area of your acting, a 16th St masterclass can be a great way to go, but it's important to be working on a weekly basis as well. A break-through alone won't make you a better actor.
Howard Fine Acting Studio offers Intensive 4 day Masterclasses, Full-Time & Part-time training, as well as 1 year Youth Courses. Your other option is an Open Access Scene Study course – this course is designed for students who wish to jump straight into exploring the techniques championed by the studio.
Howard Fine is an incredible acting coach and if you're in Melbourne, we would highly recommend checking out this studio.
Justin Lehmann specialises in teaching Sanford Meisner's Repetition exercise inspired by the teachings of master teacher William Esper, coupled with his trademark 'instrument expansion' work known as Actor's Core. Classes run on a term by term basis, running for 8 weeks, with either a 1 or 2 classes-per-week options.
"If you're seeking to experience the joy of being spontaneous, alive, connected to your partner and in turn yourself, then you will want to experience this technique."
Brave Studios are a well-established film and television school offering courses in acting for television and film, TV presenting, voice, Alexander technique and auditioning workshops.
Brave Studios has a range of acting workshops and courses available for aspiring actors or those who wish to develop their skills and they keep the size of classes small. The acting for film and television course is run over 3 levels – Beginner Actors Workshop and Advanced (they can advise you on which course would best suit your experience). If you're an absolute beginner you can get a taste of what the courses involve by completing a 3 hour 'Introduction to Acting' Workshop.
For the more experienced/professional actor, they offer Professional Acting Workshops under the direction of some of Australia's best directors. Brave Studios also offers Voice class and Alexander Technique classes with Australia's best coaches. Coaches that come highly recommended include Rob Meldrum, Thea McLeod & Penny McDonald.
The National Theatre Drama School is one of Australia's original drama schools, boasting a list of well-known graduates like Kat Stewart, Esther Hannahford and Richard Cawthorne, it has earned it top praise in the industry. They offer 3 years Full-Time training, a Youth Acting course and a Foundation Acting course. The Foundation course is a great stepping stone for any student who wishes to get a taste of Full-Time training before committing to a 3 Year program. 
The Film & Television Studio was started by Craig and Dominique McMahon in 1998 and has been responsible for training some of Australia's most exciting talent. Focusing on OnScreen Acting, this studio offers a Full-Time, Part-Time, Foundation and Term Classes. At the end of each program, students are offered the opportunity to audition for Casting Directors, Directors and Producers. A great studio to attend if you are in Melbourne and are wanting to better your on-screen technique. 
Championed by Peter Kalos, The Lab is Melbourne's go-to 'Method Acting' school. Focusing on the original method developed by Lee Strasberg, The Labs focus is clear, to guild actors to take their work to a new level with one goal – to truthfully be that character in that circumstance. Having trained with teachers such as Stella Adler and Anna Strasberg, Peter is the perfect person to be teaching this technique to actors. The Lab offers on-going classes in 8-week blocks, which allows flexibility for actors. 
PEM or The Perdekamp Emotional Method is a technique developed by German Director and Playwright Stephan Perdekamp. PEM is a method based on biology which gives actors repeatable and direct access to authentic emotion on a physical basis. A fairly new school, it's an interesting method that hasn't been seen much in Australia.