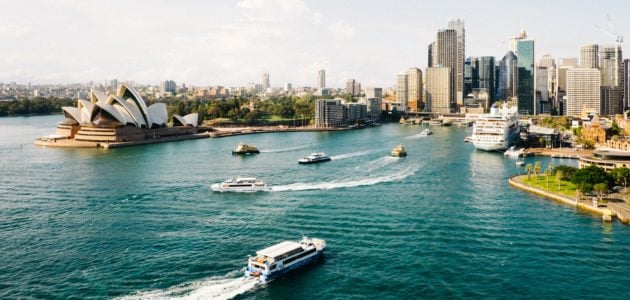 Constantly honing your craft is vital as an actor. If you are currently not working as an actor you need to be in acting class; simple as that. Acting is like any other craft and it requires constant work to grow, develop, and maintain. Sydney is a vibrant international city, and the hub for acting in Australia. There are plenty of opportunities to study acting including weekly courses, masterclasses, and short courses.
It's a great idea to ask your agent, or honestly assess for yourself, where you need to focus your attention as an actor. Are you struggling with your work on screen, or is it your voice that's holding you back? It might not be that you need acting classes, but voice or movement classes first. They all work together to benefit your acting.
There are a number of classes to choose from. Here are a few places that offer acting lessons in Sydney we highly recommend. One final thing before we dive in: Make sure you're not paying too much for classes!
Updated January, 25th 2021 
Where to Find Acting Classes in Sydney
The HubStudio was set up by actors Oliver Wenn and Natalie Rees. They are both young, passionate actors who started the school to help actors at all levels in their careers. They have been leading the way in affordable acting training in Sydney over the past few years. They seek out fantastic teachers and really endeavour to help early career actors. They also have a program called "Ensemble" where actors can pay a yearly fee, and train more often throughout the year. We can't recommend the Hub highly enough for acting lessons in Sydney.
If you're looking for acting lessons in Sydney, and you haven't heard about Les Chantery's courses, you're living under a rock. Les is a rockstar of the local acting scene and his course is a must for actors. His core focus is on self testing and screen auditions, so if these are areas you're interested in developing check out his courses.
The Anthony Meindl Actor's Workshop is well known across the globe. There are AMAW schools from Toronto, to LA, and now, Sydney! The philosophy of these acting lessons are a focuses on letting go, and surrendering to the work and the moment. You won't be asked to over-rehearse (or even learn your lines) but instead take risks and follow your intuition to find authenticity in your work. If you need a break from thinking about your physical/vocal 'technique', or are thinking too hard about your given circumstances, this is the perfect place for you.
Once you've completed the 6-week foundation course at AMAW, you'll be able to train on a casual weekly basis at the studio where you'll work on different scenes each week.
NIDA is famous for its highly competitive 3 year acting course, but they also offer a number of shorter courses. These courses typically don't require any auditioning, and cover both screen and stage mediums. They can be on the more expensive side, but definitely worth looking into. (More on NIDA)
Screenwise offers a range of acting lessons in Sydney, focusing mainly on Screen Acting. They offer short courses (for beginners, intermediate and advanced), masterclasses, and weekly screen acting classes for teens.
Relatively new to the scene, Sydney Acting Studio (Previously Redfern Acting Studio) are based in the heart of Redfern, and offer weekly classes for Film, Television and Theatre. As far as techniques go, they offer a unique blend of Meisner, Stellar Adler, Lee Strasberg, and Michael Chekhov to their students. This would be a great place to hone your skills once a week, or once a fortnight. 
Sydney Actors Collective, or SAC haven't been around long, but they've quickly established a wonderful ethos; it's all about hard work. They claim their studio is free of BS, and we believe them! Definitely head along to a couple weekly classes at SAC, meet the wonderful teachers and students, and keep your acting skills sharp and flexible.
Whilst yes, Improv isn't technically "acting" we highly recommend all actors try out some improvisation classes. The techniques and tools you will learn while improvising are invaluable, and will only benefit your acting (particularly when it comes to auditions.) It also happens to be a bucketload of fun! Check out ITS in Redfern, and challenge yourself!
Anthony Brandon Wong Masterclasses
Anthony is a wonderful and inspiring teacher who focuses on the Ivana Chubbuck technique. He doesn't offer ongoing classes at this stage, but does the occasional 2 or 3 day long intensives. With Anthony, you'll dive deep into the Chubbuck technique, and work on some fantastic scenes.
TAFTA
Another great provider of acting lessons in Sydney is TAFTA. They offer a selection of courses and they work with some of the best teachers and coaches in town. They have been running since 1994 and are a great option for actors at all levels.
Other Sydney Acting Classes
The Actors Pulse
Sydney Drama School 
If you are looking to study full time at a Drama School in Australia check out our list of acting schools.
And if you're living in a remote city, or can't afford to do acting classes every week, you're welcome to join us in StageMilk Drama Club. It's an online scene club where actors from all over the world come together to work on their acting, and support each other in our tight-knit, passionate community. We send in self-tapes every month, and get personal feedback from industry professionals in video format!