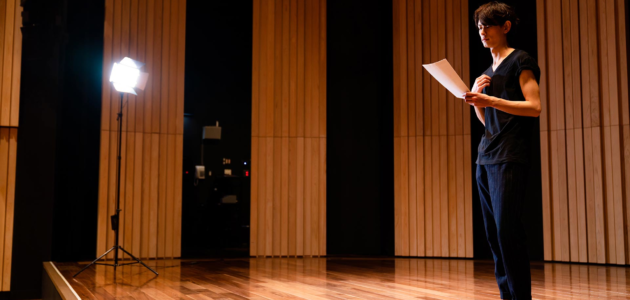 Adriana Monologue (Act 2, Scene 2)
Adriana rails against Antipholus of Syracuse in the middle of the streets in Ephesus, believing that he is her husband. He is not. He is in fact, her husband's identical twin brother. Let me set the rather complicated scene.
Egeon and Emelia lived in Syracuse. They had identical twin sons. For their sons, they purchased identical twin servants. While travelling by ship, they were struck by a violent storm and the family were separated, half ending up back in Syracuse and the other half finding their way to Ephesus.
Believing the other half of his family had perished at sea, Egeon renamed his living son and his son's servant. Antipholus for the son and Dromio for his servant, naming them after the 'deceased' Antipholus and Dromio. Hence we end up with two sets of identical twins called: Antipholus of Syracuse and Antipholus of Ephesus, Dromio of Syracuse and Dromio of Ephesus. Best to draw a family tree.
Once they came of age, Antipholus and Dromio of Syracuse head off in search of their twin brothers and mother. By chance, they arrive in Ephesus where Antipholus and Dromio of Ephesus live.
Antipholus of Ephesus lives with his wife, Adriana and her sister Luciana. When Adriana and Luciana stumble upon Antipholus and Dromio of Syracuse in the streets of Ephesus, Adriana believes this to be her husband and his servant…and the comedy of errors ensues.
Language and Thought Breakdown
The Comedy of Errors is one of Shakespeare's earliest plays and has very strong use of verse. In fact 85% of the play is in iambic pentameter and there is also plenty of rhyme.
What stands out most to me in this monologue is it's arc and the way it progresses. The ideas, the rhetorical questions, the imagery and language become more and more frantic and wild as Adriana goes along. It feels as if she is moving at great pace, barely pausing for a response from Antipholus. An indication of this is the repetition of "And… And… And" as her thoughts seem to be pouring out of her at such a fast rate that he is unable to get a word in.
There's a lot to unpack here so let's dive straight in and do a breakdown of the text to see if it reveals clues into the character, her thoughts and emotional state.
Thought Change: /
Beat Change: Space
Feminine Ending: (F)
[FULL TEXT]: Adriana: Ay, ay, Antipholus, look strange, and frown…
Adriana:
Ay, ay, Antipholus, look strange, and frown: /
Some other mistress hath thy sweet aspects, /
I am not Adriana, nor thy wife. /
The time was once when thou unurged wouldst vow /
That never words were music to thine ear, /
That never object pleasing in thine eye, /
That never touch well welcome to thy hand, /
That never meat sweet-savour'd in thy taste, /
Unless I spake, or look'd, or touch'd, or carv'd to thee. /
How comes it now, my husband, O! how comes it, /
That thou art thus estranged from thyself? /
Thyself I call it, being strange to me, /
That, undividable, incorporate, /
Am better than thy dear self's better part. /
Ah! do not tear away thyself from me, /
For know, my love, as easy mayst thou fall
A drop of water in the breaking gulf, /
And take unmingled thence that drop again, /
Without addition or diminishing, /
As take from me thyself and not me too. /
How dearly would it touch thee to the quick, /
Shouldst thou but hear I were licentious, /
And that this body, consecrate to thee, /
By ruffian lust should be contaminate! /
Wouldst thou not spit at me and spurn at me, /
And hurl the name of husband in my face, /
And tear the stain'd skin off my harlot-brow, /
And from my false hand cut the wedding-ring
And break it with a deep-divorcing vow? /
I know thou canst; and therefore, see thou do it. /
I am possess'd with an adulterate blot; /
My blood is mingled with the crime of lust: /
For if we two be one and thou play false, /
I do digest the poison of thy flesh, /
Being strumpeted by thy contagion. /
Keep then fair league and truce with thy true bed; /
I live unstain'd, thou undishonoured. /
Modern Translation
Adriana:
Yes, yes Antipholus, look confused and frown at me,
Some other woman has your kind looks,
I'm not Adriana, or your wife.
There was a time that without being promoted you would swear,
That no words were music to your ear,
No object was pleasing for you to look at,
Nothing you touched was a welcomed pleasure,
No meat tasted sweet in your mouth,
Unless I spoke, looked, touched, or carved it for you.
What has happened, my husband, what has happened,
That you're now a stranger to yourself?
I say 'yourself' because you're a stranger to me,
Your other half, indivisible, united in one body,
As greater part of you as you are.
Ah! Don't tear yourself away from me,
Know this, my love: it would be as easy to let fall
a single droplet of water into the ocean,
And get that droplet back again,
Without adding or losing any water,
As take yourself away from me without taking myself as well.
How terribly would it cut you to the bone,
If you only heard that I'd been unfaithful,
And that my body, dedicated to yours,
Was contaminated by foul lust?
Wouldn't you spit on me and strike me,
And throw the word 'husband' in my face,
And rip the make-up-stained-skin from off my cheating forehead,
And cut off the wedding ring from my unfaithful hand,
And destroy the ring with a solemn vow to divorce me?
I know you can, and so do it.
I am smothered now in the stain of adultery,
My blood is poisoned with the crime of lust,
For if we are one person and you cheat on me,
The poisonous sin of your flesh enters mine,
Making me a whore through your contagion.
If you remain faithful to me, to your true bed,
My reputation will remain intact and so will your honour.
Unfamiliar Words & Phrases
Strange: Without recognition, confused.
Aspects: Looks. In other words, the way someone looks at someone else.
Unurged: Unprompted, without urging.
Carved: Sliced meat.
Estranged from thyself: A stranger to yourself, unlike yourself.
Incorporate: Indivisible, united in a single body.
Better part: The best part, the highest qualities in someone.
Fall: To let fall.
Breaking gulf: Ocean or the sea.
Dearly: awfully, grievously.
Quick: The most tender part of you.
Consecrate: Dedicate or sacred, sanctified.
Spurn: To hit or strike.
Stained: Refers to make up stained upon a face or possibly a metaphor for tarnished by lust and adultery.
False: Unfaithful.
Blot: Stain.
Blood is mingled: When people made love it was thought that their bloods would mix.
Strumpeted: Made into a whore.
Distained: Unstained.
Conclusion
I really love this character and monologue because of how contemporary it feels from the very opening line; 'yes yes of course… look weird as if you don't recognise me'! It has such a comedic and sarcastic tone, full of energy. However, at the heart of this piece, lies the truth of a woman; deeply in love and insecure that her husband is being unfaithful to her. As far as Adriana's concerned, this man is her husband and he is cheating on her. That's the way to play it. For truth.
Although a comedy, this character isn't trying to be funny. Adriana is in the middle of the streets of Ephesus, accusing her husband of being an adulterer. This is in and of itself, pretty funny – I would certainly watch this argument play out in the street if I happened to be passing by. But the real joke lies in the dramatic irony that the audience is aware of; this man is in fact, not her husband at all. It's a gift for an actor to let the audience do the work for you and and play it for truth. It will be funny by accident!
As for the arc of the scene it's really interesting how progressively more and more dark and violent the language becomes. When Adriana doesn't get the response that she is looking for, she is forced to up the ante and the stakes. I mean…What does she possibly have to say to get this man to acknowledge her?
Lean into the knotty and difficult language. The thoughts and ideas are purposely complicated. This is a wonderful sign of comedy and Adriana's headspace: a character that will do or say anything to win her husband back. Imagine being in Antipholus' shoes and not understanding a single idea that's being said. Perhaps we as an audience are meant to feel like Antipholus of Syracuse and think 'what on Earth is this person on about'!?
It might be useful for an actor to know that prior to this scene, Adriana and her sister Luciana, have already had a heated discussion about the fractured nature of Adriana's relationship with Antipholus. Adriana is already frustrated and upset so when she finds him in the streets, the stakes are already high.
It has been said that Shakespeare writes 'life without the boring bits' and this is certainly true in this case. Here is Adriana, out in public, unashamedly confronting the man she believes is her husband and outright accusing him of adultery before telling him to come back home and be faithful. It really is a great piece, good luck with it!