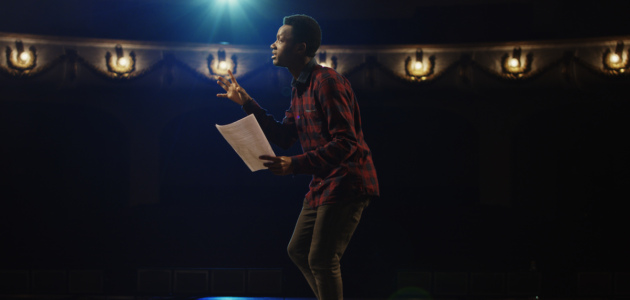 For the love of it: An Actor's Duty
Acting is not a terribly lucrative or kind industry – to state the obvious. The sensible enter with an open mind and whole lot of hope; the deluded pursue fame.
Yet nearly all actors get inevitably fixated with how they can "make it".
Instead they pursue recognition – leave lesser-known stories in the wayside, writing them off as an acceptable price for money and notoriety and forgetting their duty as an actor. Consequently the same stories habitually rule our stages.
Duty? This varies depending who you ask: to surprise and excite an audience, to know your lines, to create compelling and believable characters. These are all means to a bigger purpose, which hinges on an actor's privileged position to tell stories as a mirror to the world.
Fresh pieces or forgotten relicts offer world-changing insights that cannot found in well-worn classics. They emerge from the backrooms of drama schools, or from the clutter of independent and community theatres carried almost always by little (unpaid) people trying to tell big stories. Dorothy Hewett, a fire-cracker of a woman, was undeservedly unrenowned in her pursuit to create big stories about little people. A serial slashie: playwright/poet/ writer/feminist/communist/founder of the Australia Council's Women in the Arts.
The up-and-coming performance of her rarely-seen play "This Old Man Goes Rolling Home" at NIDA's Playhouse is a haunting betrayal of a working class family in Cold War Sydney. It's revival is a reminder of the duty of an actor. A duty where the reward doesn't include money, but requires investing time, and maybe blood, sweat and tears into giving a story worth-knowing a platform over one that is well-known.
Its characters are embezzled from real people from 1950s Redfern (where Hewett lived part of her life) and her own ridiculous and fascinating life. Deeply nuanced, the play hasn't seen a stage light for 5 years, and hasn't seen Sydney for 34. A disservice to the story of a woman named "one of Australia's best-loved and most respected writers".
Its performance next week (15-19 May) is akin to restoring a historical painting. Reviving Hewett's play has presented its cast of (unpaid) actors the opportunity to give a Sydney audience a rare window into a disregarded era. Telling a story – for the importance of it.
Finding your next meal as an actor has become such a struggle it's transformed into a cliché. But giving a voice to the little people and the little things give something money simply cannot buy – both for the audience and the actor.
Caitlin Adler plays Laurie Dockety in the upcoming New South Wales University Theatrical Society's (read: Unpaid) performance of Dorothy Hewett's This Old Man Goes Rolling Home, at NIDA's playhouse theatre 15-19 May.
Dates: 15th-19th May
Times: Tuesday – Friday 7:30pm, Saturday – 6:00pm
Venue: Nida Playhouse Theatre