Best Camera for Self-Tapes
What camera you use for self-tapes could be the difference between booking a job, and not. If it's out of focus, the quality is low, the frame rate all over the place – you will struggle to keep a casting director focused on your ACTING. Let's look at the best cameras to use for self-tapes!  
But – before we get started, I want you guys to think about two things: 
How many self-tapes do you get in 1 year?
What else will you be using a camera for? Are you a vlogger? Are you a hobby photographer or videographer? Do you want to be able to shoot your own showreel or short films? (Or even feature films?)
Keep this in mind when it comes to investing in self-tape equipment – I don't want you guys to go and buy a $2000 camera when you're only self-taping 5 times a year. Some of the insane cameras we talk about later on in the article are complete overkill just for self-taping. But if you can make use of the camera for other creative projects it might be worth investing the extra $$$
Note: in this article, we include some rough prices. These are just an estimate and based on the camera price without lenses and additional kit.

Entry-Level
If you're just getting started as an actor, you don't self-tape that often, or you're really on a tight budget – I don't suggest you go and drop $2000 on a new camera with all the bells and whistles, especially if you're rarely going to use it. Let's look at some affordable entry-level camera options. 
Smartphones
Let's start with the good old smartphone – these days, smartphones have incredible video and photo capabilities. If you know how to use it, you can achieve really professional looking self-tapes on your smartphone. I'm an Apple person, but I know that Samsung and Google also have great smartphones that can also be used for self-tapes. As long as you have a smartphone that came out after 2016, you're in good hands. So the iPhone 7, 8, 9, 10, 11 or 12 will all do wonders for self-tapes.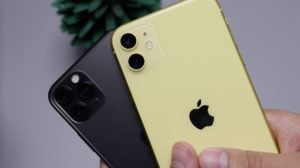 A note on the iPhone SE: Apple have introduced the iPhone SE – which is a super affordable version of the iPhone 11, but it doesn't have 2 or 3 cameras, instead it's just got the one. This makes the price point super affordable, and for our self-tape purposes, you don't need 3 different cameras – you just need the one, high quality one. 
Another note: Because obviously, most people have a smartphone already, it's not as though you're investing $1200 in a camera for self-tapes – this will also be your phone, and hopefully will last you a while! So, killing two birds with one stone, as they say!
Canon 3000D 
As far as DSLRs go, I absolutely adore Canon. They are incredibly user-friendly, well designed, and also the colour profiles on Canon cameras are wonderfully accurate, trendy and classic.
The Canon 3000D camera is a great entry-level DSLR which is more pitched at amateur photographers as opposed to videographers. So it's not specifically designed to have top of the range video capabilities – but for around $399 – including a lens, it's a pretty great deal if you ask me.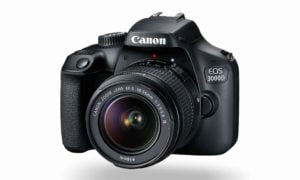 Sensor: 18MP APS-C Sensor
Movie recording size: Full HD
LCD Screen: No articulating screen or touch screen. 
However, what I will say is – if you already have, say an iPhone 11 or the equivalent – you do not need to spend $450 on a DSLR, to be honest, your iPhone is going to look just as good and probably be easier for you to use. But in saying that, the 3000D is a beautiful camera, and it will take those self-tapes to the next level. 
Intermediate Level
So say you want to upgrade from the smartphone territory, and get yourself a nice, compact, affordable little camera to shoot self-tapes on. You might be self-taping quite frequently for auditions, or perhaps you want to make a nice looking self-tape showreel, or you're just keen to invest in a camera that's really going to take your tapes to the next level. Here are some cameras that I'd recommend that come in around the $1000 mark. 
Canon EOS M50
Canon EOS M50 is the first Mirrorless body from canon which has 4K video recording. It came out about 2 years ago, and it's still holding up as a super affordable mirrorless 4K camera. It's nice and compact, and whilst you definitely don't need to shoot a self-tape in 4K, it's still a great feature to have – especially if you are maybe getting into videography or vlogging.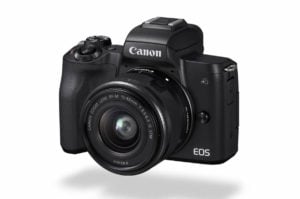 Approx. $649 with a kit lens (15-45mm)
Sensor: 24.2MP APS-C Sensor
Movie recording size: 4K
Sony A6000
The A6000 came out around 6 years ago – and it still holds up. This camera has super great autofocus capabilities – which is great for videography and vlogging and it also performs really well in low light.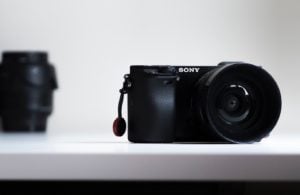 Approx. $650 includes 1x 16-50mm lens
Sensor: 24MP APS-C sensor
Movie recording size: 4K – total overkill
Again, you don't need 4K for self-tapes BUT if this camera is going to serve you in other areas, not just self-tapes, then why not? 
Downsides: this camera doesn't have an audio jack input – so you will need to either record your sound separately, and sync it later in the edit, or just use the onboard audio. I also find that I don't love the colouring of Sony images – it doesn't always flatter all skin types, and so you might find you want to do some colour grading later on. Or, at least make sure that you're lighting your self-tapes really well, so you don't look sickly and green! 
Panasonic Lumix G7 
The Lumix G7 came out back in 2015, but it's still a great camera for entry-level videographers. It's light and compact, and it's a lot of bang for your buck – BUT you have to know what you're doing to get the most out of this camera. In comparison, the Canon DSLR range is super user-friendly and it's quite easy to get beautiful looking images and video without being a cinematographer. It's great for guerilla filmmaking – the battery life is great, and you can definitely put some super slick cinematic lenses on this camera to make short films. 
Approx. $498 includes 1x 14-42mm Lens
Sensor: 16MP Micro Four Thirds
Movie recording size: 4K – total overkill
LCD Screen: Articulating Screen & Touch screen
Downsides: the recording format is in an MP4 codec – which are essentially really highly compressed files, which means that your computer may struggle to edit these files. So file-handling can be an issue if you don't know how to do it. Similarly, I don't love the Panasonic colour profiles – when I shoot on Panasonic, I always shoot in the "RAW"-est colour profile and then do a colour grade on the footage. But, I'm sure the average actor probably doesn't know how to do that, nor wants to do that. So that's something else to think about. 

Professional Level 
Okay, now if you're serious about investing over $1000 in a new camera that you're going to use for self-tapes, perhaps make a short film, or even do some photography – here's a couple cameras I'd recommend. 
Sony A6400
The Sony A6000 range is really performing well in the industry – the A6400 features a much improved AF performance – which vloggers are loving, low light sensitivity has been improved and it also has an updated 180-degree flip screen. Which again, is helpful for self-tapes. Unlike the first of it's kind, the A6400 has a microphone jack and a hot-shoe mount – so you can put a microphone on top of this camera body.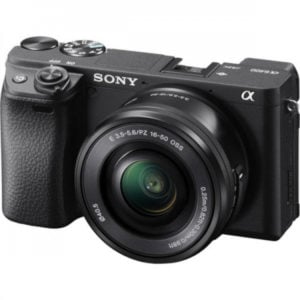 Approx. $898 body only
Sensor: 24.2MP APS-C Sensor
Movie recording size: 4K
LCD Screen: 180-degree Flip Screen & Touch screen
Canon 80D / T7i
This camera, unlike the 3000D we mentioned before, was designed for video as well as photography – it has a flip-out viewscreen which is ideal for videographers and vloggers, as well as a larger sensor and better autofocus capabilities than the 3000D. You could also definitely use this camera for photography – it, of course, won't be as good as say, the 5D or 7D – but if you're just starting out – the 80D is an awesome package.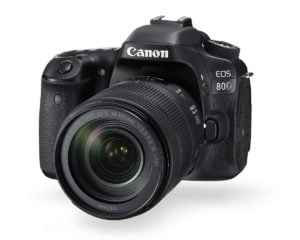 Approx. $799 body only
Sensor: 24.2MP APS-C Sensor
Movie recording size: Full HD
LCD Screen: Articulating Screen & Touch screen
This is the camera I often use for self-tapes – it's not cinema-quality, but it definitely doesn't need to be. Because I've got some nice lights, a great backdrop and good audio equipment – the 80D is more than capable of shooting a fantastic self-tape. 
Canon 90D –
StageMilk Favourite! 
The Canon 90D was released in late 2019, here at StageMilk we use the 90D for our YouTube content as a B camera – it's basically the 80D, but new and improved. It's got a bigger sensor, and 4K shooting. Which makes it perfect for those wanting to do some videography, photography and potentially even make a short film. The sensor size is the biggest we've seen so far on this list – which means you can get some incredible looking images and footages on this camera. 
Approx. $1199 body only
Sensor: 32.5 MP APS-C size sensor
Movie recording size: 4K
LCD Screen: Articulating Screen & Touch screen
Size-wise, it's a little bigger and heavier than the other cameras we've mentioned – but for self-tapes, you're just sticking it on a tripod anyway.

Filmmaker Level
So, I figured I'd mention some mirrorless cameras that are in the $2500 and above price range because I know some of you might be looking to invest some decent money in a camera that will double as a self-tape camera, as well as a camera for shooting short films. Or perhaps you are a tech nerd, with a desire for shiny things – I know I certainly am! 
Canon EOS R range –
StageMilk Favourite! 
Personally, I'm pretty excited about the Canon R range – these cameras are mirrorless, with 4K shooting and great in low light (all of the qualities I loved in the Panasonics and the Sony mirrorless cameras) BUT it also has the beautiful canon colour profile that I love! It's truly a win-win, which is why I bought the Canon EOS R earlier this year, and I'm absolutely loving it. With some great lenses, you could easily shoot a short film, heck even maybe an Indie feature film on these cameras. 
The EOS R will cost you around $1799  for the body only.
The EOS R5 and R6 are about $3899 and $2499 respectively (body only). 
Panasonic GH5
The GH5 is one of the most impressive compact mirrorless cameras out there – it's been heralded by filmmakers, vloggers and videographers for packing so much into such a compact body and at a brilliant price point.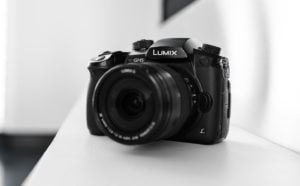 The GH5 is $1997 and the GH5 S is $2497 (both body only)
Again – you could shoot short films, feature films, vlogs, wedding videos – whatever you want on this camera! So total overkill for self-tapes, but like I said – if you really want to go all out, then I say go for it! 
Sony a7S
And finally, I'll mention the Sony a7s – there is no limit on what you can do with the a7s – like the GH5 and R range, you can 100% shoot some incredible short films, feature films etc. on this camera. With great low-light capabilities and a full-frame sensor all packed into a compact, light body – this camera is a dream for most.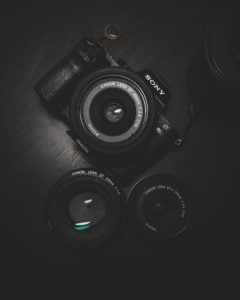 Approx. $2498 (body only)
Conclusion
There are so many cameras out there, and if you're not a trained filmmaker, it can be really hard to see the woods through the trees here. We wanted to give you guys a good solid list of some cameras which would be great for filming your self-tapes, but also could be used for hobby photography, videography, vlogging and maybe even some short films. 
Again, take some time when investing in equipment – do all the research you need and if you're not sure if you'll make use of the camera that often, we don't advise you go spending $2000 straight off the bat. Happy taping guys! 
Any questions about gear? Hit us up on Instagram or Facebook, we're always happy to help! 
* Images taken from retailers of these cameras are used here for the purposes of reviewing these products *