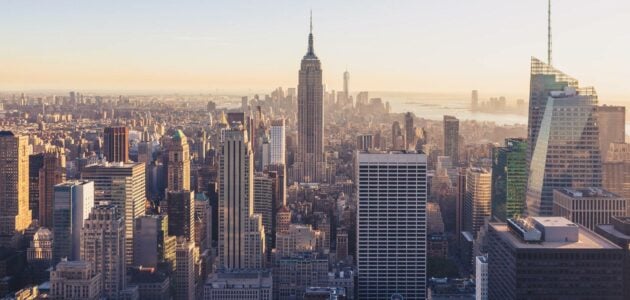 Best Headshot Photographers New York
NYC Headshot Photographers that Rock
Real talk: there are some pretty heinous headshots floating around out there. From poor pixelated prints to unrecognisable glamazons, it seems like certain actors have been steered in the wrong direction when it comes to marketing themselves. There are even a handful of hopefuls using selfies, which, unless they're auditioning for the Kardashians, probably won't impress casting.
A headshot is your number one tool as a performer. While it should represent you in the best light possible, it has to actually look like you. We know it can be hard to weed through the cluster of photographers swarming the concrete jungle. So, we've taken the liberty of compiling a list of our favourite headshot photographers in New York City:
Run by "superhuman-power couple" Amanda Pinto and Jake Nathanson, Sub/Urban is far from subpar (see what I did there?). With an emphasis on making clients look and feel their best (hair and makeup maven Alex Rivera aids in that), they make getting headshots done feel like a party. Boasting low prices, a low-key atmosphere and phenomenal playlists, Sub/Urban is a treat for actors.
If you're looking for a more intimate setting, Xanthe is your girl! A former actor and casting professional, she understands actors and what makes a great headshot. While she has a standard fee, Xanthe notes on her website that she is willing to scale prices based on an actor's income and needs.
You may recognize David's work, as he's shot some of the brightest in the business (including Oscar winner Lupita Nyong'O. With a passion for capturing unique and expressive images, David aims to assist his clients in standing out. Pricing is a little higher than others on this list, but if you can afford him, he's definitely worth it!
This award-winner has photographed legends like Michael Jackson and Meryl Streep (praise), and you could be next! Barry strives to "capture the essence of the moment in every photograph." His work is regularly featured in major publications like Rolling Stone and New York Magazine. Despite all of his accolades, he remains reasonably priced!
Originally a performer herself, Emily has earned a wonderful reputation for producing amazing headshots. Her clients have appeared on Broadway, TV shows and more. She's open to meeting for coffee if you'd like to hear more about her style of work!
Joe is a fantastic headshot photographer based in New York. He's passionate about helping actors and is one of the more affordable options in town. Also just an all round great bloke. Definitely have a look at his work.
Nick Coleman is also a working actor and filmmaker. He knows what it's like to hunt down roles, go to gruelling auditions, and navigate the ever-evolving world of the modern actor. He's dedicated to lending a helping hand, and helping you take unique and eye-catching images that are going to lead to more auditions.
Tess Steinkolk is a professional NYC Lifestyle and Traditional Headshot and Portrait Photographer. Tess' Photography is notable for capturing the inner qualities of her subjects in studio and on location.
"Dorothy's studio is full of life (literally, pets galore!). In a beautiful location right by Central Park there were plenty of complementary outdoor locations in addition to the indoor studio. From the first time we chatted, I could tell Dorothy was very knowledgeable about her craft. Our session was no different. She took the time to go over my casting profiles with me and help me pinpoint what my profile needed. It's clear Dorothy has over 25 years of experience in the industry. She knows exactly how to get the best shot and wastes no time doing it. Our session was efficient without sacrificing detail. All I had to worry about was showing up and feeling my best. In addition to getting some great shots, I loved chatting with Dorothy during our session about her experiences and adventures photographing for everyone from Disney to Whitney Houston!" – one of our StageMilk team!
StageMilk Headshots
In every major city around the world we offer affordable headshots. We work with a select group of photographers that we hand pick. If you are looking for a safe, affordable option that is backed by the most trusted acting website in the world, get in touch today: [email protected]

Choosing the Right Headshot Photographer
Look at previous work. It's always important to research each headshot photographer before locking in your shoot. Have a look at their previous work and make sure you like the look of their work.
Discuss with your rep. It's always worth running the decision by your agent or manager. They know what works and are the ones who will be pushing you so make sure it's a joint decision.
Ask your peers. Once you've narrowed it down I recommend asking actors you know have worked with the photographer. You want to make sure you're working with someone who makes you feel relaxed and comfortable in the shoot. (More on getting a great headshot)
All the best!