Best Plays by Federico García Lorca
A Bit About Federico García Lorca
Federico García Lorca was an acclaimed poet, playwright and theatre director. As a Spanish artist, he achieved much in his short life of 38 years, at the end of which he was killed in 1936 by fascist Nationalist forces at the end of the Spanish Civil War. Creatively he is strongly associated with the Generation of '27 Movement, from which members introduced the tenets of European movements into Spanish literature, including symbolism, futurism and surrealism. This group included members such as Salvador Dali and Luis Buñuel. While it was Lorca's poetry that drew great acclaim during his life, he later gained notability as a playwright.
Born in 1898 in a small town outside of Granada in Spain, Lorca's parents worked as a prosperous sugar farm owner and a pianist and teacher. As a child Lorca had a deep affinity for music, more so than writing, studying the piano for 6 years as a child and dreaming of a career in music. Later studied law, alongside literature and composition, at the University of Granada before relocating to Madrid in 1919 to focus on his writing. This was where he became associated with the Generation of '27 Movement and his exposure to surrealism strongly influenced his writing.
Lorca published innumerable volumes of poetry throughout his life, often detailing stories of romantic love and tragedy and incorporated elements of Spanish folklore, Gypsy culture and deep songs. He received extensive critical attention with the publishing of Romancero Gitano, or Gypsy Ballads in 1928 and opened him up to move to New York the following year. When he returned to Spain he co-founded a traveling theatre company called La Barraca. The company performed Spanish classics as well as Lorca's original plays in town squares. It was funded by the Spanish Second Republic's Ministry of Education and aimed to introduce audiences to classical Spanish theatre free of charge.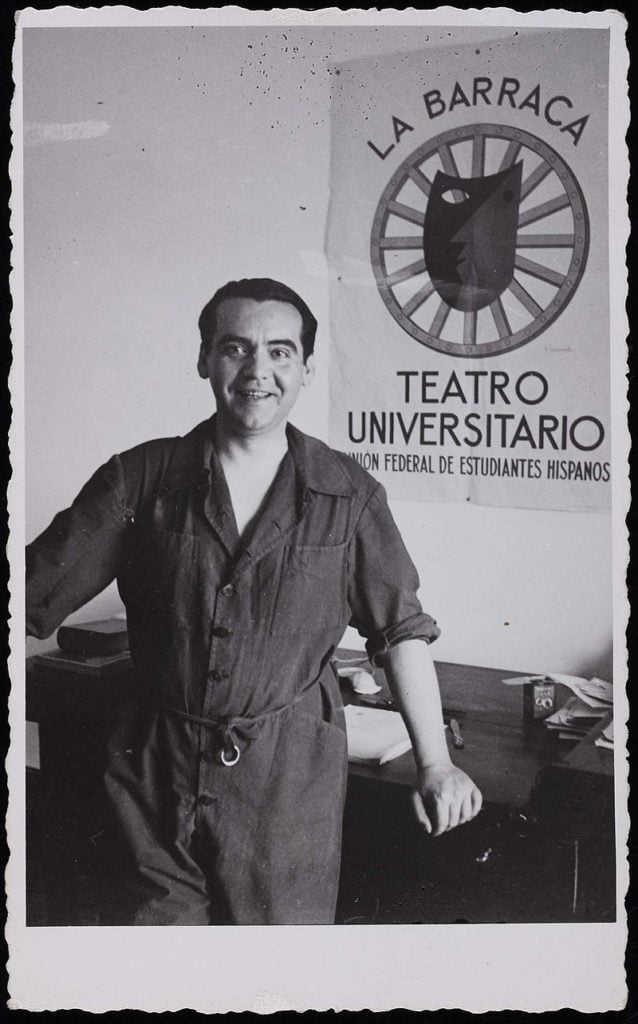 Much has been made of Lorca's close relationship with renowned artist Salvador Dali. In 1925 Lorca created a portrait of Dali in 1925 and Dali created many portraits of Lorca. The two have been romantically linked, much of this theory has been inspired by Lorca's devoted descriptions of his friend in his poem, Ode to Salvador Dali. Suggestions of a romantic relationship by commentators remain unconfirmed. Of the relationship, Dali said in a 1969 interview, "He was homosexual, as everyone knows, and madly in love with me. He tried to screw me twice… I was extremely annoyed, because I wasn't homosexual, and I wasn't interested in giving in…so nothing came of it."
In the lead up to the Spanish Civil War, a fascist movement was building momentum in the country. In spite of this, Lorca refused to hide his socialist views and homosexuality. At the beginning of the Civil War in August 1936 Lorca was arrested in his home by Francisco Franco's soldiers. He was executed by firing squad a few days later. Certain commentators have claimed that Lorca's sexual orientation was a motive for his execution, while others have claimed that his assassination was part of a campaign to eliminate support for the Leftist Popular Front. His remains have never been found.
Top Five Plays by Federico García Lorca
Blood Wedding (1933)
Yerma (1934)
The Shoemaker's Prodigious Wife (1926)
Mariana Pineda (1927)
The House of Bernarda Alba (1936)
Quotes by Federico García Lorca
"Theatre is poetry that rises from the book and becomes human enough to talk and shout, weep and despair."

"To burn with desire and keep quiet about it is the greatest punishment we can bring on ourselves."

"The artist, and particularly the poet, is always an anarchist in the best sense of the word. He must heed only the call that arises within him from three strong voices: the voice of death, with all its foreboding, the voice of love and the voice of art."

"At the heart of all great art is essential melancholy."