David Hare is an acclaimed British playwright, as well as a screenwriter and director for theatre and film. He is a recipient and nominee of numerous awards, including two Laurence Olivier awards, New York Drama Critics Circle Award and a BAFTA award. He was knighted in 1998.
Hare received two Academy Award nominations for his work as a screenwriter for The Hours and The Reader. Hare founded a film company called Greenpoint Films in 1982, under which he has written a number of screenplays, including adapting his play Plenty into a film starring Meryl Streep in 1985.
Brought up in Brexhill, Hare won scholarships as a young person to study at Lancing College and then later at Cambridge. As a Cambridge graduate he headed straight into theatre and attributes that path to his love for theatre as a child. He ran a small theatre group from a van called Portable Theatre from 1968-1971 and wanted the aim for theatre to shock people and take audiences somewhere new. This was the context where he first started writing plays and discovered he had a flair especially for writing dialogue.
Hare was Resident Dramatist at the Royal Court Theatre, London, from 1970 to 1971, and in 1973 became resident dramatist at the Nottingham Playhouse. He co-founded the Joint Stock Theatre Company with David Aukin and Max Stafford-Clark in 1975.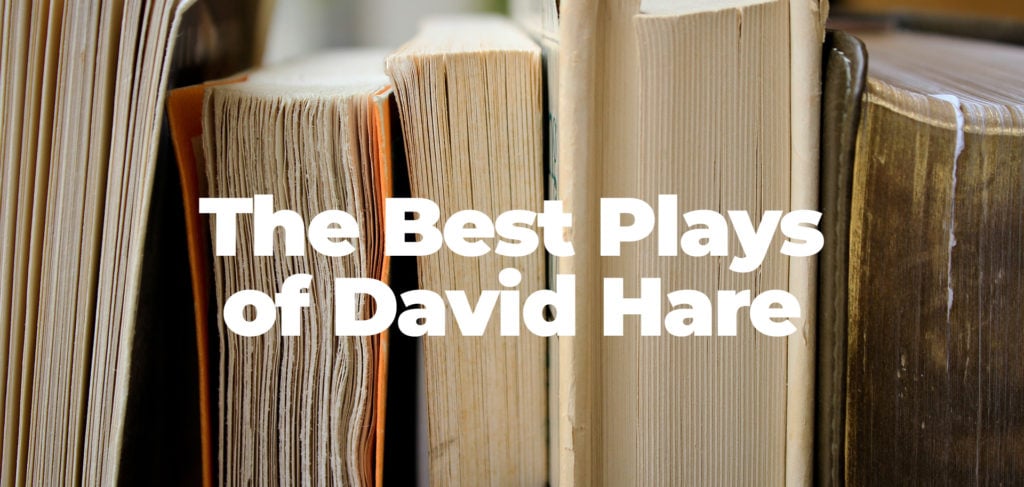 Top Five David Hare Plays
Plenty
Skylight
Racing Demon
Amy's View
Stuff Happens
Other David Hare Plays
Slag (1970)
The Great Exhibition (1972)
Brassneck (1973) (with Howard Brenton)
Knuckle (1974)
Teeth 'n' Smiles (1975)
A Map of the World (1982)
Pravda (1985) (with Howard Brenton)
The Bay at Nice, and Wrecked Eggs (1986)
The Secret Rapture (1988)
Murmuring Judges (1991)
The Absence of War (1993)
The Judas Kiss (1998)
Via Dolorosa (1998)
My Zinc Bed (2000)
The Breath of Life (2002)
The Permanent Way (2003)
The Vertical Hour (2006)
Gethsemane (2008)
Berlin (2009)
Wall (2009)
The Power of Yes (2009)
South Downs (2011)
The Moderate Soprano (2015)
I'm Not Running (2018)
Beat the Devil (2020)
Quotes by David Hare
"It's wonderful fortune for a writer to be born somewhere boring."

"All good dramatists are scared of the audience."

"It's true that although theatre's highs are quite few, they are peculiarly pure. Those moments when a group of disparate people feel their way towards a common dream are exhilarating."

"I'm provoked by the amount of unnecessary suffering there is. Politics, like medicine, should be there to relieve suffering. Clearly at the moment it is not doing its job."

"Screen and stage are such completely different forms. To have managed to do passable work in both of them is something I'm incredibly proud of."

"You can't write a play like Amy's View without confronting the ugliest in yourself and scouring it. It's a huge emotional effort, and then there is the humiliation of listening to the audience. The humiliation of putting yourself in a position of being judged by eight or nine hundred people is very very undignified."