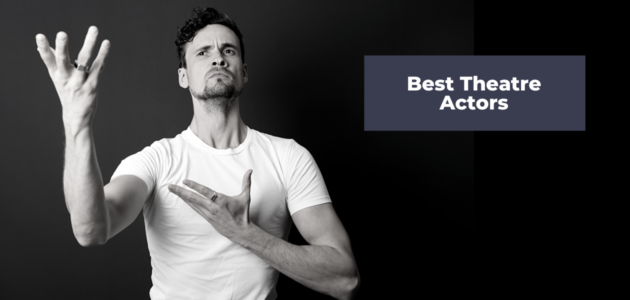 We wouldn't have actors if it weren't for theatre— the magical medium that kicked off our species' collective obsession with make-believe, performance and story thousands of years ago. And while that sentence might read like The Most Obvious Thing Ever Written, it's actually worth some thought: theatre is such an important medium for actors, and yet, these days, it's often regarded as an afterthought by contemporary performers coming up in the streaming era.
This article lists the best theatre actors working on stages today. Some of these names will be extremely familiar to you, perhaps due to their work in film and television. Others will be more obscure, or recognisable after a quick Google search of their face or CV. Regardless, these are actors to know, to study and to love.
Before we jump in, our usual disclaimer: the names on this list are purely the opinions of us good folk at StageMilk. They were chosen after much debate, and selected from a "long list" that well and truly lived up to its name. That being said, we'd be thrilled to hear any suggestions you have of names you'd like to see added. Feel free to email us or comment below so we can keep this resource growing!
Acting for Theatre
Why make a list of the best theatre actors? Because stage acting is a tough gig. It requires training, conviction, focus and an incredibly thick skin. And while you think on that, consider this: while some performances are now being filmed for posterity, the overwhelming majority of theatre is performed for a few weeks or months and never seen again. Like tears in rain.
So it stands to reason that the best theatre actors are going to teach you a great deal about your craft. How do they approach a performance that requires continued effort and realisation of a character? How do they work with others, and command their voice and body in a space that would engulf any other (untrained) human being?
Acting for theatre is a challenge. Once you can identify what makes an actor great on a stage, you can learn a great deal that will come in handy when crafting your own performances.
Best Theatre Actors
James Earl Jones
Living legend James Earl Jones is best known as the voice actor for Darth Vader in the Star Wars franchise, as well as the murdered king in one of Shakespeare's greatest film adaptations of Hamlet. While his voice is instantly recognisable and his film credits are extensive, Jones is also regarded as one of the world's greatest stage actors. He debuted on Broadway in 1957, distinguishing himself as a Shakespearean actor. However, his work in theatre has continued through to this day—earning him three Tony Awards and countless other accolades. In 2022, the Manhattan-based James Earl Jones Theatre was renamed in his honour.
Tom Hiddleston
Tom Hiddleston is one of those actors who seemingly exploded over the last ten-or-so years, and has never looked back. All things Loki aside, Hiddleston spent the first decade of his career working on stage; despite his meteoric rise, he still finds time to take on fascinating and complex theatre roles—including a lauded run as Hamlet in 2017 directed by Kenneth Branagh. Hiddleston only made his Broadway debut in 2019, so it's safe to say we have many years ahead of us to catch his brilliance in person.
Viola Davis
There are few actors working today with quite so much clout and respect as Viola Davis. In the 1990's and 2000's, she rose to the top of the theatre world, earning both an Obie and Tony Award within two years of each other. Her early film and television career was solid, although her breakout was 2008's Doubt, for which she was nominated for Best Supporting Actress. Davis is one of the most recognised and decorated actors in the business—as of the writing of this article, she has achieved the extremely rare EGOT status. And while her continuing work in several film franchises keeps her from stage work, we can only hope she'll return to her roots in the future.
Simon Russell Beale
Ask an actor who their favourite stage performers are, and there's a good chance they'll mention Simon Russell Beale. Beale has been acting in film and television since the 1990's, however he is best known and loved as one of theatre's champions in the modern age. He spent his early career working with the Royal Shakespeare Company (RSC), where he met frequent collaborator Sam Mendes. Since the 1990's, Beale is most commonly associated with the National Theatre, contributing some truly iconic performances across every conceivable genre. There are many clips of his stage work online; below, we've opted to include one of the many instances of him talking about and exploring his craft.
Sir Ian McKellen
Sir Ian McKellen has enjoyed a long, prosperous career in both stage and screen. Best known for his portrayal of Gandalf the Grey in The Lord of the Rings and as Magneto in the X-Men series of films, McKellen has not let his Hollywood success keep him from stages in England and America. His stage credits have continued to accrue with consistency; they include standards such as a 2017 production of King Lear (available via National Theatre's online portal), but also less conventional choices such as an age-blind production of Hamlet that saw him return to the title role for the first time in fifty years.
Denzel Washington
As with many of the actors on this list, Denzel Washington in theatre before transitioning, with great success, to film. His achievements in both fields are rivalled by very few; and yet Washington has distinguished himself by taking on a large number of stage roles in his later career. He played the role of Troy Maxson in Fences (an August Wilson play he later directed for screen in 2016), and enjoyed starring roles in Broadway revivals of A Raisin in the Sun and The Iceman Cometh. In one of his most recent films, the bizarre and brilliant The Tragedy of Macbeth by Joel Coen, his stage acting/Shakespearean origins play into one of the most mesmerising performances in recent memory.
Dame Judi Dench
Like Sir Ian McKellen, Dame Judi Dench is less of an actor at this point in her life, and more of a cultural icon. Dench has long-standing professional relationships with the best theatres in England, including the Old Vic (where she made her professional debut in 1957), the RSC and the National Theatre. Her recent stage credits have dwindled, her last role being Paulina in a Branagh-led production of The Winter's Tale in 2015. But Dench continues to work in film and television, with little sign that she would ever slow down or retire. Take a look at this incredible clip of Dench in the original London staging of Cabaret…
Ben Whishaw
It's hard to think the voice of Paddington could impress us any more, and yet here we are… Ben Whishaw is a RADA-trained actor, heavily involved with youth theatre at the start of his life. His 2004 portrayal of Hamlet at the Old Vic was widely acclaimed, and while his film career began to pick up steam around the same time, he has often returned to theatre to take part in some landmark productions of new and established plays: Mercury Fur by Philip Ridely in 2005, Mike Bartlett's Cock in 2009 and The Pride in 2010 (his off-Broadway debut). Whishaw's stage credits are noticeably quiet post-COVID pandemic, but it is unlikely that theatre has seen the last of him.
David Tennant
David Tennant is best known as the 10th Doctor of the long-running British television series Doctor Who. Before, during and after his much loved tenure as the titular Doctor, Tennant was crafting a reputable stage career that continues to this day. Tennant's stage work is often associated with Shakespeare—perhaps due to his lauded portrayal of Hamlet in 2008, which was later filmed for television. However, his early career was diversified by roles both canon and experimental—and marked by collaborations with less famous but nonetheless influential companies such as 7:84 Theatre Company Scotland and the Dundee Repertory Theatre.
Benedict Cumberbatch
Benedict Cumberbatch became known to the world as Sherlock Holmes in the 2010 series Sherlock. At the time, he seemed to come out of nowhere—this perfectly formed actor with strange affectations and a name to match. In reality, Cumberbatch had been delivering excellent performances as a stage and screen actor long before his supposed 'overnight' success. Classically trained, Cumberbatch had completed a slew of fine stage turns in the early 2000's, including a 2005 production of Hedda Gabler that netted him an Olivier Award nomination for Supporting Role and his West End Debut. His stage career seems to have paused in 2015 with a production of Hamlet, presumably due to his screen career. However, we must make mention of his excellent work in the 2011 play Frankenstein, in which he alternated between playing the titular doctor and his monstrous creation.
Hugo Weaving
English actor Hugo Weaving has spent most of his life living and working in Australia. While he is best known for his roles in The Matrix and The Lord of the Rings films, Weaving has consistently performed on Australian stages as is recognised as one of the country's most revered actors. Weaving is closely associated with Sydney Theatre Company, having performed with them since the early 1980's. In 2018 and 2019, Weaving delivered a one-two punch for the company of experimental theatre (The Resistable Rise of Artuo Ui) and a staged classic (Cat on a Hot Tin Roof), solidifying his reputation as a bold and diverse actor regardless of medium.
Chiwitel Ejiofor
Chiwitel Ejiofor is recognisable from countless big-budget films as a solid supporting and character actor. His first major role was in Steven Spielberg's 1997 drama Amistad; currently, he portrays Karl Mordo in the Doctor Strange franchise within the MCU. Given his considerable range and classical training, it is perhaps no surprise that Ejiofor's stage career is as impressive as his work in film. Not long after he dropped out of drama school to film Amistad, he was cast as Othello in a production that ran at the Bloomsbury Theatre and Theatre Royal in Glasgow. An impressive feat for an actor aged just 18 years old.
Mark Rylance
Much like Simon Russell Beale (above), Mark Rylance is considered one of the 'giants' of British stage. Unlike Beale, Rylance has also enjoyed a formidable film career over the past ten years after being championed by such directors as Steven Speilberg—appearing back to back in films Bridge of Spies in 2015 and The BFG in 2016. Rylance has long been associated with the works of William Shakespeare, having appeared in numerous RSC and Shakespeare's Globe productions throughout his career. But his best-known contribution to theatre is his critically acclaimed performance as Johnny Byron in Jez Butterworth's Jerusalem 'the best British play ever'. He has reprised the role four times since its writing, and it is difficult to think of the character separate from the actor and vice versa.
Nathan Lane
Nathan Lane is a beloved screen actor, known for his instantly recognisable voice, as well as playing Rosencrantz in one of Shakespeare's greatest film adaptations of Hamlet. In addition to his extensive film and television credits, Lane has worked tirelessly on stage for almost fifty years, winning three Tony Awards out of a shocking six nominations. Lane is often thought of as a comedy actor and a Broadway musical star; it's important to recognise his more dramatic roles as well, such as his celebrated portrayal of Roy Cohn in the National Theatre production of Angels in America. The clip, below, is at times hilarious. But it's never without the pathos and complexity that has long separated Lane from the pack. A peerless performer.
https://www.youtube.com/watch?v=eLhq8jt4p3Q
Andrew Scott
Andrew Scott's version of Hamlet's famous soliloquy (included below) went viral some years ago, at a time when most people knew him from his work as Jim Moriarty in the BBC's Sherlock adaptation. For many, this extremely heartfelt, emotional rendition was a shock to the system—people everywhere seemed to ask who this incredible, intense performer was! (Yes, of course he's the Hot Priest from Fleabag, but that was still two years away…) Scott has been delivering fine stage performances since his early twenties, when he left acting school to pursue a career in London. From the late 1990's onwards, he has been working for some of the most prestigious companies in the world—rendering his performance as Hamlet in 2017 as a triumphant culmination more than an overnight success. Scott has a long and storied career ahead of him; we can only hope he'll keep returning to the stage to bring us more of this intimacy and brilliance…