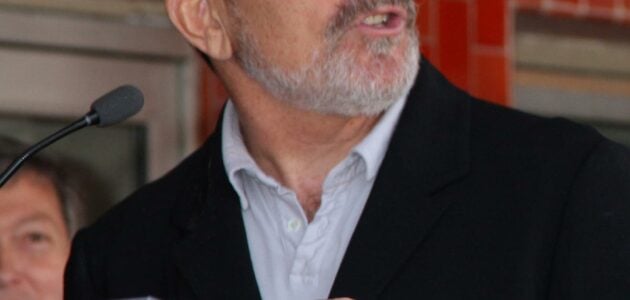 About David Mamet
They say the best writers write about what they know. David Mamet used his job experience as a busboy, a window washer, a taxi driver, an office cleaner and a truck factory and canning plant worker to create his brand of sometimes vulgar, often riveting, but always realistic dialogue.
Perhaps his best known use of personal experience comes in his scathing take on the real estate industry in his play Glengarry Glen Ross. The play — the title of which combines the names of two real estate developments the main characters are selling, Glengarry Highlands and Glen Ross Farms — draws upon Mamet's experiences working in a Chicago real estate office in the late 1960s. Glengarry Glen Ross ran on Broadway in 1984 and 1985 and was nominated for four Tony Awards and earned Mamet the Pulitzer Prize before being made into a Hollywood film in 1992.
In 1988, Mamet followed up his gritty portrayal of the real estate industry with the play Speed the Plow, which explores the less than pretty side of the movie industry business.
Born in the Chicago suburb of Flossmoor, Illinois in 1947, David Mamet studied in Vermont at Goddard College and then at the Neighborhood Playhouse School of Theater in New York. He began his theater career as actor and director before trying his hand as a writer. A founding member of the Atlantic Theater Company, his first successes as a playwright were with three off off-Broadway plays, Sexual Perversity in Chicago, The Duck Variations and American Buffalo, in the late 1970s.
Starting with an adaptation of James Cain's The Postman Always Rings Twice in 1981, Mamet turned to screenwriting. He has since adapted several of his plays for the screen, written dozens of other screenplays, a few novels, a volume of poetry and many essays. Mamet also has directed a few of his films, including Oleanna and The Spanish Prisoner. The film Oleanna is adapted from his controversial 1992 two-character drama of the same name which tells the story of the struggle between a university professor seeking tenure and a female student accusing him of sexual harassment.
David Mamet's creative and consistent use of profanity in his scripts caused film critic Roger Ebert to title a film glossary entry the "Mamet Dammit." The playwright's fast-paced writing style is distinctive enough to have earned the label "Mamet Speak."
In recent years, Mamet has distanced himself from Hollywood. In 2008, for example, he wrote an essay for The Village Voice called "Why I Am No Longer a Brain-Dead Liberal" and his book The Secret Knowledge: On the Dismantling of American Culture was published in 2012. The writer currently divides his time between homes in Cambridge, Massachusetts and Vermont.
Best David Mamet Plays
Glengarry Glen Ross

1

1983

American Buffalo

2

1975

Sexual Perversity in Chicago

3

1974

Oleanna

4

1992

The Duck Variations

5

1972
---
More Great David Mamet Plays
Speed-the-Plow
The Cryptogram
Race
The Water Engine
Lakeboat
Squirrels
Mr Happiness
David Mamet Quotes
Always tell the truth – it's the easiest thing to remember.
David Mamet
My greatest fear is that the audience will beat me to the punch line.
David Mamet
My idea of perfect happiness is a healthy family, peace between nations, and all the critics die
David Mamet