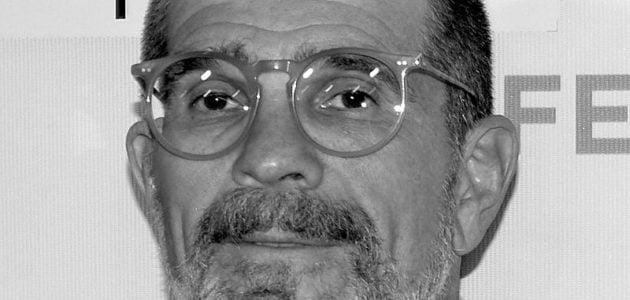 David Mamet is an American playwright, screenwriter, director and author whose career has spanned the last five decades of film, television and theatre.
"Fuck you, that's my name."
A celebrated and, at times, a controversial figure, Mamet's vast body of work is worth careful consideration and study by any serious performer.
"The world is lies." (Mamet On Stage)
Mamet's output in theatre began in the early seventies, before hitting its stride over 1975-1977 with productions of American Buffalo, The Duck Variations and Sexual Perversity In Chicago. Themes around masculinity, male bonding and dysfunctional relationships (both romantic and platonic) emerged and would continue to be explored in his work for the rest of his career.
The eighties saw the premiere of dark fable Edmond (1982), as well as his best-known work, Glengarry Glen Ross which received the Pulitzer Prize for Drama in 1984. Also in this decade was the premiere of movie-business satire Speed-The-Plow (1988), the themes of which would later be revisited in his films Wag the Dog (1997) and State And Main (2000).
Oleanna (1992), a two-hander about a college professor accused of sexual misconduct, remains a popular and polemic work as well as a common introduction to Mamet's theatre writing; his 1999 play Boston Marriage is a refreshing departure from much of his male-heavy/-only casts and sports excellent comic dialogue and compelling queer characters.
He has continued to produce stage work in the 2000s-2010s, although there are notable periods where his work in Hollywood has seemingly taken a higher priority. His most recent play, Bitter Wheat (2019) was panned by the Guardian as a "monstrous misfire" in its attempt to speak to the lay of post-Weinstein Hollywood.
Mamet's writing style is highly distinctive—it is sometimes referred to as "Mamet speak"—and his dialogue can be recognised by the use of pauses, repetitions and quotation marks to modify semantics. You can expect profanity, jargon, minimal exposition and for characters to interrupt and question one another at lightning pace.
Five Essential David Mamet Plays:
American Buffalo (1975)
Glengarry Glen Ross (1984)
Oleanna (1992)
Speed-The-Plow (1988)
Edmond (1982)
"Bambi vs. Godzilla" (Mamet On Film)
Mamet's work in film began in the eighties with a one-two punch of The Postman Always Rings Twice (1981) and The Verdict (1982), for which he received an Academy Award nomination. 1987 saw the release of Mamet-written The Untouchables, as well as his directorial debut House of Games starring then-wife Lindsay Crouse and many of his former theatre collaborators.
Mamet's propensity for quick, hard-boiled dialogue seemed to fit well with cinema; the following decades saw him write a number of projects including crime thriller Homicide (1991), the obscure but brilliant Chekov adaptation Vanya on 42nd Street (1994), Wag the Dog (1997), Ronin (1998) and Hannibal (2001). In this time, he returned to the con artistry of House of Games with two more directorial efforts: The Spanish Prisoner (1997) and his greatest commercial success Heist (2001).
Of his later film career—which slowed as his focus returned to theatre, literary and journalistic pursuits—his made-for-television drama Phil Spector (2013) is worth mentioning and tracking down. Based on the true story of the eponymous murderer/disgraced record producer, Mamet's departure from fact to tell a semi-fictional version of events has been likened to David Fincher's The Social Network (2010). It remains controversial in its seeming advocacy for the convicted felon.
Much like the style of writing that dominates his stage work, Mamet's writing for film is something of a paradox: poetic and coarse, lofty and prosaic. The romanticised vulgarity of his words that sizzle on stage can almost feel stilted when filmed, but one only needs to watch the films he himself directed to realise that Mamet has little interest in capturing beauty or even reality. What sings in his screen work are the stories, the characters that populate them and the wonderful, terrible things they do to move his plots along.
Five Essential David Mamet Screenplays:
The Spanish Prisoner (also directed) (1997)
The Untouchables (1987)
State And Main (also directed) (2000)
Wag The Dog (1997)
Phil Spector (2013)
"It's only words … unless they're true." (Mamet On The Page)
Mamet's contributions to prose writing contain some of his most valuable resources for actors, writers and directors. As a well-known figure in film and theatre, it is curious how little his non-fiction work is read by some aspiring film and theatre creatives; his work in this field is extensive and speaks to his experience as a respected acting teacher.
A Whore's Profession: Notes and Essays by David Mamet is a collection of some of Mamet's earlier writings (including On Directing Film) and is the perfect entry point to the writer's prose. The collections of essays, recollections, dialogues and memories included are all extremely readable and provide anything from direct insight into Mamet's artistic process to his thoughts on memory, nostalgia. human emotion and family.
More prescriptive for artists are books such as Theatre (2010), On Directing Film (1991) and Three Uses of the Knife (1998). Each volume provides invaluable insight into acting, theatre, directing and storytelling without sacrificing the distinct voice that makes his words so inviting. Essays on story are taught in parables about baseball; it feels more like Mamet is holding court from the driver's seat of a New York cab than standing behind a lectern. But not a single sentence suggests that Mamet is holding anything back about his work: his writing feels like a demystification of the process of making theatre. Honesty and frankness abound so much that his work can come across as almost abrasive. But it also makes for engaging, fascinating reading.
Five Essential David Mamet Books:
A Whore's Profession: Notes and Essays by David Mamet (1994)
Theatre (2010)
Three Uses of the Knife (1998)
Bambi vs. Godzilla: On the Nature, Purpose and Practice of the Movie Business (2007)
On Directing Film (1991)
"A man is his job…"
David Mamet is, and remains a controversial public figure. The contentious nature of his plays have rendered many of them divisive with audiences, and some of their content and themes have not aged favourably. More troubling, still, is Mamet's steady shift to the right in American politics: his come-to-Jesus conservative epiphany was announced in a 2008 Village Voice essay "Why I Am No Longer a 'Brain-Dead Liberal", and his support for 45th U.S. President Donald Trump was vocal. Mamet remains an outspoken critic of such topics as political correctness, progressivism and gun control laws.
While the lasting impact of conservatism on his legacy remains to be seen, David Mamet is nonetheless an important and influential figure in contemporary American film and theatre. His considerable output of work, across all media, is well worth the time of anybody looking to enrich the very foundations of their artmaking.