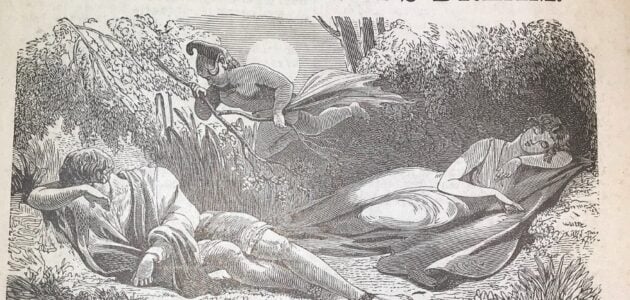 Egeus Monologue (Act 1, Scene 1)
In the opening scene of the play, Egeus arrives to appeal to the Duke of Athens, Theseus.
Egeus wants his daughter, Hermia, to marry Demetrius. Hermia is obstinately refusing as she is madly love with Lysander. Hellbent on Hermia marrying the man of his choice, Egeus has brought Hermia, Lysander and Demetrius before the Duke to plead his case and "beg the ancient privilege of Athens".
The first line gives you all the clues you need to play this piece. Egeus is "full of vexation" – meaning he is furious. The key to unlocking this text then, is to have a clear moment before. You need to find the energy and fire when launching into the text. Second to that, is connecting to the relationships within the piece. In particular, you need to find the hatred of Lysander and the love of Demetrius. To us watching the play these characters (Demetrius and Lysander) seem almost interchangeable, however to Egeus they are like day and night.
Updated Jan 10, 2023
Language & Thought Breakdown
This is a simple breakdown of the text into thought and beat changes. What information does the language reveal about the state of mind Egeus is in?
Straight off the bat, It is obvious that he is a father incensed. His language is packed with alliteration, strong iambic rhythm and repetition. Multiple uses of "Stand forth", "Thou" and "feigning" are possibly all clues into how angry this man is at his daughter's disobedience.
Something else I noticed was the long list of 'insignificant' love-tokens. Egeus gives a lot of time to pointing out the lack of importance and deception in Lysander's feelings toward Hermia.
Let's break down the speech into thoughts and beats to see it reveals anything further.
Thought Change: /
Beat Change: Space
Egeus:
Full of vexation come I, with complaint
Against my child, my daughter Hermia. /
Stand forth, Demetrius. / My noble lord, /
This man hath my consent to marry her. /
Stand forth, Lysander: / and my gracious duke,
This man hath bewitch'd the bosom of my child. /
Thou, thou, Lysander, thou hast given her rhymes, /
And interchanged love-tokens with my child. /
Thou hast by moonlight at her window sung, /
With feigning voice verses of feigning love, /
And stol'n the impression of her fantasy /
With bracelets of thy hair, rings, gauds, conceits, /
Knacks, trifles, nosegays, sweetmeats – messengers /
Of strong prevailment in unharden'd youth. /
With cunning hast thou filch'd my daughter's heart,
Turn'd her obedience, which is due to me,
To stubborn harshness. – /
And, my gracious duke, /
Be it so she; will not here before your grace
Consent to marry with Demetrius, /
I beg the ancient privilege of Athens, /
As she is mine, I may dispose of her; /
Which shall be either to this gentleman
Or to her death, according to our law
Immediately provided in that case. /
Modern Translation
Egeus:
I'm coming here full of rage in protest
Against my child, my daughter, Hermia.
Come forward Demetrius. My noble lord,
This man has my consent to marry her.
Come forward Lysander. And my gracious duke,
This man has cast a spell over her heart.
You, you Lysander, you have given her poems,
And swapped tokens of love with my child.
You have sung at her window at nighttime,
In a deceitful voice verses of a deceitful love,
And imprinted yourself in her imagination
With brackets made from your hair, rings, showy ornaments, trinkets,
Knick-Knacks, worthless tokens, flowers, sweets – the things
That strongly influences impressionable young girls.
You have stolen my daughter's heart through deception,
And turned her loyal obedience which should be mine,
To wilful cruelty.
And my gracious duke,
If she will not, here, in front of you,
Consent to marry Demetrius,
I beg to use the ancient rule of Athens,
As she is my property, I may dispose of her at my discretion,
Which will either be to this gentleman
Or to her death, according to the law,
Directly provided in matters like this.
Unfamiliar Words & Phrases
Vexation: The state of being angry, annoyed, in rage.
Bewitch'd: Enchanted, cast a spell upon.
Bosom: A woman's chest, in other words – where Hermia's heart lies.
Rhymes: Poems.
Feigning voice: In a deceitful tone, softly, gently.
Feigning love: deceptive, desirous love.
Fantasy: In other words, Hermia's imagination.
Gauds: From the word 'gaudy' meaning showy. In this case – showy ornaments.
Conceits: Trinkets.
Knacks: Knick-knacks.
Sweetmeats: Confectionary.
Nosegays: Small flower bouquets.
Prevailment: Influence or persuade.
Unharden'd: Untested, untried. In this case – inexperienced or naive.
Filched: Stolen.
Conclusion
When people think about A Midsummer Night's Dream, many may think of a light- hearted comedy with fairies and young love. What is often overlooked is the dark, tragedy-like beginning of this play. Often comedy can be born out of a tragic situation. Here we have a father, whose daughter refuses to obey him and marry the man he wants her to and is willing to put her to death for it. That is about as tragically high as stakes can get!
This monologue appears very early in the play and therefore has the double role of being exposition and introducing numerous characters but also it highlights integral character relationships. It is a life and death situation for Hermia. That is how strongly Egeus feels about her marrying Demetrius. What kind of relationship do you think these two share?
Egeus' argument is very clear – 'I want my daughter, who is bound to me by law, to marry Demetrius and I want the law to uphold my right'. I think therefore, in playing this role, it is of utmost importance to remember what is at stake and the truth behind it.
Not quite what you were looking for? Check out more Male Shakespeare Monologues.