The Green Card Lottery for Actors
The green card lottery can be considered the holy grail for actors wanting to be able to get over to the US to launch a career in La La Land. But what is it exactly? Is it legit? How does it work? What do you need to do to get your butt over to the sets and stages of Hollywood and Broadway? Of course, this article in no way constitutes legal advice and can vary greatly from your country of residence and between years of application. But hopefully, it gives you a better idea of what you might be getting yourself into!
Note: make sure you do your own research, as the application process can differ slightly depending on where you are applying from. 
What is the Green Card Lottery?
The green card lottery's official name is the Electronic Diversity Visa Lottery. Basically, if you want to be able to live and work in the United States of America as a permanent resident (and take a step towards becoming naturalised as a US citizen) you need something called a green card. These are really hard to get and are highly sought after by people all over the world. The aim of the Electronic Diversity Visa Lottery is to open up immigration to people from countries that are not highly represented in the US population. The process is much cheaper than acquiring a green card through other means, however, you have to be one of the very lucky people picked at random through the lottery. Some people think that it's a myth because it's rare to encounter people who have actually won the lottery and made it to the States with their green card – but I can vouch that it is indeed a real thing and it's worth being in it to win it if moving to the States is something you'd like to do as part of your acting career.
Is it the only way to get a green card?
If you're an actor wanting to give things a go in the US, getting a green card is not the only way to get there – you could also apply for an O-1 visa due to your demonstrated "extraordinary achievement in the motion picture or television industry", however, if you get this visa you can only stay for up to 3 years and you are only allowed to get paid work through acting, you're not allowed to pick up any work on the side to fund the dream. The green card, on the other hand, allows you to live permanently in the US, apply for paid work in nearly any area you wish and removes a barrier to you being cast in a paid acting role. You might also be lucky enough to acquire a green card through a family member who has one in the US or manage to get permanent employment there and be sponsored by your employee to go through the process without the lottery.
Avoiding scams
If you google 'green card lottery' you'll encounter a whole range of sites claiming to be the official and totally legitimate green card lottery – if you enter by paying a tidy fee! But stop, don't enter your credit card details anywhere! The official green card lottery is totally free to enter. There are some costs associated with the process if you are selected and proceed, however initially to enter there are no costs at all. If a website is asking you to pay a fee from the beginning it is definitely not the real green card lottery and it is a scam.
How to enter
The only legitimate website to enter the green card lottery is https://dvprogram.state.gov/ – there is no other place to enter and you must enter online. Each year, applications open for a period of just over a month, usually opening early October and closing early November. Make sure you jump in to apply during this period because if you miss out you have to wait a whole year before you can apply again!
When entering, you only need to provide basic information, including your occupation. Make sure that you use a reliable email address that you will be able to access in about a year's time – because that's how you will be contacted in future correspondence about visa matters. Also, it's very important to take note of your application confirmation number, case number and digital signature. These are needed to log back in in a year's time to see whether you were selected in the lottery!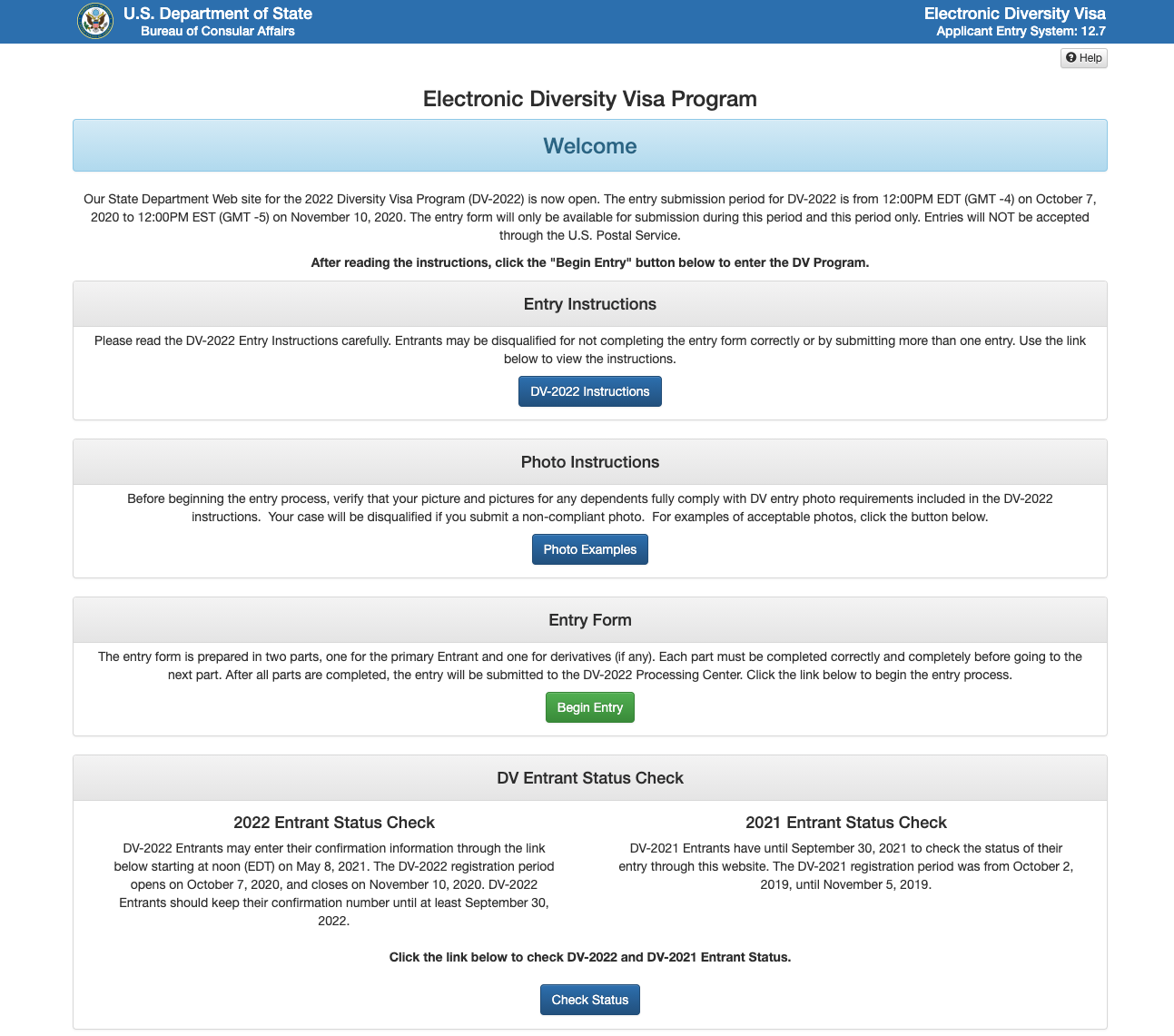 *Screenshot taken on 19th October 2020*
The conditions
The green card lottery is not particularly exclusive to enter. There are a handful of countries where citizens are not eligible for entry, but the lottery is open to citizens from most countries around the world. If you are not eligible due to your country of birth being ineligible, it may be possible to become eligible if your spouse or parent was born in an eligible country! The only other requirements to apply are that you have finished high school education, or can show that you have at least 2 years experience in a qualifying profession. Because of these requirements, most applicants will need to be over the age of 18 to have either completed high school or achieved the necessary work experience.
The timeline
A green card doesn't come quick! In my experience, the process has already taken over 2 years and I haven't even made it to the US yet. If all goes to plan, the process will have taken about 2.5 years from application to receiving my green card and living in the US. Each year the dates and deadlines vary slightly and so it's important to stay on top of the deadlines applicable to your year of application. I applied for the DV lottery in October 2018. I checked the status of my application in late May 2019 and found out that I had been selected in the lottery and could proceed with the process. I then applied for my DS-260 visa which you need for a green card interview to be scheduled and waited until March 2020 for it to be scheduled, which was cancelled due to COVID-19 and rescheduled for September 2020. I will then need to enter the US within 6 months of my visa being approved, by March 2021.
The interview
The interview consists of fairly basic questions about some personal information including places of residence and occupation. It's not a character assessment or a job interview! The main thing you need to worry about is preparing all of your required documentation. There is a long list of required documentation on US government websites and it's recommended that you spend some time working out which documentation is required for your personal situation. Then you need to provide both an original document and a photocopy of this document. Without the necessary documentation, your application will be refused.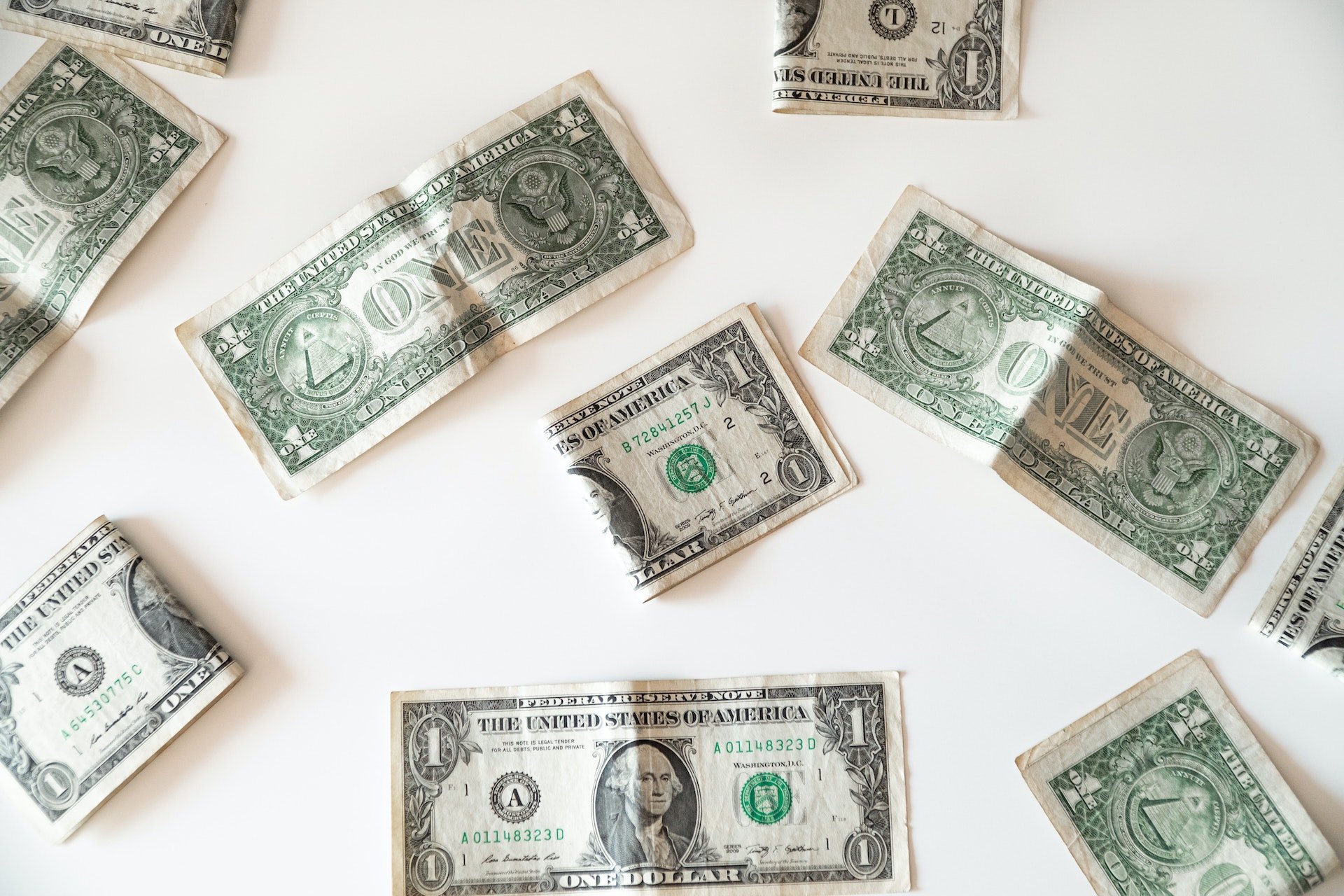 The cost
While it's free to enter the Electronic Diversity Visa Lottery, there are some costs involved if you are selected to proceed with the process. If you are selected in the Electronic Diversity Visa Lottery, you will then be encouraged to apply for a DS-260 visa immediately which is necessary for your green card interview to be scheduled. The costs of applying for this visa are about $445 USD. If your green card interview is then successfully scheduled you will have costs associated with applying for a police certificate, for which costs vary from country to country, depending on where you have lived. You will also have costs to undertake the medical examination which needs to happen prior to your interview and any vaccinations that you haven't already had that are compulsory to immigrate to the US. In Australia this cost me about $480 AUD, however, there is no guarantee that these costs will be the same in your country of residence or year of application.
Either before your interview or at your interview (depending on your country of residence) you will need to pay a Diversity Visa fee of about $330 USD. There is also a USCIS Immigrant Fee which you need to pay after receiving your visa and prior to travelling to the US. Finally, there are the costs of buying flights to travel to the US and setting up a life in America! It's very important you have the financial resources necessary to set yourself up in the US. This process does not offer any financial assistance to you to set up a life in the US; only it allows you a pathway to get the visa which can open up opportunities in the US that you couldn't have without a green card.
The result!
If you make it all the way through this process, congratulations! It's a big deal, involves a lot of waiting and sometimes can be a little stressful. But if an acting career in the US is something you want, this can be game-changing. You've got to be in it to win it – so why not apply? I'll just leave that link for applying here again… https://dvprogram.state.gov/ 
Disclaimer: This article and it's advice is general in nature, always do your own research depending on where you are applying from.