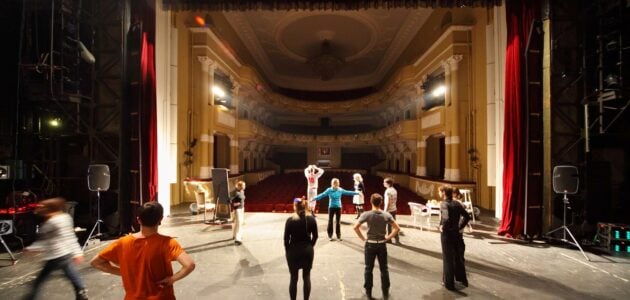 How To Audition for Theatre
A lot of information is out there on self testing and screen testing, because let's be honest, there is big, fast money to be made, and being on set is fun. But landing a role in theatre can give you great exposure, fulfil you creatively and, depending on the season length and production, can give you reliable income for many many months. So with all our focus on auditioning for screen, what are a few things to remember when going in for a theatre audition?
How to Approach a Theatre Audition

VOICE
Unlike film, auditioners need to know your voice can last a whole season, and that you can be heard by the punters in the back row. This doesn't mean shouting your way through your audition, far from it, it just means being aware of what is required in theatre and staying on voice and clearly audible for the whole audition. Stage acting, like screen acting is a craft, and proving that you understand the craft is an important first step. To help grow and develop your voice, check out our vocal warm ups.
PACE
Text is king in the theatre world, so do your acting on the line, rather than before or after. Littering the audition piece, whether it is a monologue or a scene, with pauses to show yourself "acting" can be quite infuriating and a common trap people unfamiliar or unpracticed with theatre can fall into. This doesn't mean rush, this just means letting the text guide the performance, and staying active and engaging.
READ THE PLAY
Unless it is a brand new play, the script will be available somewhere, and you should take the time to read it. Not only will it inform your audition, it will save you from any embarrassment if the director asks you some questions about the project. As well as looking for good actors, directors are looking to cast a passionate and knowledgeable team to work with, so make sure you know the play, and have an opinion about it and the character you are auditioning for.
FLEXIBILITY
Particularly with a scene audition or a callback, directors will want to see how you take and adapt to new direction. So by all means, deliver a strong choice on your first run through, but be ready to shed it all if the director mixes it up. A director will not want to cast you if you are too rigid and unable to shift the performance to the way he or she suggests. When rehearsing, play around with the piece many different ways and consider possible direction that may come your way so you are ready to be flexible on the day.
GENRE
This is most important when dealing with period classics and older works. An audition for a Chekhov or Ibsen, is different to an audition for a modern play. Obviously connection, engagement, stakes and emotional access are important for any audition, but having an understanding of period and style will ensure you pitch the audition correctly. Understand the status and class of the character for these period pieces and the physicality and tonality that comes with it.
MONOLOGUE
In some theatre auditions, you may be required to bring in your own pre-prepared monologue. In this scenario make sure you choose something that suits you, rather then stretches you. Choose something age appropriate that demonstrates your strengths, and shows your suitability for the role you are auditioning for. For example, if it's a comedy you're going for, don't do a tragic monologue. If it's an American play, pick an american monologue.
In the case of a general auditioning, try thinking outside the box for monologue choices. This will not only give you a point of difference but will also avoid you being compared to the other five guys that picked the same Sam Shepherd monologue. More monologue resources.