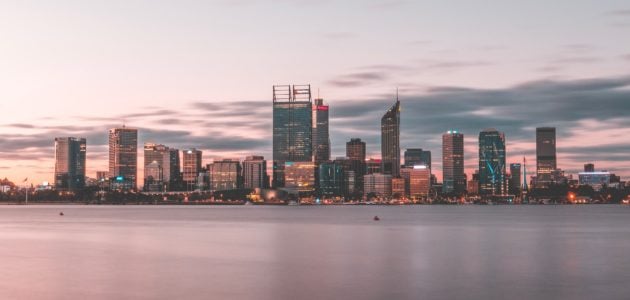 How to Be an Actor in Perth
So, you're a Perth local, or you've just crossed the Nullarbor all the way out west? Although Perth may be the most isolated city in the world, it certainly has a vibrant and passionate arts community that is only getting bigger every year. If you're looking to be an actor, a theatre-maker, or work in any number of roles in the arts, Perth has got a lot to offer. Here are a few of the things we think you might want to know.
The Theatre Scene 
While Perth's film, theatre, and arts industry may be small and tightly knit, it is certainly mighty. This is by no means a list of everything Perth has to offer, but we think it's a great place to start. 
Black Swan State Theatre Company 
When we think of the Perth theatre scene without a doubt one of the first things that come to mind is always going to be The Black Swan State Theatre Company. WA's state theatre company, which is spearheaded by the incomparable Artistic Director, Clare Watson, consistently puts on some of the best shows in town. Their productions are uniquely and proudly Western Australian stories, told by Western Australian artists. This is Perth's principal theatre company and for good reason.
"Black Swan Theatre Company exists to create brave and playful conversation. For you. About you. With you"
The Blue Room Theatre
One of Perth's most exciting venues, The Blue Room Theatre, is a little indie theatre right next door to Black Swan. A lot of exciting artists tread, and have tread, those boards across the years, and it has become a haven for emerging and experienced theatre makers to present new works, and to cut their teeth. Founded almost thirty years ago, the Blue Room Theatre has given rise to some incredible homegrown artists such as Matthew Lutton, Kate Mulvany, Tim Minchin, Claire Hooper, the members of The Last Great Hunt, and many more.
The organisation, and the folks who run it, provide a level of support to artists that you'd be hard-pressed to find anywhere else in the country. Whether you're applying to the main April – Dec season; or their curated Fringe festival season, Summer Nights; or even their explorative season, Winter Nights, the Blue Room is the hub for theatre-makers in Perth. We suggest getting involved by seeing some shows, becoming a member, and keeping an eye on the workshops they run throughout the year.
"With a 30 year legacy of providing the resources, advocacy and space to make independent performance happen in Perth, we'd love for you to come and visit us and check out a show."
WA Youth Theatre Company
If you're between 13 and 26, and you're looking to gain some experience, WAYTCo is a great place to start. Each year they hold open auditions for the WA Youth Theatre Company, giving young actors between 17 and 26 years old the opportunity to rehearse and perform productions under the mentorship of established Perth artists. WAYTCo also runs training programs, and accepts submissions for their Youth Advisory Committee, an initiative for young people to have a say and provide input from a youth perspective. 
"WAYTCo offers unique programs and opportunities for 13 to 26-year olds centred on high quality professional experiences that develop skills for theatre, employment, and for life." 
Yirra Yarkin Theatre Company
The city of Perth stands on un-ceded Noongar Country, and in the heart of the Noongar peoples' country lies the Yirra Yaakin Theatre Company. Yirra Yarkin means "Stand Tall" in Noongar language. Led by artistic director Eva Grace Mullaley, the company is Australia's biggest Aboriginal-led theatre company. Established in 1993, the year of Indigenous People, Yirra Yarkin has since gone on to be a cultural leader and artistic hub for Aboriginal artists from WA, Australia, and around the world. Over the years, Yirra Yarkin has produced some of Australia's finest works of theatre including Waltzing the Wilarra, Hecate, The Giants, King Hit, Skylab, and many, many more.
"We stand tall and are proud to produce a body of work unrivaled in innovation, excellence and cultural significance. Yirra Yaakin's priority is to ensure Aboriginal theatre remains under Aboriginal control and provides opportunities for Aboriginal artists at all levels of theatre creation and production. Our education and community engagement programs support Indigenous trainees to be mentored, develop skills and work in the Australian theatre sector."
Perth Fringe Festival 
Quickly becoming one of the world's largest Fringe Festivals, second only to Edinburgh, Fringe World Perth is a sight to behold. If you've ever wondered what it would be like to slip into pretty much any bar or pub as you stagger down the street, and see a live performance of any number styles all while enjoying a warm Perth summer evening, and probably also gearing up for your own show, then wonder no more.
Once a year, Perth City absolutely explodes into a frenzy of art, culture, and fun for a whole month as Fringe kicks off. Artists seemingly pour out of the woodwork for this one of a kind event. On any given night of the festival you could see a full-blown flys, lights, costumes, and sets production in the downstairs theatre at Black Swan before dinner, and then finish the night with a midnight production of who knows what in the back of a pub, with a flurry of exciting new works in between.
If you're looking to put on your own Fringe show, you're in luck; Fringe World is an open-access Festival, which means anyone (from anywhere) is welcome to register. We recommend finding a venue that suits your production's needs, and working hard to get those ticket sales!
The Scene of Screen 
Another fine example of small and mighty, the WA screen industry has produced and continues to produce some of Australia's finest work. As the base for Screenwest, and a number of other great production houses, WA is home to productions such as Australia, Bran Nue Dae, Breath, Jasper Jones, and heaps more. Other notable productions to come out of WA are the television series Cloudstreet, and, more recently, The Heights. 
Perth is also soon to become home to a brand new production house and sound-stage, which is set to be built in the neighbouring city of Fremantle. This is a huge step for the Western Australian film industry, and will likely expand the industry even further. 
Where to Start? 
There are a number of ways to get yourself started in Perth. First and foremost, get out there! Head to one of the city's incredible theatres or cinemas (shameless plug for Luna Leederville aka the best cinema on the planet Earth) and get to know the folks around you; they're a lovely bunch.
Or perhaps you'd like to do a bit of training? A number of us at Stagemilk did our training, or part of our training, in WA. There are a number of different institutions around the city, including WAAPA, The Actors Hub, WAYTCo, and the Drama department at UWA. If you're looking to study a University degree in the arts, Curtin University has courses in Theatre Arts and Screen Arts.
If you have an agent, see if they can set you up with a meeting with one of the city's many casting directors for both stage and screen. You may be able to land yourself a general audition at Black Swan State Theatre Company.
Read: Acting Agents Perth
Finally, one of the best ways to get started in Perth, whether you're signed or unsigned, trained or untrained, is to make and produce your own work. There is so much support and enthusiasm for emerging theatre-makers in this town, and if you can come up with something great you can start applying to make it happen in this town full of generous artists. Start with an idea, and approach a few companies/people, and you will be surprised how many people are willing to bring your vision to life.
Conclusion
Now, I may be biased, what with WA being my home state, but I think you will agree that Perth has something about it. Perth really can be a great place to start, grow, or hone a career and a craft. The Perth arts industry may be small in size, but it certainly makes up for that in its heart, drive, care, and passion to tell stories, preserve, and promote culture, and create good work.