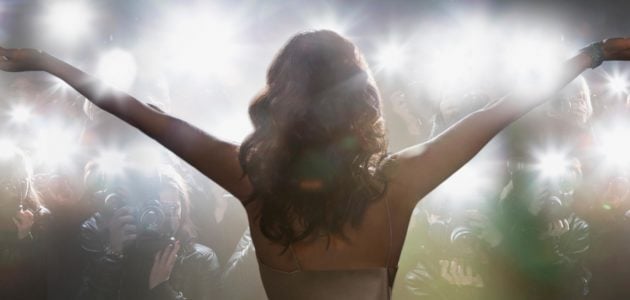 How to Become a Famous Actor
Let me say, straight off the bat, that there are a lot easier ways to get famous than to be famous for being an actor. If being famous is your ultimate goal can I recommend professional golf or politics or TikTok dances or grabbing some self-help books and some matching robes and becoming a cult leader? All of these things are going to be easier than becoming a famous actor. The thing about being an actor is that it is a job, not a get rich quick scheme. Put simply, it is not easy. Behind every overnight success is a decade of hard work, dedication and sacrifice. Sure you can read that sentence, and think I can do that: 'I am prepared for that'. Are you, though? Let me step you through the common features of famous actors and you can decide for yourself. 
Becoming a famous actor takes training, resilience, discipline, dedication, and a healthy dose of luck. Being achingly beautiful also helps, but, in the end, it is all about talent and application to craft. Just like professional sportspeople, famous actors get to that position because they work harder, train longer, and sacrifice more to get what they want than anyone else around them.
Why Do You want to be Famous?
I think this is the best place to start. Asking the question: why do you want to be famous? If you wanted to be rich, then there are easier ways of doing it. Head to Wall Street and learn what the hell a hedge fund is and how you can run one. If it's about what other people think about you: get some plastic surgery and really good filters and become an influencer. Or go on a reality show. Is it that you think that being famous will make you happy? That if you can just be on the Avengers Part XVII that all of your problems will cease to exist? Sure you won't have to worry about paying your rent, but I can guarantee that you would find something else to be worried about instead.
Happiness, my friends, comes from within. You have to be happy with yourself, for who you are. And if you aren't, no shift in scenery or notoriety is going to change that. I don't need to tell you about all of the very famous actors who are no longer with us because, in spite of the fame, the notoriety, and the pay packet, they weren't okay. And listen,  it is okay not to be okay, but you don't need a million followers and an airconditioned trailer to fix your problems – what you need is therapy. Great places to look for UK, US, Australian and International therapy seekers. 
Our society teaches us that if you are famous you are valued; that if you are well known, and people ask for your autograph, that you are worthy. That if you look perfect, dress well, have the appropriate proportions for that fashion cycle then you are somebody. What if I told you that were somebody all along; all it takes is for you to believe that. No amount of money, or movie deals, or Lamborginis can give you that. It starts and ends with you. Sure all of those things are nice, not having to worry about rent and bills would be nice, but it ain't going to fix your life. Only you can do that. Potentially you and a therapist. Again hit those links above. Therapy, folks. It's great. Get around it. 
Still here? Okay fine. Let's talk about how some famous people got there.
Traditional Trajectory to Fame
Please allow me to rip through a couple of super famous actors who have cracked it in the big time and we can examine their stories.
Famous Actors Case Studies
Benedict Cumberbatch – UK
The 'Batch was born in 1976 to a wealthy family, both of his parents were actors, and his ancestry traces right back to Richard II King of England. A role he later played in The Hollow Crown. He did drama at school and was regarded as exceptionally talented, went to University in Manchester and got a BA in Drama before doing his masters in classical acting at LAMDA. After he graduated, he got picked up by an agent, began auditioning for projects on the West End. He spent 5 years doing smaller roles on TV shows like Spooks, Heartbeat and Silent Witness. He graduates in 2000 and doesn't book a film job until the 2006 film,  Amazing Grace. It is another 6 years until he 'makes it' in Sherlock a gig that sets him up for the rest of his career. He does his first Marvel film in 2016 Doctor Strange. 16 years after graduating from his second degree in acting. 
Voila David – USA
Viola Davis was born in 1965 in South Carolina, the second youngest of six children, she ended up going to high school in Rhode Island where she participated in drama classes and showed a lot of talent. After high school, she went to Rhode Island College and studied theatre before successfully getting into the full-time acting program at Julliard. After graduating in 1992, she gets work in professional theatre and it takes four years for her to book film or TV work while receiving critical acclaim for her theatre performances. Through the 2000's she plays numerous roles in films like Solaris, Traffic as well as a bunch of Law and Order's. In 2008, she breaks through in Doubt followed by the simply incredible Fences in 2010 with the film version earning her an Academy Award in 2016, which catapults her to fame. Nearly 25 years after graduating from her second degree in acting, Davis becomes a household name and receives the recognition she deserves for her undeniable talent, work and dedication.
Hugh Jackman – AUS
Australia's favourite son and all-around triple threat, Hugh, was born in Sydney in 1968. He went to a high-end private school and showed talent in drama. After graduating he did a one year course at The Actors Centre Australia. He was offered a role out of this on Neighbours but turned it down after successfully getting into the full-time course at WAAPA. Jackman graduates in 1994, on the night of his showcase he gets offered his first job. Technically he was unemployed for 13 seconds. By the end of that year, he is hosting Carols in the Domaine and has been on TV shows like Law of the Land, Halifax and The Man from Snowy River. In 1999, he starred in Oaklahoma onstage and onscreen and booked Wolverine in X-Men in 2000 a role he would reprise again and again in multi-million dollar films right up until 2017. In 2013, he wins a Golden Globe for his work as Jean Valjean in Les Misérables a role that if he wasn't already famous, etches his name in history, again close to twenty years after graduating from his second acting degree. 
What Can We Learn About Becoming a Famous Actor?
So, what can we learn from these three actors, all incredibly famous, all at the apex of their careers, all playing roles in everything from Shakespeare to Marvel? How did they get there? Well, they all went to drama school. They all have two separate degrees or qualifications in acting, with each of them having at least one of them from the best drama schools in the world. They are also undeniably talented and were noticed from a young age. But perhaps more importantly, they have devoted themselves and their lives to their craft. These actors and the thousands of other famous actors like them have not just turned up on set and done it. They have not been 'discovered', they have trained. They have worked their asses off. This isn't a flight of fancy or a fluke for them. They sacrificed and committed themselves to their craft. In the same way that Jordan, Messi, Williams, Bradman, Allcot, Brady, Biles and Phelps did (some sporting references for you all). Years of their lives, a commitment to being the damn best they could be and making sacrifices to get there. This is what it takes to be a famous actor.
Others that have followed this path: Mel Gibson, Cate Blanchett, Hugo Weaving, Anthony Hopkins, John Hurt, Glenda Jackson, Sophie Okonedo, Allison Janney, Ben Whishaw, Phoebe Waller-Bridge, Paul Rudd, Jessica Chastain, Danny Glover, Denzel Washington, Winona Ryder and many, many more. The best thing you can do, if you want to be a famous actor is start training and strap in for the long haul. 
Non-Traditional Trajectory to Fame
Now, I can hear a bunch of you saying 'That isn't always the case! So and so got discovered in a supermarket! Why can't I if I go to the right supermarket?!' And look. It might happen. It has happened. But it is kind of like basing all of your investment strategies on the right racehorse. Yes. Your horse could win the Derby. It could happen. But equally, it could break a leg on its first day or never be at the right race at the right time. It's not exactly a sound investment strategy. In the effort of fairness however to my statement above, I am going to go through three other actors with unconventional paths and we can think about their paths too.
Dev Patel – UK
Born in 1990, in Harrow, North West London, Dev Patel was an extremely talented kid. He topped his high school drama, with a self-written practical performance that was so powerful he moved a visiting examiner to tears. He also made it to the National Championships for Tae Kwon Do but that is neither here nor there. In 2006 his mum saw a casting ad in the paper for Skins which, despite no experience and only high school for training, Patel booked. He did two seasons of the show while finishing up at high school. He graduated in 2007, and successfully auditioned for Slumdog Millionaire. A Danny Boyle feature that would be his breakthrough success. He followed this with the excellent Newsroom, internationally acclaimed Lion which he was awarded his second Oscar nomination, ten years after his first part in Skins.
Jennifer Lawrence – USA
Lawrence was born in Kentucky in 1990. She did church and school plays and shows through primary school and showed a high level of interest in drama. On a family holiday in New York, she was 14, she was spotted by a talent scout and encouraged to audition for an agent. After reading for a few roles, agents said that she was the best talent they had seen at that age. Her mum thought they were lying! She signed for a big agency at a young age and began auditioning for LA projects, she dropped out of school and moved to LA to pursue her career. Her first job Company Town failed to sell but she got small parts on Monk and Medium. Her first big job came in 2008 on The Burning Plain opposite Charlize Theron. 2010's Winters Bone was a huge success and was followed by her best-known work The Hunger Games series in 2012. Lawrence's exceptional talent and powerful performances meant that from her first role in 2006 by 2012 she had won an Oscar for Silver Linings Playbook. An exceptional actor. 
Heath Ledger – AUS
Heath was born in Perth, Australia in 1979 he played Peter Pan in a school production when he was 10. He sat his high school exams early at 16 and drove across the country with a friend to take a small role in Clowning Around in Sydney – he played an uncredited orphan in the indie feature. Off the back of that, he got roles in Ship to Shore, Home and Away and Blackrock which served as his actual feature debut in 1997. Two years later he had a breakout year with Two Hands (which became an Aussie classic) and the much loved US hit 10 Things I hate about you. As we hit the early 2000's Ledger became hot property in the States, Monsters Ball, A Knights Tale, The Order, Casanova and Lords of Dogtown all followed. In 2005 Brokeback Mountain came out for which he received a Golden Globe, Oscar and BAFTA. Tragically, Ledger died in 2008 following his incredible performance in The Dark Knight a role for which he posthumously received a second Oscar amongst many other awards.
So what can we take from these unconventional actors? Well, mainly that it is possible to find fame as an actor without going to drama school. But instead of doing your training at university, you do it on the job instead. You can also see how early all of these actors got into their work. All three of them started working as actors in their teens, by the time they were in their twenties they were at their peak, by thirties, veterans. They started early, and they all sacrificed a lot. They all unequivocally committed to their craft. Ledger and Lawrence moved across the country, Patel spent months touring India for Slumdog Millionaire, they sacrificed and worked and pushed themselves. This is not something that can be done overnight. For every overnight success you can find, I will show you the decades of work it took to get there!
What are you prepared to do to get there?
Which brings us to the question of what are you prepared to do to get what you want? Are you prepared to prioritise acting, to devote your time and effort and energy to it – in the knowledge that it does not owe you anything in return? Bryan Cranston says, 'If you can do anything else, you should do anything else.' If you have the ability to fix cars, or build furniture or manage a spreadsheet and you enjoy it – then acting isn't for you. If you are obsessed with acting, you want to work on it all the time and you have an unquenchable desire to be successful at this wild craft then sensational! It's time to get your act together. The very best thing you can do – outside of moving to New York and hoping to be discovered like the millions of other people that do that every year, even to this day – is to go to drama school. Get training, get experience and get yourself in the right place and the right time! That is the best way to get famous. With a complete and utter dedication to craft and a determination to follow it through no matter how hard things get.
Conclusion
If you are still reading this, and you are still committed to being famous – I commend you. I don't think being famous is what being an actor is about, being famous is a symptom of being a good actor, not the other way around. You can see from all of our examples today that hard work, talent, determination, grit and passion are the key factors you need to be a famous actor. If you are looking to start that journey and you want some guidance on your path then you should check out our StageMilk Scene Club by clicking the link below!