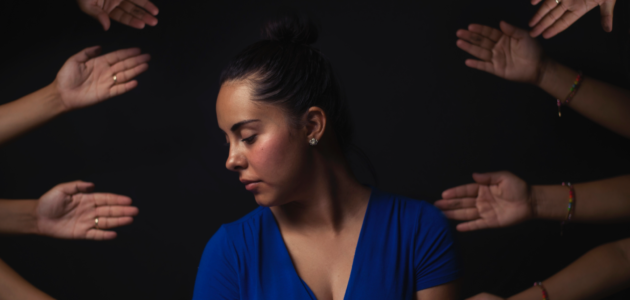 How to Deal with Rejection as an Actor
I've decided to write yet another article, which may sound like, but isn't actually, dating advice. So here's how to deal with rejection as an actor, because I'm telling you now, you will have to. Over, and over, and over, and over again. Get keen!
Be Practical
Think about something for a second.
First of all, how many actors there are in your city? Then in your country? Then the world? Now sure, you are unique, and different and sexy in your own way, but there's like a LOT of people out there, who are also unique, different and sexy. So that's just a fact.
Also, think about how many auditions you will go for. Then think about how many jobs you will book. Even if you did book all the auditions you went to – first of all, that would be weird, there would be market saturation of Indiana (how boring) and second of all, when would you find the time to do them all! The ratio of not booking jobs, to booking jobs is like, 100:1. This is not meant to discourage you, but to sober you up from a long weekend on the Aperol Spritz. You will be rejected many more times than accepted.
And the weird thing is, we usually don't get a call with bad news. Usually it's just no news. To be honest, this infuriates me. You'll never know why you didn't get it, or what they were looking for until you see the production a year later. So be practical, and once you've left the casting room, forget about it. Let it be a pleasant surprise, rather than a desperate yearning. (I think people say the same thing about love…?)
Read: What to do After an Audition 
Get a Strategy
Organise something straight after your audition. I usually organise coffee with a friend, make an appointment, or run an errand, the last thing you want to do is go home and sit there replaying the whole thing in your head over and over again, thinking about what you should have done, but didn't.
It's a bit embarrassing, putting my life on the internet, but here goes: I have a lil' folder where I put all my past audition scenes. Once they're in the folder, I forget about it. Some prefer to tear them in half, put them through the paper shredder or ceremoniously burn them with Sage and Wolf's Bane in their backyard, but me, I'm not so much of a sadist.
Take It Personally
Sometimes you just have to take it personally, and then get over it. Go on, have a tantrum, get pissed off, binge, complain, but you have to get over it at some point. Otherwise it will eat you up inside.
Lean into it. Once you put your damaged ego aside, there may be some valuable feedback in there. Train more, change your look, read some self-help books, work on your voice, get new headshots, update your showreel and make your own work. There is always something to do, I will not allow you to sit at home and cry about what you didn't get, go out there and carpe diem b*%tches.
There are other fish in the sea…
Here's some cool people who have been in the exact same boat, and they just kept swimming…
Chris Pine, when working on Into The Woods with Emily Blunt, saw her working and witnessed her laugh off a small mistake like it was nothing. He asked her, "how do you do that? Just not care?" and she said, "I have no idea. I just made a deal with myself a long time ago."
Jessica Chastain, after graduating from Juilliard, was auditioning 6 times a day, and not booking a single thing. "I spent four years in Los Angeles before I ever got a film audition. And in that time I created my own curriculum. I would go to movement class every day. I found a donation-based yoga studio because I had no money and did yoga every day. I would go to the public library and research plays…. If you don't show up prepared, that's it. This isn't the kind of business where if you mess up many times they'll still cast you. If you do something every single day that makes you an actor, you are an actor."
Aaron Paul was living alone in LA, not booking any jobs, and had to borrow money from his Mom before he got the role on Breaking Bad, and even then it took months to settle, months of uncertainty, down to him and one other guy. That poor other guy.
Entertainment Weekly's interview with Jon Hamm pre-Mad Men is also very sobering: "Hamm's first Hollywood acting jobs was on Ally McBeal, where he made an appearance as Gorgeous Guy in Bar in a 1997 episode. "I was literally pulled out with four other guys in a line on the lot," says Hamm. "The director walked down and was like, 'Iiiiiii don't know… You.'… You probably missed his scene in Larger Than Life, the elephant movie with Bill Murray and Matthew McConaughey. "I was an extra, running down the hallway at LAX," says Hamm. "And I was kind of outside myself going, 'This is very weird.' Then I was an extra on the pilot of The Practice, watching Dylan McDermott deliver the closing speech. I was like, 'That guy's good.' I want to do that. I wish I wasn't just sitting here in the spectator box, falling asleep" 
His roles gradually grew, but only slightly: Five lines on an episode of The Hughleys, a recurring part as the fireman/bartender on Providence, and a small role in the Mel Gibson war movie We Were Soldiers. More substantial roles on Lifetime's The Division and CBS's The Unit followed, which helped pay the bills, but few people in the business recognized the name of Jon Hamm.
"I knew that I had some sort of baseline of talent, ability, and chutzpah and confidence," says Hamm. "But then knowing how to get anyone to pay attention is the big mystery. So I just kept auditioning. I kept showing up and I kept trying. And I kept trying to push down the voice that was saying, 'You're terrible. Someone's better than you. They're going to give the part to the other guy.' And elevate the part of me that said, like, 'You're worth it. You should be here.'"
Turns out, all Jon Hamm's rejections finally proved to be a blessing. Matthew Weiner wanted a fresh face for Mad Men, and AMC wanted people who were cheap. 
Conclusion
If Daniel Craig can sleep on a park bench, Jim Carrey can live in a tent in his sisters backyard, and Kristen Wiig can sell hot dogs at the mall, I think you can handle a couple rejections.
So congratulations, you're here, you're doing it, you're making it happen. Be proud of that, and keep those things in mind next time you don't get the call.