NIDA. The National Institute of Dramatic. The training ground of Cate Blanchett, Judy Davis, Miranda Tapsell and slew of other local and international talent. NIDA is the leading drama school in Australia. It's the most well funded, and most prestigious acting school in the country. Over the course of it's history, it has given rise to some of Australia's best acting talent.
Updated 13 September 2021 
Why Audition for NIDA?
Though there are a number of great acting schools in Australia, including the Western Australian Academy of Performing Arts (WAAPA), Queensland University of Technology (QUT) and Actors Centre Australia (ACA), NIDA remains the most well respected and revered drama school in the country.
Why NIDA is a great drama school
Funding. The facilities at NIDA are incredible. Due to the government support NIDA receives, the standard of productions you work on as a student will be second to none. The theatres, rehearsal rooms and other facilities are amazing.
Diverse courses. Though NIDA is famed for its acting course, there are courses in all areas of theatre making. This means during your time here you will interact and learn from students in other fields. This will also serve you well heading into the industry.
Teaching staff. The NIDA teaching staff has some of the best voice, movement and acting coaches in the industry.
Reputation. Due to it's reputation, the industry pays close attention to NIDA and as a student you are in a great position to secure an agent after graduating.
Degree. Though the NIDA course is very practical you still walk away with a degree which isn't always the case with drama programs.

How to Audition for NIDA
So you want to know how to get into NIDA? Go you! It's every young Australian actor's dream to train alongside the next generation of film, television, and theatre stars. But, with only 18-25 places available, how do you get in?
This article will give practical techniques to help you audition for NIDA.
SURPRISE: What would be the best way to learn about getting into NIDA? Talking with the head of acting at NIDA! We interview the Head of Acting, John Bashford, about the acting course at NIDA and how to prepare for your audition (Interview below). Before skipping ahead, check out a few simple ways that you can dramatically increase your chances of getting into NIDA.
A look inside the course…
Step #1 Get to Know Yourself.
The most valuable asset you have to offer as an actor is yourself. Developing your sense of self is a really important if you want to get into NIDA. Investing in yourself (your own human capital) before auditioning, will astronomically increase your chances of getting in. So, what are you doing to develop yourself as a human and therefore as an actor?
Instead of sitting around waiting for the phone to ring, we recommend you study, travel, train, or a combination of all three. But whether or not you decide to see the seven wonders of the world, or take an improv class at your local studio, anything you can do to get to know yourself better will help you get into NIDA.
Step #2 Engage in the Industry.
The first step towards understanding how to get into NIDA is to fully engage in the industry. Start by watching local theatre, streaming Australian films, and binging on Aussie television. Then read as many plays as you can stomach. Start with the classic plays: Shakespeare, Ibsen, Chekhov, Beckett. Now read some more contemporary works (including some Australian works) from Tennessee Williams, Caryl Churchill, Nick Enright, Louis Nowra, and Joanna Murray-Smith.
By immersing yourself in Australian stories, told by your idols, you will subconsciously develop an appreciation for what NIDA is looking for. Don't wait for NIDA to tell you that you're an actor. Be an actor today and engage with the industry.
Step #3 Have an Opinion.
Unlike some other drama schools, applicants to NIDA are required to submit a written critique of a piece of theatre or film (at the callback stage). So, it's not just enough to watch plays, you have to have an opinion. Developing a critical eye for storytelling isn't something that happens overnight. You have to expose yourself to as many types of performance as you possibly can.
Once you have experienced a broad range of works you will start to develop your own taste. And whatever that taste is, commit to it. Read other people's responses to the films and theatre you watch and either agree or disagree. Both are valid. The most important thing is that you have an opinion.

NIDA Audition Preparation
If you want to get into NIDA, preparation is key. It all starts with monologue selection. Choosing the two monologues that suit you best is essential. Make sure you choose two contrasting pieces that show two sides of your style of performance. For example, Romeo's monologue from the balcony scene, coupled with Biff's "I'm a dime a dozen." speech would be a great combination.
If you are unsure how to properly prepare a monologue join us at StageMilk Drama School before your audition and we'll get you on the right track. The main thing is that you have read the play and thoroughly understand the story.
Learning your lines isn't enough. Your character needs an objective, a reason to speak. You should make your performance dynamic by using different actions and tactics. Always prepare in a way that you can justify your choices if asked, and change your choices if required. The audition panel for NIDA will give you direction; the ease with which you take on that direction could be your ticket into the course. Prepare, prepare, prepare.
Tip: preparation is the best way to tackle nerves. Being well prepared means you can play on the day.
How to Prepare your NIDA Monologue
Read the play. This is non-negotiable. It gives context and informs the monologue. And they will ask you about the play, so read it!
Learn the monologue backwards. You're going to be nervous, so make sure you know your lines back to front.
Intentions. Do some acting work on your monologue. What is your character's objective in the monologue? Why are you saying the lines?
Flexible. Being able to take direction is vital. Don't be rigid in your preparation, instead rehearse it a number of different ways.
Friends. Practice your monologue to friends. This will help you feel more comfortable.
Warm up. Having a strong and flexible voice is a huge asset and NIDA knows this. Make sure your warming up and doing your physical and vocal work in preparation for the audition.
Tip: don't perform your monologue for the first time at the audition. Even if it's to your mum, do a few run-throughs.
On the day
You're going to be nervous, so here's how to get on top of those nerves and give yourself the best shot at success:
It's an experience. Auditioning for NIDA is one day in a lifetime of being an actor. See it as an experience, and try not to focus on getting in. Espeically on your first time auditioning.
Make friends. The other actors auditioning are not your competition, though it can feel like that. Be friendly and open. A lot of the actors I met at drama school auditions are still my friends today.
Learn. Make sure you learn from the experience. I auditioned 3 times for NIDA and many actors audition more than that. The NIDA auditions are a great way to learn more about acting and auditioning. Try to see it as an experience.
Warm up. Do a solid physical and vocal warm up on the day.
Laugh. Have fun and don't take yourself too seriously. They want someone who is great to work with.
Mistakes can help. Mistakes are sometimes gifts from the acting gods. If you stuff a line, or skip a few, just keep going.
Tip: don't say sorry! If you make a mistake, take a breath, and just keep going. It will in no way decrease your chances of getting in, because you stumbled on a line.
After the Audition (Important!)
As with any audition you need to see it as an opportunity to act. It's a chance to do what you love. Yes it would be great to get into NIDA, but you have no control over that once you leave the audition room.
Organise to do something fun afterwards and don't check your email every 5 minutes. Feel confident in yourself, and trust in the work you did.

Go Deeper
I have seen lots of drama school applicants fail by trying to show off. By preparing their monologues in a way that is more showing off than acting. Getting into NIDA isn't about demonstrating how tricky you can be. It's about finding the truth in every moment of your monologues. It's about having a genuine human connection to the text. It's about going deeper.
While you are rehearsing your monologues ask yourself these questions:
Do I sound like a real person?
What does my character want?
Will they achieve it using these tactics?
How can I make this more real?
Going deeper isn't necessarily about a 'smaller' performance. It's about having a clear goal, with something to win or lose if you don't achieve it. It's about believably inhabiting your character's body, under the imaginary given circumstances of the monologue. Wow, we're getting technical now. Just be REAL.

Interview with the Head of Acting at NIDA
Now the moment you've been waiting for…
We could harp on all day about auditioning and what we think you can get into the National Institute of Dramatic Art, but maybe it's best to ask the man that runs the course. We managed to get an exclusive interview with the one man you need to impress to secure a place in the NIDA acting course.
About John Bashford
John Bashford is A NIDA graduate with extensive industry and teaching experience. John joined NIDA as Director of Acting in 2016. Before that John was Associate Principal and taught acting and directing at undergraduate and graduate levels at the prestigious London Academy of Music and Dramatic Art (LAMDA). John was the former Artistic Director of Warehouse Theatre Company. In the UK he continued to build his directing career working with Sir Peter Hall and a variety of companies on international and national tours and in the West End.
John has over 20 years teaching experience in practice-based environments and played a central role in developing LAMDA's Master of Arts in Directing and Classical Acting. Throughout his career he has been involved with the training of some of the world's leading actors, including Benedict Cumberbatch, Chewitel Ejifor and Richard Armitage.
The Full Interview with John Bashford
Interview References
John mentions two books that are must reads for actors. We completely agree. Check them out below:
The Complete Stanislavsky Toolkit (Bella Merlin)
Different Every Night: Freeing the Actor (Mike Alfreds)
Monologue Resources
As John says don't pick the most obvious monologue. John and the other teachers have seen these monologues hundreds, if not thousands, of times. Try to find something a little different. NIDA has a recommended monologue list, which is fantastic, but you can also pick your own. Find all the information you need to apply on the NIDA BFA Acting Applicants website.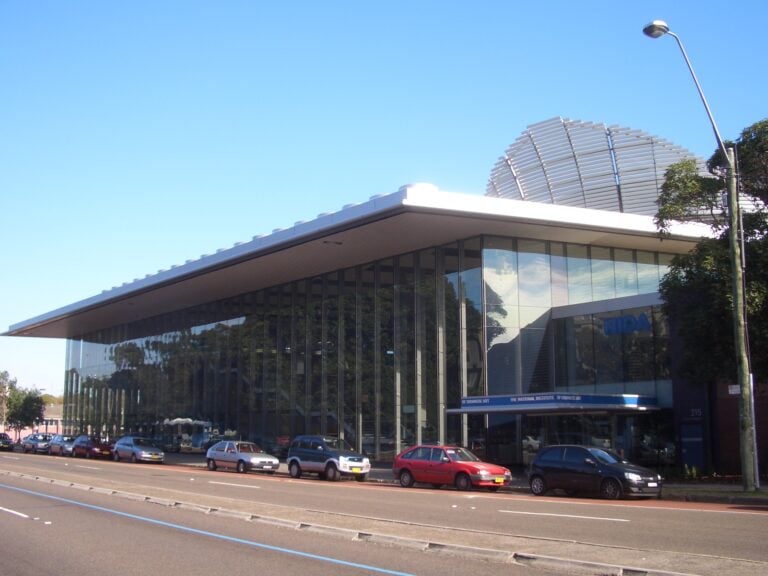 Conclusion
Undertaking solid acting training is paramount for actors. And going to one of the leading drama schools in the world is a great step towards an acting career. Remember that you can always audition again and there are many other great acting schools out there.
There are many different paths to becoming a professional actor, and though we encourage acting training, you could still have a great career without drama school. The important thing is to continually be learning and working on your craft.
Good luck!