Melbourne Voice Over Course
Melbourne is one of Australia's main hubs for Voice Over. This vibrant, and well-loved city is a fantastic place to pursue a VO career. With a myriad of studios, production companies, and some of the leading voice over talent in the country, it's an exciting place to find work and collaborate. As Melbourne is a key player in the Australian industry it is certainly a competitive place, but it also means that opportunities abound. The exciting thing in the modern VO industry is that there are opportunities at all levels. It will not be easy to instantly sign with a top voice over agent and start working professionally, but with persistence, and some great training behind you, anything is possible.
Melbourne offers voice over work in all areas of the industry including audiobooks, commercial work, TV/Film/Radio promo, ADR, corporate and e-learning and all other major areas of the industry. As Melbourne is also such a creative centre, they also produce some of the most exciting and innovative voice over in the country. This is definitely a great place to be, if you are looking to make this a career or side-hustle.
StageMilk Weekend Voice Over Course
Details:
Teachers: Andrew Hearle (StageMilk Founder) + Jessica Clarke (EM Voices)
Dates: Late 2023
Format: Weekend Course (Saturday/Sunday)
Location: in-person, held at one of Melbourne's top VO studios
Price: Normally $880 (Early bird price $695)
Recent Testimonials
This course far exceeded my expectations! The commitment, and attention the teachers show to each class member is what sets this course apart from others. You get tailored scripts, individualised feedback and endless support to help you grow every class  They push you to do more than you think you're capable of. This course is particularly useful for beginners who need guidance in the world of V-O!
(Phoebe Deas, Voice Over Course Graduate)
An amazing and priceless look into an industry with so much potential! This VO masterclass has been one of the most incredible experiences I have had in my lifetime. The teachers are so kind with their time and feedback. Getting to work alongside an artist who has remained in the industry was unparalleled as he was able to share insights and trends that he has experienced throughout his amazing career. If you have been thinking about doing something like this I challenge you to bite the bullet and do it! Everyone is so supportive and you come out the otherside with a real grasp on what it takes to be successful in this industry. Fingers crossed they make a 2.0 version!
(Damon Schmidt , Voice Over Course Graduate)
Professionalism and enthusiasm, were absolutely personified, throughout our course. Cannot speak more highly of the course. What a team. Worth every penny, and sorry the course had to end. A BIG Thank you too you all
(Wayne London, Voice Over Course Graduate)
This course has been a real joy! The small group allows maximum time in the booth, and the teachers are all so considerate, to the point, and engaging. Each week, they take you through a different genre of voice-over. You get a huge stack of scripts to choose from and record, just like you would if you were on the job. The course then wraps up with an in-depth home studio lesson, so you can keep practising and begin booking work. You also receive a report card with individual feedback catered to your voice-type and strengths. Takes the guesswork out of voice-over, stops the panic sweats, and makes it accessible and fun. I will definitely be back!
(Monica Kumar, Voice Over Course Graduate)
The course packed in so much practical learning in the most supportive environment. My confidence grew significantly across the course and I walked away with so many tools to get started in the industry. The team were so generous with their expertise and guidance. It was so worth the investment and I wish I could do it all over again!
(Anna McCrea Voice Over Course Graduate)
What a fantastic course! The team bring their immense voice-over and production experience to the studio to get the best out of each person. The small class size and intimate setting means everybody gets a lot of time behind the mic practising on real scripts in a real production scenario. Expert direction and feedback is tailored to each person no matter their level of experience. A must-do for anyone looking to start making some moves in the VO game.
(Lincoln Elliott, Voice Over Course Graduate)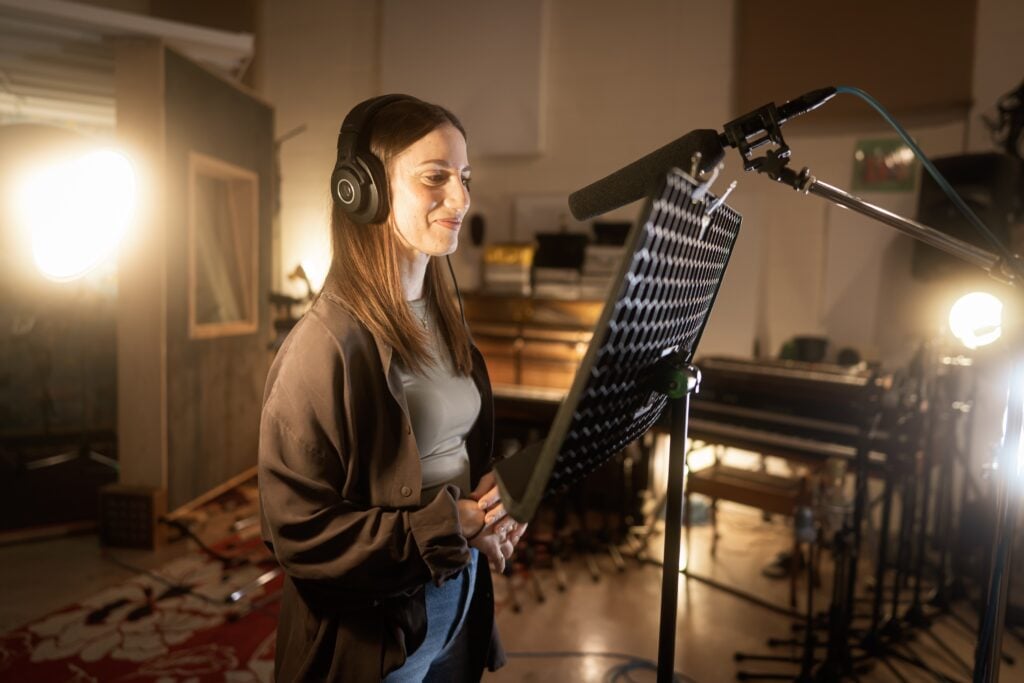 What do you Cover in the Course?
Our course will give you a chance to explore all the major areas of VO. This includes everything from Commercials to Character/Animation to Audiobook/Narration. We only accept a small group so that we can really push you over the weekend to make sure we give you plenty of one-on-one time. As you can see from the testimonials above, this personal element (and limited class size) is really what separates us from other VO courses. We believe you can only make big improvements, by working on the mic, and getting personalised help and support!
The entire course takes place in a professional VO studio, meaning that you are practicing in the actual environment you will one day work in. It also means we are able to record some incredible, industry-standard recordings that you will walk away with! This will serve as a great starting point for you in the VO industry (or a great top up for those who already have a reel and are looking for some fresh content!)
Benefits of the course: 
Gain experience working in a professional setting
Walk away with all the techniques need to bring any VO script to life
Build confidence working in all major genres of VO (and find your strengths and weaknesses)
Learn more about the VO industry and how to effectively move forward.
Get high-quality recordings to kick start your VO career.
Why Do Voice Over Training with Us?
Many people falsely believe that being a voice over artist is just about having a good voice. They think if you're voice sounds good, all you have to do is get in front of the microphone and voila! This couldn't be further from the truth. Of course your voice is a factor, but the main skill is how you use your voice. Can you play with pitch, pace, and volume? Can you connect with the emotion of the script? Can you make our mouths water with the way you describe a new pizza topping, or new coffee brand? Can you read for many hours making limited mistakes? Can you find vocal clarity, confidence and subtly… all in one read?
The skill of VO is all about interpreting and bringing to life scripts, and this work can takes a lot of training. There is a reason some top voice over actors are being paid over $500,000 – what they do is nothing short of extraordinary. There is no other career at this elite level, where you would expect to just walk into an agency or studio have begin earning top dollar. So yes, voice over is a serious skill set and definitely requires training. This will be different for every individual. For instance, if you are an experienced actor, you may find the process of moving into voice over easier as you already have many of the cross over skills. If you are not a performer, you may require more in-depth training, and even specialised voice coaching.
We have now run over 20 sold out courses around Australia and helped 100s of actors get established in the VO industry! 
What to Look for in a Voice Over Course?
These days there are quite a few voice over courses in all major Australian cities. However, there are a few key things to look out for:
Practical course. You become a better VO by working on the microphone. Make sure any training you are considering is taking place in a professional studio and is actually about voice over. Yes it can be helpful to learn voice exercises and do some work in a class room, but at the end of the day a voice artist is made in the booth!
Small class size. Most major VO courses in Australia take way too many students. Some take up to 16 in a single weekend workshop. There is simply no way that you can get an in-depth experience with this amount of students. So be on the hunt for small classes that limit student intake.
Great teachers. Look out for amazing teachers and ideally teachers with plenty of VO experience. Many VO teachers are voice teachers. This is fine, but ideally see if you can work with professional voice over artists that have practical experience in the studio.
Watch out for promises. Any course offering instant success, or an amazing voice reel is usually one to be avoided. You want a course that focuses on the teaching, not on the outcome. How can any course make a promise without knowing you? For most aspiring students a single weekend course is just the start, not a golden ticket to an instant career.
All of these
Voice Over Training in Melbourne
Our course is definitely one of the best voice over courses in Melbourne and is hosted by our founder Andrew Hearle. Since 2015 Andrew has taught voice over all over Australia with his company Collective Sound. Though Collective Sound mainly operates out of Sydney, they host a very special 2 day workshop a few times a year in Melbourne. This course only takes a small number of students and is one of the most respected voice over courses in the country. You can either sign up via the Collective Sound page, or using the sign up form above!
The course limits students, so you get a huge amount of practical experience in the studio (on the mic). The entire course takes place in a professional studio and Andrew teaches alongside some of the top voice over artists and producers in the country.
What to do After Finishing a Voice Over Course?
Some voice over courses will leave you with a few recordings, maybe even a basic reel. Unfortunately, voice reels that are created in a class room are seldom good enough to be used professionally.
I know it is a little frustrating after spending a lot of money already on training, but once you do feel like your skills are there, the main priority is producing a great voice reel. A reel is basically your business card in the industry.
This reel will help you move forward in the industry and hopefully open doors. That said, don't expect that you can produce a reel and instantly have a career. Like any creative pursuit it will take time to develop relationships and establish clients. You may have to look at online platforms, and other more approachable opportunities to begin, but over time, you will begin to make inroads.
As I mentioned at the start, opportunities abound in the voice over industry. It will take time to refine your skills and then find your niche and get established in the industry, but it's a worthwhile pursuit. VO is incredibly fun, challenging, and can be extremely lucrative. If you love using your voice, telling stories, and being creative, this can make an incredible career, or side-hustle. I highly recommend exploring the incredible word of voice over further.
If you are based locally, we highly recommend you check out: Melbourne Voice Over Course.