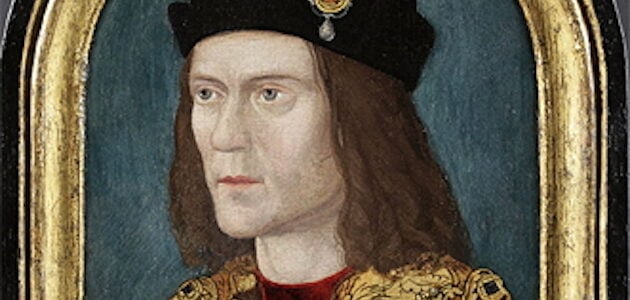 5 Formidable Richard III Monologues
We all know Richard the Third was a badass guy. He was unashamedly ambitious and the moral trifles of others didn't affect him. Richard the Third would do anything to get power. And power he got! We found 5 of the most formidable monologues from Richard III. These are great for auditions, or just because learning a Richard monologue is great fun.
Don't let gender deter you. I recently saw and incredible production of Richard the Third, with Richard played brilliantly by a woman. I love it when my students gender swap and I think most panellists, directors and casting directors also enjoy the change.
The All Time Classic
Act 1 Scene 1
Richard III: Now is the winter of our discontent
Made glorious summer by this son of York;
And all the clouds that lour'd upon our house
In the deep bosom of the ocean buried.
Now are our brows bound with victorious wreaths,
Our bruised arms hung up for monuments,
Our stern alarums chang'd to merry meetings,
Our dreadful marches to delightful measures.
Grim-visaged war hath smooth'd his wrinkled front:
And now, instead of mounting barded steeds
To fright the souls of fearful adversaries,
He capers nimbly in a lady's chamber,
To the lascivious pleasing of a lute.
But I, that am not shap'd for sportive tricks,
Nor made to court an amorous looking-glass;
I, that am rudely stamp'd, and want love's majesty
To strut before a wanton ambling nymph;
I, that am curtail'd of this fair proportion,
Cheated of feature by dissembling Nature,
Deformed, unfinish'd, sent before my time
Into this breathing world, scarce half made up –
And that so lamely and unfashionable
That dogs bark at me, as I halt by them –
Why, I, in this weak piping time of peace,
Have no delight to pass away the time,
Unless to spy my shadow in the sun,
And descant on mine own deformity.
And therefore, since I cannot prove a lover,
To entertain these fair well-spoken days,
I am determined to prove a villain,
And hate the idle pleasures of these days.
Plots have I laid, inductions dangerous,
By drunken prophecies, libels and dreams,
To set my brother Clarence and the King
In deadly hate, the one against the other:
And if King Edward be as true and just
As I am subtle, false and treacherous,
This day should Clarence closely be mew'd up,
About a prophecy, which says that 'G'
Of Edward's heirs the murderer shall be –
Dive, thoughts, down to my soul: here Clarence comes.
Vivid and Dark
Act 1 Scene 4
Duke of Clarence: O, I have pass'd a miserable night,
So full of ugly sights, of ghastly dreams,
That, as I am a Christian faithful man,
I would not spend another such a night
Though 'twere to buy a world of happy days,
So full of dismal terror was the time!
Methoughts that I had broken from the Tower,
And was embark'd to cross to Burgundy;
And in my company my brother Gloucester,
Who from my cabin tempted me to walk
Upon the hatches: thence we look'd toward England,
And cited up a thousand fearful times,
During the wars of York and Lancaster,
That had befall'n us. As we paced along
Upon the giddy footing of the hatches,
Methought that Gloucester stumbled, and in falling,
Struck me (that thought to stay him) overboard,
Into the tumbling billows of the main.
O Lord! Methought, what pain it was to drown:
What dreadful noise of waters in mine ears;
What ugly sights of death within mine eyes!
Methought I saw a thousand fearful wrecks;
Ten thousand men that fishes gnaw'd upon;
Wedges of gold, great anchors, heaps of pearl,
Inestimable stones, unvalu'd jewels,
All scatter'd in the bottom of the sea.
Some lay in dead men's skulls; and, in those holes
Where eyes did once inhabit, there were crept –
As 'twere in scorn of eyes – reflecting gems,
Which woo'd the slimy bottom of the deep,
And mock'd the dead bones that lay scatter'd by.
Heart Wrenching
Act 1 Scene 2
Lady Anne: Set down, set down your honourable load,
If honour may be shrouded in a hearse,
Whilst I awhile obsequiously lament
The untimely fall of virtuous Lancaster.
Poor key-cold figure of a holy king!
Pale ashes of the house of Lancaster!
Thou bloodless remnant of that royal blood!
Be it lawful that I invocate thy ghost,
To hear the lamentations of Poor Anne,
Wife to thy Edward, to thy slaughter'd son,
Stabb'd by the selfsame hand that made these wounds!
Lo, in these windows that let forth thy life,
I pour the helpless balm of my poor eyes.
Cursed be the hand that made these fatal holes!
Cursed be the heart that had the heart to do it!
Cursed the blood that let this blood from hence!
More direful hap betide that hated wretch,
That makes us wretched by the death of thee,
Than I can wish to adders, spiders, toads,
Or any creeping venom'd thing that lives!
If ever he have child, abortive be it,
Prodigious, and untimely brought to light,
Whose ugly and unnatural aspect
May fright the hopeful mother at the view;
And that be heir to his unhappiness!
If ever he have wife, let her he made
A miserable by the death of him
As I am made by my poor lord and thee!
Come, now towards Chertsey with your holy load,
Taken from Paul's to be interred there;
And still, as you are weary of the weight,
Rest you, whiles I lament King Henry's corse.
Never Back Down
Act 1 Scene 2
Lady Anne: What, do you tremble? Are you all afraid?
Alas, I blame you not; for you are mortal,
And mortal eyes cannot endure the devil.
Avaunt, thou dreadful minister of hell!
Thou hadst but power over his mortal body:
His soul thou canst not have; therefore begone.
Foul devil, for God's sake, hence, and trouble us not;
For thou hast made the happy earth thy hell,
Fill'd it with cursing cries and deep exclaims.
If thou delight to view thy heinous deeds,
Behold this pattern of thy butcheries.
O gentlemen! See, see dead Henry's wounds
Open their congeal'd mouths and bleed afresh.
Blush, Blush, thou lump of foul deformity,
For 'tis thy presence that exhales this blood
From cold and empty veins where no blood dwells:
Thy deed, inhuman and unnatural
Provokes this deluge most unnatural.
O God! Which this blood mad'st, revenge his death;
O earth! Which this blood drink'st, revenge his death;
Either heav'n with lightning strike the murderer dead,
Or earth gape open wide and eat him quick,
As thou dost swallow up this good King's blood
Which his hell-govern'd arm hath butchered.
The Machiavellian
Act 1 Scene 2
Richard III: Was ever woman in this humour woo'd?
Was ever woman in this humour won?
I'll have her, but I will not keep her long.
What? I, that kill'd her husband and his father,
To take her in her heart's extremest hate,
With curses in her mouth, tears in her eyes,
The bleeding witness of my hatred by,
Having God, her conscience, and these bars against me,
And I no friends to back my suit at all
But the plain devil and dissembling looks?
And yet to win her! All the world to nothing!
Ha!
Hath she forgot already that brave prince,
Edward, her lord, whom I, some three months since,
Stabbed in my angry mood at Tewksbury?
A sweeter and a lovelier gentleman,
Fram'd in the prodigality of nature—
Young, valiant, wise, and (no doubt) right royal—
The spacious world cannot again afford.
And will she yet abase her eyes on me,
That cropp'd the golden prime of this sweet prince
And made her widow to a woeful bed?
On me, whose all not equals Edward's moiety?
On me, that halts and am misshapen thus?
My dukedom to a beggarly denier,
I do mistake my person all this while!
Upon my life, she finds (although I cannot)
Myself to be a marvelous proper man.
I'll be at charges for a looking-glass,
And entertain a score or two of tailors
To study fashions to adorn my body:
Since I am crept in favour with myself,
I will maintain it with some little cost.
But first I'll turn yon fellow in his grave,
And then return lamenting to my love.
Shine out, fair sun, till I have bought a glass,
That I may see my shadow as I pass.
Hopefully you enjoy these delicious Shakespeare monologues. It's important to do the work before you get on your feet. Look up the unfamiliar words and of course read the play! There are also a number of great filmed versions worth checking out. Enjoy!