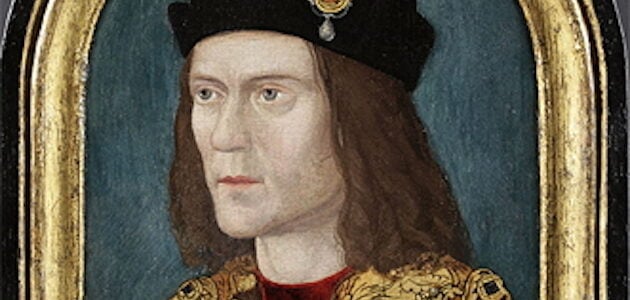 Richard the Third is one of the most well loved Shakespeare plays. We can't turn away from the cunning, machiavellian Richard the Third. The role has been taken up by many of the greatest actors of all time from Laurence Olivier to Ian McKellen and is still put on around the world. We wanted to take a look at this marvellous play and try to break it down for you at home. Enjoy!
Note: If you are looking for Richard the Third monologues, these are great for auditions.
Play Synopsis
Richard, the Duke of Gloucester, is hungry for the English crown. His relentless ambition isn't hindered by the fact that his brother is the current Monarch. Richard deceives his brother, King Edward IV, with claims that his other brother, the Duke of Clarence, wishes to take the crown. Edward IV is persuaded and sends Clarence to the Tower of London.
Richard then proceeds to woo Lady Anne, the grieving wife of Prince Edward, literally over the dead body of her husband's father, Henry VI. Richard manages, in one of the most crafty and spectacular courtships of all time, to successfully woo her.
The court is meanwhile in turmoil over what will happen when the sick Edward IV dies. Elizabeth tells the court that if he dies Richard will be made Protector until his son's are old enough to rule. Queen Margaret (Henry VI's widow) arrives and foretells devastation on the court.
Richard then has Clarence murdered. Edward's sickness worsens at the news of his brother's death and he soon dies. Richard is made Lord Protector. He then has Lord Rivers, Lord Grey and other nobles arrested and executed. He manages to persuade his two nephews, the heirs to the throne, to move to the Tower of London.
Cleverly, he and Buckingham begin to spread the word that Edward and his two sons were illegitimate. Richard, in a staged ploy, then pretends to be praying as Buckingham begs him to take the crown; which Richard denies. The citizens then beg him to take the crown, which he then 'unwillingly' agrees to take.
Not satisfied with having soiled the names of his two nephews, he orders his loyal ally Buckingham to execute them, but Buckingham wavers. This angers Richard and he instead employees James Tyrell to do the job. When Buckingham asks for the land he was promised, Richard ignores him. This leads Buckingham to rebel and join Henry the Earl of Richmond, who is waiting to put a stop to Richards reign.  Richard also disposes of Queen Anne, telling the public she has become ill and she quickly dies. Richard, true to character, seeks a new wife—his brother's daughter Elizabeth (yes she has the same name as her mother, confusing I know).
The Duchess of York (Richard's mother) and Queen Elizabeth (Edward IV's wife) mourn the prince's death. Queen Margaret arrives and they discuss all their great loses: cursing Richard. Richard arrives and his mother tells him she wished she never had him. Unperturbed, Richard then seeks Queen Elizabeth's help in getting her daughter Elizabeth to marry him. Richard is confident he has been successful; however, Elizabeth has deceived him and has no intention of helping him to her daughter. Buckingham is captured and killed, repentant of his sins.
Richmond arrives at Bosworth Field. The night of the battle Richard is visited by the ghosts of his victims, who curse him and bless Richmond. In the battle Richard fights gallantly yet after losing his horse is defeated, and Richmond is crowned Henry VII.  He marries Edwards's daughter, Elizabeth. This brings the War of the Roses to an end, joining the two houses of Lancaster and York, and setting forth the Tudor Dynasty.
Character List
House of York
King Edward IV: current king of England
Edward, Prince of Wales : eldest son of Edward IV
Richard, Duke of York: younger son of Edward IV
Richard, Duke of Gloucester: Edward IV's Brother and later King Richard III
George, Duke of Clarence: Edward IV's brother (later his ghost)
Boy and Girl: George's son and Daughter
Duchess of York: Richard, George and Edward's Mother
House of Lancaster
Queen Margaret: widow of King Henry VI
Lady Anne: widow of Prince Edward
Berkeley and Tressel: attending on Lady Anne
Queen Elizabeth's Family
Queen Elizabeth: King Edward IV wife
Lord Rivers : Elizabeth's brother
Marquis of Dorset: Elizabeth's son
Lord Grey: Elizabeth's son
Sir Thomas Vaughan: friend of Rivers and Grey
Richard III's allies
Duke of Buckingham
Sir William Catesby
Earl of Surrey
Sir Richard Ratcliffe
Duke of Norfolk
Sir James Tyrrell
Lord Lovel
Richard's Page
Two Murderers of Clarence
Other Characters 
Earl of Richmond: after King Henry VII
Lord Stanley: Earl of Derby
Lord Mayor of London
Lord Hastings: the Lord Chamberlain
Sir Brackenbury: Lieutenant of the Tower
Sir Walter Herbert
Earl of Oxford
Archbishop of Canterbury: Lord Cardinal of Bourchier
Archbishop of York