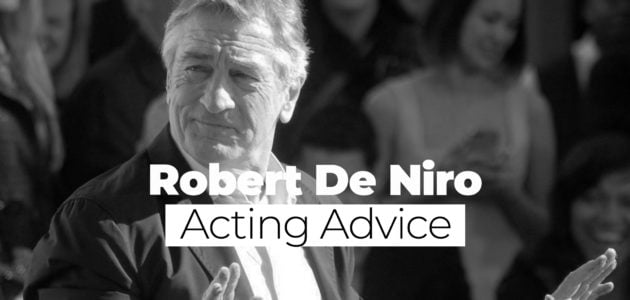 Robert De Niro Acting Advice
"You talkin' about De Niro? You talkin' about De Niro? Then who the hell else are you talkin' about? …Well, he's the only one here." Did you know that the famous film quote I have just (admittedly) butchered was actually improvised by Robert De Niro, extraordinaire, while he was preparing for the role in front of the mirror? Now it's one of the most memorable lines of not only De Niro's illustrious career, but also in cinema history. I know what you're thinking: 'If his mere practicing improvisations are THAT brilliant, what else has this master got to say?!' Here are some inspiring quotes by the man himself, and some more facts you may not have known about the legend that is Robert De Niro. 
DE NIRO on CHOICES…
"A lot of young actors have the idea that: 'I've got to do this right. There's a right way to do this.' But there's no right or wrong. There's only good and bad. And "bad" usually happens when you're trying too hard to do it right. There's a very broad spectrum of things that can inhibit you. The most important thing for actors – and not just actors, but everybody – is to feel loose enough to create what you want to create, and be free to try anything. To have choices." 

"Personally, I always try to listen, because maybe I'm not getting something… It's important to listen to everyone, as many people as you can, and get their input. But then finally you have to make your own decision about what you're going to do, and that's' it. That's what you feel and that's it. And that's the most important thing, I think. The MOST important thing. Because that's where the uniqueness comes in. Because it's you. You've done it… It's not anybody else's. It's YOUR choice." 

"The talent is in the choices." 
FUN FACT! Given his mastery, it should come as no surprise to learn that De Niro's performing arts studies started from an early age. "My mother worked for a woman, Maria Ley-Piscator, who with her husband founded the Dramatic Workshop, which was connected to the New School," De Niro explained in an interview, discussing his humble beginnings. "My mother did proofreading and typing and stuff or her, and as part of her payment, I was able to take acting classes there on Saturdays when I was 10."
De Niro also made his stage debut at 10 years old playing the Cowardly Lion in a local production of 'The Wizard of Oz', and was later moved between various schools but officially dropped out at 16. He briefly joined a street gang, garnering the moniker "Bobby Milk" because of his pale complexion, and eventually attributed much of this experience to his apt portrayal of New York gangsters. Although this life, too, proved to be not fulfilling for the budding artist and he was soon back on a fierce pursuit of an acting career, enrolling himself into the Stella Adler Conservatory as well as Lee Strasberg's Actors Studio. 
DE NIRO on ACTING…
"In acting, I always try to go back to what would actually be the real situation, the real human behaviour in life."

"You draw on whatever's relevant to the part you're playing; it makes it more personal."

"One of the things about acting is it allows you to live other people's lives without having to pay the price."

"It's important not to indicate. People don't try to show their feelings, they try to hide them." 

"You don't need words to express feelings." 

"There is a certain combination of anarchy and discipline in the way I work."

"There is only one way to gain access to the truth and that is to not expect anything." 

"You don't just play a part. You've got to earn the right to play it."
FUN FACT! De Niro is known for the extensive research and authenticity he brings to the multifarious roles he's played throughout his career, often to influential and palpable effect. At 20 years old, De Niro scored his first film role playing a small part in Brian De Palma's 1963 'The Wedding Party', however, the film sat on the shelf for six years before hitting theatres. It was only eventually released in 1969 because of De Niro's rising stardom; otherwise, the film may never have been distributed at all. 
De Niro, and one of his idols, the great Marlon Brando, even made cinema history by being the only two actors ever to win the same Academy Award for playing the same role. In 1972, Brando won the Best Supporting Actor Oscar for playing Mafia Don Vito Corleone in Francis Ford Coppola's 'The Godfather'. After having previously auditioned for several roles in the first film, De Niro was ultimately cast in the sequel, 'The Godfather II', portraying the younger version of Brando's Vito Corleone, and in 1975 he also went on to win the Best Supporting Actor Oscar for playing the same character. 
On the flip side, and at risk of making his genius a cautionary tale, some of his work has proven so remarkable it had a tendency to work against him. In 2004, De Niro was bestowed honorary Italian citizenship in praise and recognition of his vast career. However, the citizenship was strongly protested by a group called the 'Order of the Sons of Italy in America', who claimed they were vehemently against De Niro's frequent portrayal of negative Italian-American stereotypes.  
Years prior, another incident occurred when De Niro hoisted himself by his own talented petard. The 53rd Academy Awards in 1981 were postponed by a day because of an assassination attempt on President Ronald Reagan. The culprit apparently claimed that he was inspired by De Niro's role in 'Taxi Driver' and the attack on the President was largely intended to impress Jodie Foster, with whom he was obsessed after also seeing her in the film. Incidentally, this Academy Awards was also when De Niro won his second Oscar for 'Raging Bull'… evidently, a day later than originally scheduled.  
DE NIRO on FILMMAKING…
"I have so much respect for directors. It's a tremendous amount of pressure; you have to keep steadfast and keep what you know is right."

"You never know what you do that could be totally out of left field, which actually might work and give something fresh to the whole scene, to the character, whatever. If you have that with a director who then knows how to shape it, either in the direction, in the moment, or in the editing, then that's good." 

"The mind of a writer can be a truly terrifying thing. Isolated, neurotic, caffeine-addled, crippled by procrastination, consumed by feelings of panic, self-loathing, and soul-crushing inadequacy. And that's on a good day."

"Movies are hard to make, and you have to work toward a common ethic and do your best. You don't want to work with people who don't care or who are acting out some neurotic, crazy thesis on the set."

"When you make a movie, everyone should leave their own personal problems at home. When they start bringing those to set, filming can be very difficult. You don't need any extra drama. Put the drama into the story, in the characters."

"When you are working hard, you don't have time for anything other than what you are doing."
FUN FACT! De Niro always wanted to be a director as well as an actor and didn't achieve this goal until he was 50 with 1993 'A Bronx Tale'. He has since directed another film and produced several more, and even developed 'A Bronx Tale' into the hit Broadway musical. His love of cinema and New York found even greater unity in 2002 when De Niro started the Tribeca Film Festival, hoping to help revitalise the Lower Manhattan after the September 11 attacks. 
While De Niro often speaks of his avid love for narrative storytelling and the powerful effects of cinema, he remained private about his personal reasons for being in David O Russell's 'Silver Linings Playbook'. Russell wrote and directed the film, which is based on his own experiences of having a son who suffers from bipolar disorder. Teary-eyed, De Niro said in an interview about his Oscar-nominated role: "I don't like to get emotional, but I know exactly what (Russell) is going through". In 2016, De Niro revealed that his son, Elliot, is autistic. "Grace and I have a child with autism," he said, "and we believe it is critical that all of the issues surrounding the causes of autism be openly discussed and examined." De Niro has even joined the anti-vaccine movement, who believe that there is a link between vaccines and autism, but was pressured to remove Andrew Wakefield's topically controversial film 'Vaxxed' from the 2016 Tribeca Film Festival line up. 
DE NIRO on MARTIN 'MARTY' SCORSESE…
"With Marty Scorsese… whatever you want to do, you can actually try and do it maybe it will happen, maybe it will work. So if you have an idea you can say, 'Marty, let me just try that, you never know'. With some directors you don't even go there, it's too much work to even attempt bringing it up to them. With Marty, we'll do it and if it doesn't work – it doesn't work. And that's a great feeling of freedom."
FUN FACTS! De Niro and Martin 'Marty' Scorsese are frequent collaborators and great friends. They have made 10 feature films together which have included some of the greatest performances of De Niro's career, and garnering him vast accolades and some Academy Award nominations for 'Taxi Driver' and 'Cape Fear'. They were even developing their own version of 'Scarface', which was eventually tackled by their close friends Al Pacino and director Brian De Palma.
Scorsese has famously always supported De Niro elaborate performative commitment to his craft, from working as a licensed cabbie for a month in preparation for 'Taxi Driver', to encouraging him to make anti-Semitic remarks to 'The King of Comedy' co-star Jerry Lewis to provoke genuine anger between their characters on screen. Although, De Niro's most well-known transformation was in Scorsese's 1981 'Raging Bull', where he gained a record-breaking 60 pounds to play boxer Jake LaMotta, and was reported to have stayed in character even when the cameras were off.  
"Raging Bull, I read the book," De Niro said. "I called Marty and I said: 'The book's not great literature, but it's got a lot of heart'… I remember I used to see Jake LaMotta, he worked in a strip place, right on 7th Avenue. He'd be standing right out there in the sidewalk. He was overweight and this and that. And I thought: 'Jesus, what happened to him?' And I thought about just the graphic difference of being out of shape from being a young fighter. That was interesting to me. And I'd like to see if I can gain that weight, actually. That was my interest in it. Marty had his reasons and both of us just came together on the project." De Niro's dedicated portrayal earned him his Best Leading Actor Oscar, and, during his training for the role, became so good at boxing that when the real LaMotta arranged several professional-level sparring sessions for the actor, De Niro won two of them. 
DE NIRO ADVICE TO ARTISTS…
"The saddest thing in life is wasted talent." 

"Any depression should be met with a smile. Depression will think you are an idiot and will run away."

"I think it's important to have had at least a few years of obscurity, where people treat you like everybody else." 

"I tell (young actors) just to keep at it, and not be discouraged by – if you're going for readings and stuff like that, you have to try your best and just follow your instincts so you can be free. And assume that you're not going to get it so that you have more of a devil may care attitude about it. I think that helps a lot."
De Niro is his collegiate address to TISCH School of Arts graduates…
"TISCH graduates, you made it – and you're f**ked. Think about that. The graduates for the college of nursing, they all have jobs. The graduates from the college of dentistry, fully employed… The graduates of accounting, they all have jobs. Where does that leave you? Envious of those accountants? I doubt it. They had a choice. Maybe they were passionate about accounting, but I think it's more likely that they used reason and logic and common sense to reach for a career that can give them the expectation of success and stability. Reason, logic, common sense at the TISCH School of Arts? Are you kidding me? But you didn't have that choice, did you? You discovered a talent and developed an ambition and recognised your passion – when you feel that you can't fight it. You just go with it. When it comes to the arts, passion should always trump common sense. You weren't just following your dreams you're reaching for your destiny. You're a dancer, a singer, a choreographer, a filmmaker, a writer, a photographer, a director, a producer, an actor – an artist. Yeah, you're f**ked. The good news is that that's not a bad place to start. Now that you've made your choice, or rather, succumbed to it, your path is clear. Not easy, but clear. You have to keep working. It's that simple…
… It's difficult for me to come up for advice for you who have already set upon your life's work – but I will tell you things I would tell my own children. First, whatever you do, don't go to TISCH School of the Arts. Get an Accounting degree instead. Then I contradict myself, and as corny as it sounds I tell them – don't be afraid to fail. To take chances, to keep an open mind, to welcome new experiences and new ideas. I tell them – if you don't go, you'll never know. You just have to be bold, and go out there and take your chances."
"If you're an actor, always be true to your character. If you are not an actor, have character and always be true to yourself."