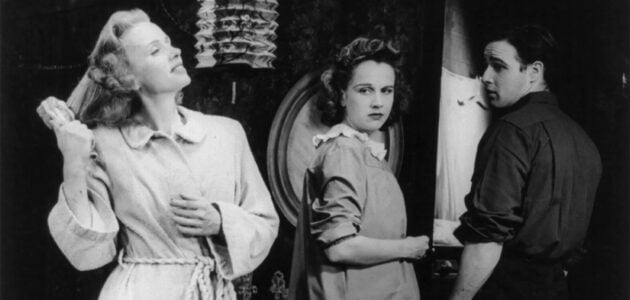 A Streetcar Named Desire is an American Classic. It is a tragic and moving play that features at number 8 on our list of best plays of all time. For actors and theatre-lovers this is a must read. There is also a fantastic film version made in 1951 with incredible Marlon Brando.
A Streetcar Named Desire Synopsis
(Tennessee Williams, 1947)
The play begins with the arrival of Blanche DuBois, an aging southern belle who moves in unannounced to the apartment of her estranged sister Stella. She has lost the family home and is a bundle of nerves, drinking heavily and concealing it from Stella. She makes herself at home but it disapproving of Stella's home and her life, and more importantly of her animalistic Polish husband Stanley, disgusted at the neighbourhood and pregnant Stella's clear sexual happiness with Stanley.
Stanley returns Blanche's dislike, detesting her snobbery and accusing her of swindling her sister out of her inheritance, but there is sexual tension between the two. This chemistry escalates during a poker match when Blanche flirts with Stanley's friend, Mitch. Stanley loses his temper and beats Stella when she tried to defend her sister. The women escape to another flat but later Stella returns to the remorseful Stanley, despite Blanche's protestations.
Blanche formulates a plan to contact a millionaire to get her and her sister out of New Orleans ands tries to convince Stella to leave Stanley, who she ridicules, for someone more her equal in social status. It is revealed that Blanche is completely broke and her delusion becomes more clear. Stanley overhears the conversation, and terrifies Blanche by taunting her with suggestions that he knows secrets about her.
Blanche's sexuality is revealed when she seduces a delivery boy, just before going on a date with Mitch, who she confides in, telling him about her marriage which ended when her husband committed suicide after she discovered he was having a homosexual affair.
Stanley later discovers more details of Blanche's past and takes pleasure in telling Stella and also Mitch. He announces at her birthday party that she was fired from her teaching job after an affair with a student and was forced to leave a cheap hotel because of many sexual liasons and this is the real reason she has had to stay with her sister. Mitch does not arrive and there is a huge row when Stanley cruelly presents Blanche with a one-way ticket home. The row is ended when Stella goes into labour, and the couple leave Blance alone to drink.
A drunken Mitch confronts a drunken Blanche, and tells her he cannot be with her due to her past, which she admits to. He tries to sleep with her and she refuses him. She is even more drunk when a jubilant stanley returns home with news of the baby and rants about her plans to leave New Orleans with the millionaire. Stanley proposes a toast and when Blanche wont go along with it, he gets angry and blocks her path. She threatens him with a broken bottle but he overpowers her and takes her forcibly to the bedroom.
The next we see of Blanche, she is preparing to leave with her millionaire, but in reality she is about to be taken to an asylum. Stella cannot accept her story of rape at the hands of Stanley and sadly packs her sister's things. Blanche is led away while Stanley gently holds his wife and their baby.
The play is a sexually charged story that is mainly about social realism – Blanche represents the past, she is deluded. Stanley is real and a realist, Blanche cannot exist in his world.
A Streetcar Named Desire Character List
Blanche Dubois
Stella Kowalski
Stanley Kowalski
Harold Mitchell (Mitch)
Eunice and Steve Hubell
Pablo Gonzales
Negro Woman
Mexican Woman
A Strange Man (The Doctor)
A Strange Woman (The Nurse)
A Young Collector