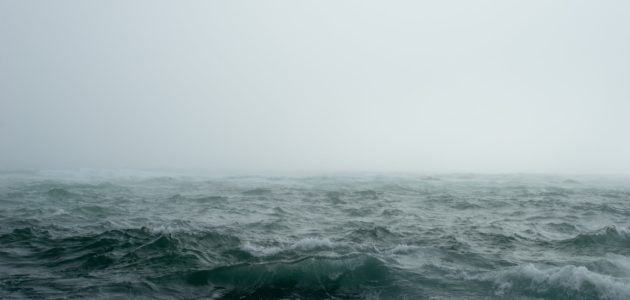 The Tempest is one of Shakespeare's most well-loved plays. We thought it was about time we collated a list of the strongest and most compelling monologues from The Tempest for actors, teachers and theatre-lovers to enjoy. The language is dense and rich with imagery, but in many flourishes shows Shakespeare at the height of his powers. It can be challenging to pick apart, but as you start unlocking the words you will see why The Tempest has long been a favourite among Shakespeare fans.
Jump to: 
It is widely understood to be one of Shakespeare's last plays, and so there is a nostalgic, reflective quality in a number of the monologues, particularly from Prospero. Some even posit that Prospero represents Shakespeare, and his iconic speech from Act 5 Scene 1 about "breaking his staff" is Shakespeare giving up his pen and retiring to Stratford. There is no data for this, but it does offer a romantic image of the genius playwright saying goodbye poetically through one of his most vivid characters.
This play features magic and has an otherworldly quality similar to Shakespeare's earlier work A Midsummer A Night's Dream. But as I mentioned before the text can be more challenging. As Shakespeare developed he began to break the metre more and more, and so the text can feel more abrupt and disjointed. However, Shakespeare was an actor through and through, and if you allow him to support you through the text you will find your way. Remember he was writing for YOU.
Have a read through some of these incredible monologues from the Tempest, and definitely consider tackling them for any upcoming auditions, class environments or just for personal practice. We recommend regularly working on Shakespeare monologues as actors and hopefully you learn a lot from tackling one of these incredible monologues.
Best monologues from The Tempest: 
Miranda Monologue (Act 1 Scene 2)
MIRANDA
If by your art, my dearest father, you have
Put the wild waters in this roar, allay them.
The sky, it seems, would pour down stinking pitch
But that the sea, mounting to th' welkin's cheek,
Dashes the fire out. O, I have suffered
With those that I saw suffer – a brave vessel
(Who had no doubt some noble creature in her)
Dashed all to pieces. O, the cry did knock
Against my very heart! Poor souls, they perished.
Had I been any god of power, I would
Have sunk the sea within the earth or ere
It should the good ship so have swallowed and
The fraughting souls within her.
Ariel Monologue Act 1 Scene 2
To every article.
I boarded the king's ship; now on the beak,
Now in the waist, the deck, in every cabin,
I flamed amazement: sometime I'd divide,
And burn in many places; on the topmast,
The yards and bowsprit, would I flame distinctly,
Then meet and join. Jove's lightnings, the precursors
O' the dreadful thunder-claps, more momentary
And sight-outrunning were not; the fire and cracks
Of sulphurous roaring the most mighty Neptune (F)
Seem to besiege and make his bold waves tremble,
Yea, his dread trident shake.
Prospero: My brave spirit!
Who was so firm, so constant, that this coil
Would not infect his reason?
Ariel: Not a soul
But felt a fever of the mad and play'd
Some tricks of desperation. All but mariners
Plunged in the foaming brine and quit the vessel,
Then all afire with me: the king's son, Ferdinand,
With hair up-staring,—then like reeds, not hair,—
Was the first man that leap'd; cried, 'Hell is empty
And all the devils are here.'
For a full analysis of Ariel Monologue Act 1 Scene 2
Caliban Monologue Act 3 Scene 2
Caliban is speaking to Stephano and Trinculo.
Be not afeard; the isle is full of noises,
Sounds and sweet airs, that give delight, and hurt not.
Sometimes a thousand twangling instruments
Will hum about mine ears; and sometime voices,
That, if I then had waked after long sleep,
Will make me sleep again: and then, in dreaming,
The clouds methought would open, and show riches
Ready to drop upon me; that, when I waked,
I cried to dream again.
Ariel Monologue Act 3 Scene 3
Thunder and lightning. Enter Ariel…
ARIEL
You are three men of sin, whom destiny,
That hath to instrument this lower world
And what is in't, the never-surfeited sea
Hath caused to belch up you , and on this island
Where man doth not inhabit – you 'mongst men
Being most unfit to live – I have made you mad;
And even with such-like valour, men hang and drown
Their proper selves.
Alonso, Sebastian and Antonio draw their swords.
You fools! I and my fellows
Are ministers of fate. The elements
Of whom your swords are tempered may as well
Wound the loud winds, or with bemocked-at stabs
Kill the still-closing waters, as diminish
One dowl that's in my plume. My fellow ministers
Are like invulnerable. If you could hurt,
Your swords are now too massy for your strengths
And will not be uplifted. But remember
(For that's my business to you) that you three
From Milan did supplant good Prospero,
Exposed unto the sea, which hath requit it,
Him and his innocent child; for which foul deed,
The powers delaying, not forgetting, have
Incensed the seas and shores – yea, all the creatures –
Against your peace. Thee of thy son, Alonso,
They have bereft, and do pronounce by me
Ling'ring perdition, worse than any death
Can be at once, shall step by step attend
You and your ways, whose wraths to guard you from –
Which here, in this most desolate isle, else falls
Upon your heads – is nothing but heart's sorrow
And a clear life ensuing.
Prospero Monologue Act 4 Scene 1
Our revels now are ended. These our actors,
As I foretold you, were all spirits and
Are melted into air, into thin air;
And – like the baseless fabric of this vision –
The cloud-capped towers, the gorgeous palaces,
The solemn temples, the great globe itself,
Yea, all which it inherit, shall dissolve,
And like this insubstantial pageant faded,
Leave not a rack behind. We are such stuff
As dreams are made on, and our little life
Is rounded with a sleep. Sir, I am vexed;
Bear with my weakness; my old brain is troubled.
Be not disturbed with my infirmity.
If you be pleased, retire into my cell
And there repose. A turn or two I'll walk
To still my beating mind.
---
Full extract
Prospero Monologue Act 5 Scene 1
PROSPERO
Ye elves of hills, brooks, standing lakes and groves,
And ye that on the sands with printless foot
Do chase the ebbing Neptune, and do fly him
When he comes back; you demi-puppets that
By moonshine do the green sour ringlets make,
Whereof the ewe not bites; and you whose pastime
Is to make midnight-mushrooms, that rejoice
To hear the solemn curfew, by whose aid –
Weak masters though ye be – I have bedimmed
The noontide sun, called forth the mutinous winds,
And 'twixt the green sea and the azured vault
Set roaring war; to the dread-rattling thunder
Have I given fire and rifted Jove's stout oak
With his own bolt: the strong-based promontory
Have I made shake, and by the spurs plucked up
The pine and cedar; graves at my command
Have waked their sleepers, ope'd and let 'em forth
By my so potent art. But this rough magic
I here abjure; and when I have required
Some heavenly music (which even now I do)
To work mine end upon their senses that
This airy charm is for, I'll break my staff,
Bury it certain fathoms in the earth,
And deeper than did ever plummet sound
I'll drown my book.
Prospero Epilogue
The is spoken at the end of the play and is arguably Shakespeare's most famous epilogue.
Now my charms are all o'erthrown,
And what strength I have's mine own,
Which is most faint. Now, 'tis true
I must be here confined by you,
Or sent to Naples. Let me not,
Since I have my dukedom got
And pardoned the deceiver, dwell
In this bare island by your spell;
But release me from my bands
With the help of your good hands.
Gentle breath of yours my sails
Must fill, or else my project fails,
Which was to please. Now I want
Spirits to enforce, art to enchant;
And my ending is despair,
Unless I be relieved by prayer,
Which pierces so that it assaults
Mercy itself, and frees all faults.
As you from crimes would pardoned be,
Let your indulgence set me free.
Conclusion
I hope you enjoyed our list of best monologues from The Tempest. I highly recommend reading the play as a first step. Try to understand the story and get a sense of which characters resonate with you. If you do find there is a part that you connect with grab a monologue and get started. If you need help on how to prepare a monologue. If you find The Tempest isn't for you, check out our full list of Shakespeare monologues.