The Works of Martin McDonagh
From stage, to screen, to radio and even to musical theatre: Martin McDonagh is considered to be one of Ireland's most acclaimed playwrights—and for good reason. His work has gripped audiences since the 1990s, shocking and delighting them with clever wordplay, keen examinations of Irish culture and heritage, antiheroes in absurd situations and black comedy. Pitch black.
Martin McDonagh was born in London in 1970 to Irish parents. At 22, his parents made their way back home to West Ireland, leaving him and his writer-director brother John Michael in London to pursue their creative endeavours. McDonagh's work seems forever informed by this event: offering up an insider's perspective of Irish life and culture, yet forever filtered through an outsider's lens—the characters and landscape feeling both real and yet heightened, almost comically so.
Mister McDonagh's plays have swept far and wide from the West End to Broadway, and his films have found international audiences and acclaim. In this article, we hope to give you a few recommendations for films to check out, so you can continue your education of and love affair with this remarkable Irish playwright.
Updated, 26th December, 2022.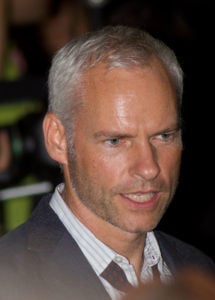 Martin McDonagh is currently ranked 39th in our Best Playwrights of All Time.
The Plays
Let's start at the very beginning. It is, we have been informed, a very good place to start. McDonagh's first six plays can be broken up into two trilogies. The first of these is The Leenane Trilogy, which takes place in and around County Galway where he and his family spent a significant amount of time during his childhood. The Second being The Aran Islands Trilogy which, as the name would suggest, takes place on The Aran Islands.
The Leenane Trilogy
The Beauty Queen of Leenane (1996)
A Skull in Connemara (1997)
The Lonesome West (1997)
The Aran Islands Trilogy
The Cripple of Inishmaan (1998)
The Lieutenant of Inishmore (2001)
The Banshees of Inisheer (Unpublished)
It is interesting to note that The Banshees of Inisheer was never published, as McDonagh insisted that it "isn't any good." A film titled The Banshees of Inisherin, written and directed by him in 2022, is said to bear little resemblance to the play despite the similarity in title. Nice that he was able to salvage something from it.
Moving away from his trilogies, we get into the first of his plays that are set outside of Ireland. Let's take a look.
The Pillowman (2003)
A Behanding in Spokane (2010)
Hangmen (2015)
 A Very Very Very Dark Matter (2018)
It's also worth mentioning that Martin penned two award-winning radio plays: The Woodcutter and The Tale of the Wolf.
Best Plays by Martin McDonagh
It's no easy task to select a top five from this list of classics … but we signed up for this job, didn't we? Here are our picks for the best plays by Martin McDonagh:
The Beauty Queen of Leenane (1996)
The play where it all began. Maureen lives in the Irish village of Leenane, where she takes care of her overbearing Mag and dreams of meeting a nice man to escape with. Mag has other ideas, and proceeds to needle and harass her daughter up to the play's shocking conclusion. It's a strange, Beckettian tragedy that is both hugely depressing and hilarious. An intimidating debut of a new, young playwright.
The Cripple of Inishmaan (1998)
The first of the Aran Islands Trilogy, Inishmaan follows the disabled orphan Billy Claven, who sees an opportunity to rise above his station when a Hollywood film comes to the neighbouring island of Inishmore. McDonagh has publically lamented that the play is seldom regarded as an Irish play, worrying that his London upbringing 'taints' its reputation and keeps it from being properly categorised and canonised. Politics aside, it's a brilliant piece of writing with memorable characters and perhaps his first turly likeable protagonist.
The Lieutenant of Inishmore (2001)
Not counting the unpublished Banshees of Inisheer, Inishmore acts as the grisly farewell to McDonagh's Irish trilogies. Set during the troubles in Ireland, the Tarantino-esque farce concerns splintering factions of the IRA, murderers, torturers and a sickly cat named Wee Thomas. Released to acclaim as McDonagh's star was on the rise, the play feels overwhelmingly cinematic, foreshadowing the direction the writer's career would soon take.
The Pillowman (2003)
Compared to McDonagh's trilogies, The Pillowman is something of a strange departure. Gone is the Irish setting, switched out in favour of an unnamed totalitarian state. Gone is an adoration for the past, switched out for the contemporary—perhaps even a dystopic future? Luckily, the sharp wit and violence and menace remain. Children's author (but only once published) Katurian is interrogated by two police officers about his gruesome fables; apparently, a series of gruesome murders have been taking inspiration from the pages of his writings… To say any more is to give the game away, but know that this play is worth reading/admission alone for the twisted fairytales it contains: "The Tale of the Town on the River", "The Little Green Pig", "The Little Jesus" and the titular "Pillowman".
Hangmen (2015)
Hangmen is a play about the retired life of Britain's second-most prolific hangman Harry Wade. Given that McDonagh had been working predominantly in cinema at this point in his career, it was hailed as an exciting return for the writer to his native form. And yet, critics marvelled at how his writing for stage had matured and expanded: a Birmingham setting and dialect (despite no personal connection), a large cast of characters populating long scenes. Beyond all of the changes, the strange situations, dark comedy and Pinteresque interlopers returned. Hangmen is a masterful play by a playwright at the height of their game: a shameless, well-deserved victory lap.
Best Films by Martin McDonagh
As Martin McDonagh only has five films under his belt at this time (five more than any of us, to be fair), he has at least made a list of his top five films extremely easy to write. We'll examine each below in order of release.
Six Shooter (2004)
Six Shooter pairs McDonagh with actor Brendan Gleeson (with whom he would collaborate again on two other projects) for a strange tale of a man returning home to kill himself after the death of his wife. Stylistically, plot-wise it exists as an odd distillation of McDonagh's previous explorations on stage—as well as the kinds of films he'd spend the next two decades creating to great acclaim. Which isn't to say Six Shooter blipped by unnoticed: it was awarded the Academy Award for Best Live Action Short Film in 2004. We'll say no more about it when you can watch it below:
In Bruges (2008)
McDonaghs' feature film debut is about as close as you can get to a perfect film. Two hitmen lay low in a European tourist town after a job goes bad. It sounds like every knock-off Tarantino movie ever made. And yet McDonagh brings warmth, compassion and intelligence to the story, and two characters who you can't help to love despite their many shortcomings. In Bruges is almost like a fairy tale in its depiction of good and evil and the testings of fate; its full of beautiful imagery and symbolism that allows you to pick it apart across multiple viewings. And special mention must be made to a haunting musical score by Carter Burwell
Seven Psychopaths (2012)
Here's that tricky third album. Seven Psychopaths was billed to audiences as a crazed crime romp featuring an all-star cast: think an up-market Lock Stock And Two Smoking Barrels. The actual film? A meta musing on violence, human nature and the role of the writer in Hollywood. In Colin Farrell's protagonist Ray, you can hear McDonagh sharpening his knife for the town that gave him fortune and fame. It's not a perfect film, but for the risks it takes and pure ambition it's worth your time—which is to say nothing of the brilliant dialogue. However, let us make special mention of a Pillowman-esque story-within-a-story that serves as the film's undisputed highlight, staring a vengeful, psychopathic Quaker.
Three Billboards Outside Ebbing, Missouri (2017)
A grieving mother rents three billboards on the road to a small, American town to bring attention to her daughter's unsolved murder. The premise alone, leaving out the antics that follow, would be ridiculous in the hands of a lesser filmmaker. For McDonagh, the film pushed him to new creative heights and accolades, earning a Best Actor award for its lead Frances McDormand and Best Supporting Actor for Seven Psychopaths alum Sam Rockwell. It's a slow, ponderous film with little resolution or joy to be found. And while it garnered a wider audience for McDonagh, it also drew greater criticism for aspects of his work that were formerly the mark of a bad-boy outsider: casual, graphic violence; amoral, unlikeable protagonists and shock usage of racial slurs and other instances of hate speech. At the end of it all, Three Billboards was a stark declaration that McDonagh has become part of the canon, part of the inner circle.
The Banshees of Inisherin (2022)
As of the writing of this very paragraph, this film is yet to be on wide release. We'll update the minute we've had a chance to catch his latest, but already it looks to be a classic—as well as a curious return to form. You have turn-of-the-century Ireland, dark comedy, the threat of violence and the reunion of McDonagh's In Bruges leads: Brendan Gleeson and Colin Farrell. Early reviews have been raves, and Oscar buzz is already in the air. Surprising nobody, really.
Conclusion
Love him or hate him, the man has a style. Martin McDonagh has carved out a particular place in theatre and film—nipping at the heels of culture until he eventually worked his way to the head of the pack. He has an immense talent for comedy, a gripping grasp of pure horror, and a curiosity for everything in between. So go and check out some (or all) of his work! There's usually a McDonagh being produced somewhere in the world and, if not, head down to your local bookshop or library and have a good read!
I hope you'll enjoy the work of Martin McDonagh as much as we do!