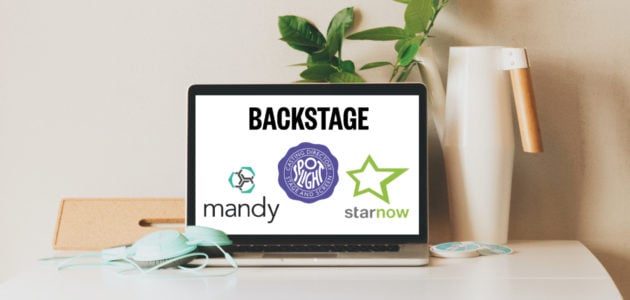 The road from wanting to be an actor to landing consistent work is rarely a straightforward one. And in our experience, no two journeys are alike. You may start at a drama school, or with an agent who has taken notice of you, or you might be piecing it together on your own. Regardless, you've probably asked yourself (likely more than once): what else can I do to get an acting job? 
Casting call websites can provide a tantalizing answer to this question. It all seems pretty straight forward; people who need actors send out castings, and you, the brilliant aspiring actor, register to audition for a role that suits you. Unfortunately, because of just how many actors are out there, and how relatively few roles there are, it doesn't always play out this way on these casting websites. So if you are looking to sign up, it's important to make sure that the platform you use is right for you, and that you have the right kind of expectations for what sort of work you will find. 
Today we're taking a little look at the most prominent casting websites for acting work within the UK industry. We're going to weigh up some pros and cons, and help you figure out which tools will work best for where you're at in your acting journey, whether you're brand new and unrepresented, or signed with an agent and few credits in. We will be comparing the history, cost, features, and quality of castings from each website. 
Updated Jan 25th, 2023
Spotlight
History 
Spotlight is the leading casting website in the UK and is currently Europe's largest casting service, boasting a member base of over 65 thousand performers. It has been around for decades (since 1927), as was originally a printed directory. Later the directory was available on CD-ROM and digital editions, and now, of course, is entirely online. Recently, Spotlight made changes to the criteria for membership, requiring performers to have either Qualification from an accredited course, or Experience demonstrated through four or more professional credits, to gain access. If you'd like to know more about the specific member criteria, check out our deep-dive article into Spotlight here. 
Cost
Once you have met one of the two membership criteria above, you will also need to pay an annual fee of £158. Some discounts are available to deaf and disabled performers. There are flexible payment options available, including monthly direct debit. 
Features 
The first feature of your Spotlight account to get familiar with is your profile. This is where you can upload your headshot, showreel, and voice clips, as well as your acting credits. You should also include your personal details such as your height, appearance, and cultural background. Remember, casting directors may use Spotlight's search function to find actors for a really specific role, so anything that makes you unique should definitely go on your profile. Your membership will also provide you access to The Spotlight Link Board. This is a place for general release castings including those for film, television, theatre and open callouts. Nearly half of the castings here will be for commercials and corporate work, a small percentage of theatre castings, and then an even smaller percentage will be for film, television, and other work. 
Your Spotlight membership grants you access to some other features: there are discounts available to members across a variety of industries, including lifestyle, motoring, shopping, travel, and insurance. Your membership also gives you access to Spotlight events, which can range from Career Advice Sessions to Open Houses events across the U.K. A particularly unique perk is the free of charge Career Advice sessions, and affordable showreel editing service that your membership gives you access to. And finally, Contacts, is a handy Spotlight feature where you can search through a catalogue of freelance industry professionals if you're ever working on your own projects.  
Quality of Castings 
There are different tiers of castings across Spotlight, with differing quality of roles and projects. Spotlight Link is used mainly for general release castings, and very few high profile castings will be found here. Instead, there are a lot of ads and commercial work, and smaller independent projects. The next tier of castings is All Agents. If you have an agent, and you have connected them to your Spotlight profile, they will have access to all of the castings in this tier. However, actors who are unrepresented cannot submit themselves for castings in this tier. And finally, Private Lists; this is where a casting director can customise a selective list of agents to send out specific castings to. Obviously, top tier agents are more likely to be listed in these Private Lists by casting directors than smaller agencies, but this is not a hard and fast rule. 
Note: If you're unrepresented, and the only part of Spotlight you will be able to access is Spotlight link, and you're also on a budget, it may be worth first considering other casting websites. 
The Mandy Network
History 
The Mandy Network, or Mandy.com is named after its creator, Mandy. Mandy was first launched in 1996 as an online directory for finding work in film and television. Later, the 'Pro Site', Casting Call went live in 2004. Pro Sites later merged with Mandy.com in 2015 to form the create your own profile platform that members are familiar with today. Mandy claims to be "the largest recruitment service for people in the creative industry worldwide", but is certainly more popular in some countries than in others. 
Cost
After a fair bit of searching, it remains unclear how much the premium subscription fee is for Mandy.com. You can create a profile for free, and once you have filled out your details, you will be prompted towards upgrading to the premium membership.
Features 
Free membership to Mandy.com will allow you to create a profile and gives you access to the Opportunities section of the directory. With a premium membership, you can access all Jobs and apply for castings listed therein. 
Quality of Castings 
The free membership option gives you access to the Opportunities tab; this is a platform for low to no pay castings and jobs, available to everyone with a free account. As you might expect, the quality of casting here is quite low. With a premium membership, you will be able to access all Jobs in the directory. Rarely will large scale productions and professional companies list major roles (or even minor roles) on Mandy.com. What you will find here instead are student productions, low-budget short and feature films, independent productions, and commercial work. Many listings on Mandy.com will be from large corporations for general call-outs that are not exclusive to Mandy.com. You will also find corporate work, and what we like to call 'acting lite' jobs; these are jobs such as presenter for TikTok content, children's birthday party coordinator, and performer for promotional videos. 
Backstage 
History 
Backstage has been around for over 50 years and has a member base of over 100,00+ members. They claim to have "more performance roles than any other casting service" in their listings. This is a claim made several times across their website, actually: "Backstage has more performing arts jobs than any other platform, period." 
Cost
Backstage has an annual lump-sum debit fee of £84.99, a six-month fee of £49.99, or a monthly fee of £14.99. 
Features 
As a member, you can create a talent profile, you have access to unlimited applications, and you can upload unlimited media. When using the Casting Calls feature to find castings, Backstage has some great search features including production type, role type and special skills, that are very helpful in narrowing down the type of castings and roles you're looking for. This is especially helpful for curating search results to exclude certain types of model or commercial work, if they are not of interest to you. We think this function is particularly helpful, and can save actors a lot of time and energy. Don't want to do theatre? No worries, uncheck that box and theatre jobs won't come up in your search. Very handy. 
Quality of Castings 
When conducting a similar search on using Backstage, as we've done with these casting websites, you will find you get a lot fewer results. However, in comparison to The Mandy Network (above) and StarNow (yet to come), we found the quality of castings to be a little higher. When setting your search functions to leave out any unpaid work, you are left with a hundred or so listings for work that is mostly in the creative arts field, rather than the world of advertising. There are still a fair few castings for commercials, extras work and working with children, but also short films, voice-over, and independent feature films. 
Casting Networks
History 
Casting Networks was acquired by Talent Systems in 2017, and is one of the largest casting call listing sites in the world. The whole setup is elegant and impressive, and truly seems to earn its slogan "The Future of Casting Is Here."
Cost
On Casting Networks, you can choose either a basic (free! yay!) membership or upgrade to the premium version. With the free version, you are able to upload your first two photos, one video and an audio clip, as well as search Casting Billboard® listings. The premium membership—which costs £7.99 GBP per month, or an annual charge of £79.90 GBP— allows you to upload up to 5GB of photos and videos, as well as submit to any casting call or audition on the site. Just bear in mind that to make a submission, you'll need to upgrade to the paid tier anyway.
Features
Once you've created an account through Casting Networks, you can filter by location, playable age range, project type and roll type. In turn, you can apply filters to your profile so you only appear for the kinds of jobs you're currently looking for (such as extras work.) Casting Networks also have their very own app, so you can upload and submit to casting calls while on the go. Through the app, you can even record and submit self tapes and, depending on your settings, you'll also receive alerts whenever somebody responds to your application.
Quality of casting
A majority of UK casting calls through Casting Networks are based in London, but there are also auditions and casting calls which pop up in Birmingham, Liverpool, Manchester and Leeds. It's great to see the Midlands and North of England being represented a bit more, rather than having to travel back-and-forth to London or deciding on whether to make the move to the capital. Make sure to keep an eye on submission due dates, as some postings will still be live even if the due date has passed. However, this is still a great way to get a feel for what productions are currently seeking talent, and you could always introduce yourself—even if the due date has passed.
StarNow 
History 
Founded in 2004, StarNow has over four million members worldwide with a significant presence in the U.K., but also Australia, and New Zealand, and a growing presence in the USA, Canada, Ireland, and South Africa. With the overall mission of being "the world's best platform to showcase and cast talent", StarNow's goal is to connect talent with casting professionals on an online platform. 
Cost 
While it's free to create a basic profile using a trial membership. To upgrade to a Standard Membership, there are a few different pricing and payment options depending on your chosen payment method. You can choose to pay £7/month (month by month), or just over £20 for six months (which averages to £3.5 per month). Your trial membership allows you to create a profile, and apply to a very limited amount of listings for free, so you will definitely be looking to upgrade to the paid option sooner rather than later. With a Standard membership, your profile is listed in the Talent Directory, and you can apply for an unlimited number of jobs. There's also a Premium option, which includes features such as "enhanced profile" and "enhanced applications", and an Elite membership which adds the benefit of getting access to listing an hour earlier than everybody else, as well as unlimited video and audio. 
Features 
Firstly there's the 'Auditions & Jobs' tab where actors can browse through castings, and submit themselves for roles. In addition, there is the Talent Directory, which, as the name suggests, is a directory of actors, extras, models, influencers, presenters, dancers, photographers, crew, musicians and more. Once you've selected one of these main categories in the directory, you can narrow your search further by age, location, and more specific role categories. As an actor, you will rarely use this tool, but someone may use the directory to find you. You may also want to use it when assembling a team for a project of your own. Finally, Discover is a news-feed style page which presents 'staff picks'; these can be audition call outs, or actors' profile updates and images. We personally think this feature will very rarely be useful to an actor. 
Quality of Castings 
The quality of castings that you may find on StarNow will vary greatly depending on your location. Doing a quick search for castings that would suit a 25-35 year old female actor based in London, for example, I found nearly 800 jobs listed. However, this number halved (almost exactly to 414) when I used the toggle function to narrow the search down to paid jobs only. Among these paid jobs, you will find some small, independent short films and music video projects, and a few castings are even offering Equity rates. However, there are a great deal more castings for commercial and corporate jobs, the types that are looking for 'Models' for 'a famous phone brand'. I'm not insinuating that these are not legitimate, paid opportunities, however, they may not be the type of work you're looking for as an actor, and they often pay less than the Equity standards. There are some great projects to be found here, especially for an actor who is just getting started and wanting to gain experience, and even build a portfolio, but I do recommend being discerning with the castings you choose to submit yourself for. It also appears that some really wonderful castings are listed on StarNow when a producer/director/casting director is searching for a very specific brief; so if you are someone with some exceptional, or unique features, you may get very lucky using this platform. 
Conclusion 
In summary, we think it's well worth investing some time in getting to know these platforms and what they might be able to do for you and your career. Chances are, if you're signed with an agency, that you already have (or are trying to obtain) a Spotlight membership for your agent to use when submitting you for castings. But if you're looking to do a little extra digging on your own, casting websites like Mandy.com, Backstage, and StarNow can be a fun way to keep gaining experience, networking, and getting scenes for your showreel in between auditions from your agent. If you want to make the most out of these platforms, it's important to spend some time figuring out if they have the types of castings that you want. All of them will offer you access to the search function, and so we recommend taking the time to put in your search details for who you are and where you are in the world, and see what's there. Many of these websites also have notification or saved search options. To save yourself hours of searching, make the most of these by setting them upright and checking in when they email you with listings that might suit you. It's important not to spend too much time scrolling and hoping for the perfect casting for you to appear, so figure out how to best use these tools before you start pouring time into them that could be better spent working on your craft. Lastly, be discerning and trust your gut. Many of these websites claim to have safety precautions such as checking all listings but never ignore suspicious behaviour. Very often, if it sounds too good to be true, it probably is. 
Happy searching! And please let us know in the comments of any successes (or epic fails) you've had with these casting websites!