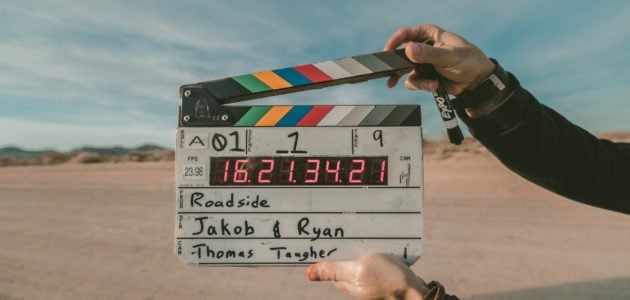 Will Making Content Help my Acting?
As actors we understand the feeling of inertia. Our career stagnates and it seems like there is nothing we can do to get things moving. Curled up in our beds, desperate for clues, we start binging celebrity interviews. If you've ever done this, you will know that one piece of advice comes up again and again: create your own work.
We have all heard the success stories from Lena Dunham writing herself into stardom with her show Girls, or the classic tale of Ben Affleck and Matt Damon writing themselves a healthy 9 Oscar noms with Good Will Hunting. Or who could forget Sylvester Stallone manifesting Rocky! Stallone was resolved that only he could play the titular role and boy did it pay off. But though we know these success stories, will making your own content actually help your acting?
This question has two parts: First, will creating content help me as actor and then will it help my acting career? This is an important distinction, even though they do conflate. Let's look first of all at the artist question of whether creating work helps you as an actor…
Will Making Content Help my Acting?
Yes. And here is why…
Clocking up hours
Long story short, anytime you are getting on stage, or in front of a camera, you are getting better at acting. Clocking up hours is the key to success. And building up those hours in a professional setting can be very tricky. For most actors you are either working in the debatable world of student films, or working sporadically in professional productions.
Knowledge
Frame rate, budgeting, editing, lighting, sound. The things we normally ignore as actors become second nature. We begin to understand how the technical elements influence performance. These technical lessons allow us to work more confidently in the medium we are playing in. If you understand what goes on technically you become better at hitting your marks, being heard, and overall utilising your technical understanding to create more compelling performances. You will learn these things eventually without having to create your own work, but it could take years, and you could be making damaging mistakes along the way. Become a more intelligent actor by creating your own work and learning the ins and outs of film or theatre-making.
Creativity
When you become an integral part of the creative process, you will have ownership of the project, which leads to massive creativity. Creativity is one of the cornerstones of great acting. It you are playful, inventive and working off impulses then your acing will come to life. Sometimes if you are booked on a major production, where you don't know anyone and simply need to get through unscathed, it can be hard to have this sense of play. If you've clocked up some experience with your own projects, then you can then bring that into the professional work you will eventually book.
Authenticity
If you're making work with your friends, you can't get away with bad acting. We all want to impress our friends, and do great work. In my experience the best acting happens on these kinds of projects. We can't be fake to our peers. It forces you to create characters that are really genuine. This is one of the reasons I value creating work so highly. The quality of work is usually very high as everyone wants to do well. Sometimes on a professional set there is too much going on and you can get away with phoning in your performance.
Will Creating Content Help my Acting Career?
Yes. And no. 
Unfortunately I believe most people end up creating content to help their career, rather than to create an awesome piece of art. If you create work solely for this reason then the work will often be pallid and uninspiring. You are likely to be beaten down when you realise the benefits of creating your own work are not immediately obvious. Making a great short film could lead to you landing a great agent, getting a tonne of auditions, booking a job, winning awards, but it could also lead to $10,000 and 189 plays on Youtube. The actors who I know who have had success from creating work have achieved success by investing years into the process, not expecting one or two short  films or your first web-series to get picked up by Netflix.
But whether you get into Cannes or get 2 shares on Facebook, creating work IS helping your career. Here's how:
Footage
Anytime you create a project you are getting more footage. Footage is invaluable to an actor. This could become potential content for your showreel, or simply a clip for your online profiles. The work (fingers crossed) should be more original than a standard reel, and will also have the novelty of being something you created, which is a great conversation starter with agents and casting directors. I spoke with an agent a few weeks ago who signed an actor after being sent his recent short film. If you can take an agent or casting director on a story, they will always remember that.
Credits
A credit is a credit. Assuming your producer has enough know-how to get the short up on IMDB, you can add another short film to your CV. This isn't quite the same as a supporting role in a TV show, but it still shows you're proactive and working. I see so many CVs where the last project was 2016!
Connections/Collaborations
This is the real gold mine. The connections you create are invaluable. Many actors have risen up with a community. These core collaborators will work with you again and again. Remember that the people you are working with now will one day become the industry.
Exposure
I don't love this word, but it does matter. If you are out there creating, and particularly if you are creating good work, you are getting your work out into the world and into the industry. Even if your work is only seen by your Facebook community, and some distant family members, that still could lead to future collaborations.
Respect
The industry respects proactive actors. And I don't mean actors who email casting directors everyday. I mean actors who create work. Whilst other actors are withering away with frustration about the lack of auditions or work they have, the proactive actors are creating, learning and having fun. This mindset garners a lot of respect from the industry (even if you don't see it everyday). It also means that when you go in for auditions you don't care as much. You are already creating awesome work on your own, so who cares what they think!
Momentum
Arguably the most powerful word, if you want to have a career as an actor. Whatever you can do to create momentum is crucial. Whenever I do something for my acting it leads to something else (have you ever noticed this?). If you are creating, meeting people, going to festivals, talking with the industry, naturally momentum will start building. The acting gods conspire to help actors who are creating.
How creating your own work WON'T help you
In 99% of cases you can never go too far with creating content. In fact it is usually the ones who border on obsessive that have the success. But, if you are too outcome focused and are only creating content to help your career, you will quickly burn out. Investing massive amounts of time and money into project after project will destroy you unless you are having fun and loving what you do. It also won't help if the end result is indulgent, rushed and seems like it was pulled together in a matter of weeks. A great creative project should take time. Remember it's about the journey and the experience, not the end result. If it takes you 6 months to write an incredible short film, then so be it. Rome wasn't build in a day!
Conclusion
So there you have it, making your own work can definitely pay off. If the industry isn't giving you the opportunities you think you deserve, then make your own. Many of the most successful actors working today either wrote themselves a career, or moved up with a collective of actors, writers, producers and directors who grew and developed together. You don't have to be the best writer, director or producer, you simply have to have a passion to create and find your tribe. So do it!