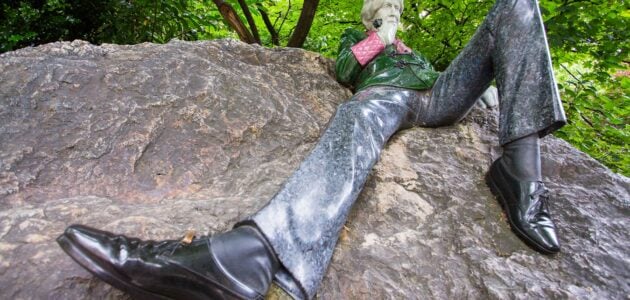 Oscar Wilde (1854 – 1900) was a flamboyant and vivacious Irish playwright of the 19th century. He studied at Trinity College Dublin and Oxford, and was a keen classicist. He wrote a number of great plays as well as essays, poetry and novels. His most famous play and the uncontested number one on this list, The Important of being Earnest is a fantastic farcical comedy that simply must be read by any actor, playwright or decent human being.
Biography
Wilde was born 1852 into a comfortable family of artists and academics; his early brilliance is well recorded, as was his family's efforts to educate their children and instil them with a love of poetry and literature. Wilde eventually schooled at Trinity College Dublin, where he studied classics and aestheticism. He transferred to Oxford, where his poetry first gained significant notice, and he began to craft the 'Oscar Wilde image' we best know: flamboyant clothing and mannerisms that openly defied the masculine ideals of the time.
Throughout the 1880s, Wilde lectured in aestheticism and wrote poetry, becoming a fixture in the London scene. In 1882, he toured to America to lecture, where he was met with acclaim—but also ridicule due to his Irish heritage. However, in the late 1880s and early 1890s, Wilde's work flourished and earned him the respect and adoration of the public. In this period, he debut The Happy Prince and Other Stories (1891), The Picture of Dorian Gray (his only novel, 1890), the plays Lady Windermere's Fan (1893), A Woman of No Importance (1893) and The Importance of Being Earnest (1895).
Unfortunately, Wilde's legacy is forever tied to his criminal prosecution. In 1895, at the height of his popularity and fame, Wilde proceeded to sue the Marquess of Queensberry for libel, after the Marquess had accused Wilde of a homosexual relationship with his son Lord Alfred Douglas. Due to overwhelming evidence and financial ruin, Wilde dropped his case, but was then prosecuted by the Crown for gross indecency. Wilde was imprisoned for three years, and was only pardoned in 2017 with the passing of the 'Alan Turing Law'.
The Legacy of Oscar Wilde
Oscar Wilde's public and humiliating downfall is an early example of a celebrity trial; the public who loved him for his flamboyance and eccentricities were just as eager to see him punished for them. Wilde's final years were lived in exile in France; he died of illness and in poverty at the turn of the century.
And yet, his popularity remains, and grows stronger. Wilde's quietly subversive works—the ones that delighted the upper and middle classes of England—also lampooned their decadent society; this satire is no less relevant today. In 1995, Wilde's place in literary history was honoured with a commemoration in Poets' Corner at Westminster Abbey: alongside greats like the Brontë sisters, Charles Dickens and Lord Byron.
The Best Plays of Oscar Wilde
Oscar Wilde is a master of wit. His work is face paced, and quintessentially English. He is one of England's best playwrights and we recommend all actors to read more of his work. Get a tea and scone and sit down to some British comedy at its best:
1

1895

2

1890

3

1892

4

1895

5

1893
#1 The Importance of Being Earnest (1895)
The Importance of Being Earnest, A Trivial Comedy for Serious People is Wilde's most enduring work for stage, and his most beloved. It's a play of mistaken identities, built on the creation of a persona (Ernest) to escape social and class-based responsibility. Earnest is seen as the pinnacle of Wilde's achievements for dramatic writing in his career, but this is mostly because its opening night sparked the controversy with the Marquess of Queensbury that would lead to Wilde's imprisonment. So it is fitting, perhaps, that so many institutions of clean Victorian living are lampooned and satirised in the work that would become his calling card.
#2 The Picture of Dorian Gray (1890)
The only novel Wilde ever published, and the only non-play on this list. The Picture of Dorian Gray is a classic of gothic literature, about a young, amoral man who wishes a portrait of himself in his attic would age instead of him. As the story progresses and he indulges in every sort of evil and debauched practice—the sins of his life appear on the portrait as its appearance becomes increasingly disfigured. The novel has been adapted countless times since its publication; recently, a 2020 production by the Sydney Theatre Company saw the novel performed in its entirety by a single actor (Eryn Jean Norvill), with cameras and visual effects filling out the supporting characters.
#3 Lady Windermere's Fan (1892)
Lady Windermere's Fan was Wilde's first theatrical success; in it, you can see all of the themes and ideas that would later flourish with works such as Earnest. There is a healthy disdain for the upper class, a plot of mistaken identity and a great deal of witty writing and characterisation. It is funny to think of this as Wilde's first attempt at comedy following a few production-stalled tragedies, given how effortless and delightful the play reads and performs. However, it stands as a perfect example for the way in which satire allows more serious themes to flourish, in hilarious execution. It's a modern play that fits neatly between the Victorian era and the world in which we live today.
#4 An Ideal Husband (1895)
In a list full of theatre classics, An Ideal Husband sort of sticks out, especially when you note that it premiered the same year as The Importance of Being Earnest (1895). It's a play of political intrigue, public honour and morality, that many critics have likened to Wilde's own double-life of public and private personas (soon to be smeared over the front page of newspapers). Reviews of the time were lukewarm at best—most missed the frivolity of his earlier hits, and bemoaned his witticism that bogged down rather than buoyed the plot—but An Ideal Husband remains and endures. It stands as a fascinating glimpse into what Wilde may have evolved into as a writer, had he only the time before his career ran out.
#5 A Woman of No Importance(1893)
A Woman of No Importance is often regarded as Wilde's least successful drawing room play: weaker than Lady Windermere's Fan before it, and not as strong as the important works that would follow. However, there is still much to be enjoyed in its witticisms, and it was received well by the public in its time (even if reviews were lukewarm). While it continues Wilde's satirising of the upper class and their questionable values, it must have felt like more of the same to critics who were aware of the writer's genius. While it is definitely worth your time, consider it within the larger context of Wilde's incredible (if tragically short) theatrical career.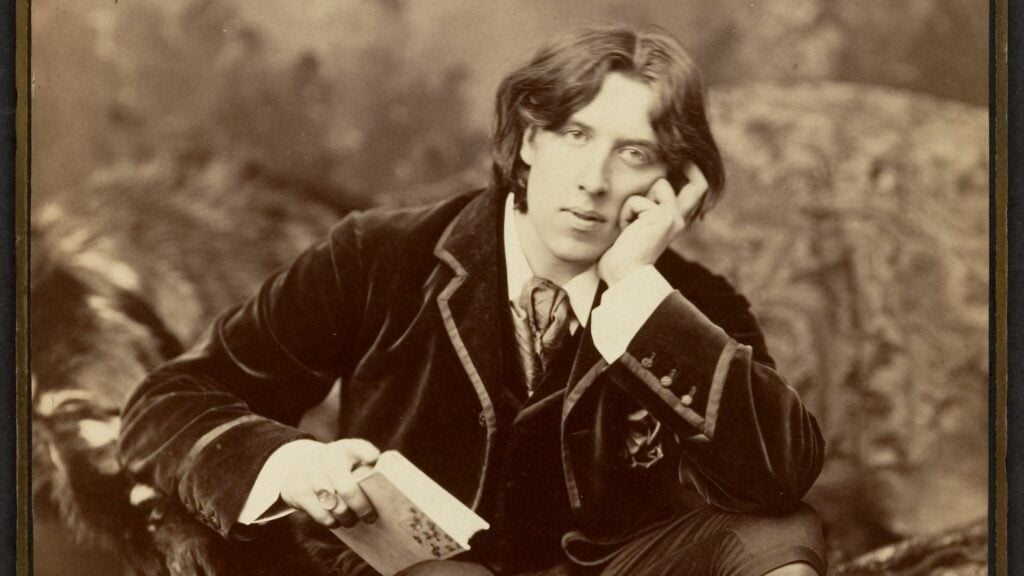 I always recommend to read plays aloud. Even if it's just a few pages before you get stuck into reading, as hearing a playwrights words aloud and tasting them in your mouth is a powerful experience. For Oscar Wilde, it's practically essential. Get his words and phrases and wit into your system and hear them as they are intended (it's also a great way to get an edge if you are ever auditioning for an Oscar Wilde play.) The more familiar and comfortable you are with the language, the more you can bring the words to life. And few people brought life to language like Oscar Wilde.