Here is a list of my favourite Shakespeare sonnets. As is often the case with these top 10 lists, the audacious title is backed by little more than my subjective love for Shakespeare's intriguing sonnets. Poetry is completely subjective and a deeply personal thing, so you may completely disagree, in fact I hope you do. Shakespeare has 154 sonnets, so to pick a top 15 has not been easy. The sonnets investigate love, loss, deception, time, youth and are certainly not simple love poems.
I think this list should be a good starting point if you want to learn more about Shakespeare's sonnets. Many of these you will be familiar with, and some you will not. I urge you to pick up a copy of the sonnets and read them all! If you have a personal favourite let us know in a comment below…
Top 15 Shakespeare Sonnets
1

Weary with toil, I haste me to my bed,
The dear repose for limbs with travel tired;
But then begins a journey in my head,
To work my mind, when body's work's expired:
For then my thoughts (from far where I abide)
Intend a zealous pilgrimage to thee,
And keep my drooping eyelids open wide,
Looking on darkness which the blind do see:
Save that my soul's imaginary sight
Presents thy shadow to my sightless view,
Which, like a jewel hung in ghastly night,
Makes black night beauteous and her old face new.
Lo, thus, by day my limbs, by night my mind,
For thee, and for myself, no quiet find.

Sonnet 18

2

Shall I compare thee to a summer's day?
Thou art more lovely and more temperate.
Rough winds do shake the darling buds of May,
And summer's lease hath all too short a date.
Sometime too hot the eye of heaven shines,
And often is his gold complexion dimmed;
And every fair from fair sometime declines,
By chance or nature's changing course untrimmed.
But thy eternal summer shall not fade,
Nor lose possession of that fair thou ow'st,
Nor shall Death brag thou wand'rest in his shade,
When in eternal lines to time thou grow'st.
So long as men can breathe or eyes can see,
So long lives this, and this gives life to thee.

Sonnet 116

3

Let me not to the marriage of true minds
Admit impediments; love is not love
Which alters when it alteration finds,
Or bends with the remover to remove.
O no, it is an ever-fixed mark
That looks on tempests and is never shaken;
It is the star to every wandering bark,
Whose worth's unknown, although his height be taken.
Love's not Time's fool, though rosy lips and cheeks
Within his bending sickle's compass come;
Love alters not with his brief hours and weeks,
But bears it out even to the edge of doom.
If this be error and upon me proved,
I never writ, nor no man ever loved.

4

To me, fair friend, you never can be old,
For as you were when first your eye I eyed,
Such seems your beauty still. Three winters cold
Have from the forests shook three summers' pride,
Three beauteous springs to yellow autumn turned
In process of the seasons have I seen,
Three April perfumes in three hot Junes burned,
Since first I saw you fresh, which yet are green.
Ah, yet doth beauty, like a dial hand,
Steal from his figure and no pace perceived;
So your sweet hue, which methinks still doth stand,
Hath motion and mine eye may be deceived;
For fear of which, hear this, thou age unbred:
Ere you were born was beauty's summer dead.


Sonnet 130

5

My mistress' eyes are nothing like the sun;
Coral is far more red than her lips' red;
If snow be white, why then her breasts are dun;
If hairs be wires, black wires grow on her head.
I have seen roses damasked, red and white,
But no such roses see I in her cheeks,
And in some perfumes is there more delight
Than in the breath that from my mistress reeks.
I love to hear her speak, yet well I know
That music hath a far more pleasing sound.
I grant I never saw a goddess go;
My mistress, when she walks, treads on the ground.
And yet, by heaven, I think my love as rare
As any she belied with false compare.

Sonnet 129

6

The expense of spirit in a waste of shame
Is lust in action, and, till action, lust
Is perjured, murderous, bloody, full of blame,
Savage, extreme, rude, cruel, not to trust,
Enjoyed no sooner but despised straight,
Past reason hunted, and no sooner had
Past reason hated as a swallowed bait
On purpose laid to make the taker mad;
Mad in pursuit and in possession so,
Had, having, and in quest to have, extreme,
A bliss in proof, and proved, a very woe,
Before, a joy proposed; behind, a dream.
All this the world well knows, yet none knows well
To shun the heaven that leads men to this hell.

Sonnet 1

7

From fairest creatures we desire increase,
That thereby beauty's rose might never die,
But as the riper should by time decease,
His tender heir might bear his memory;
But thou, contracted to thine own bright eyes,
Feed'st thy light's flame with self-substantial fuel,
Making a famine where abundance lies,
Thyself thy foe, to thy sweet self too cruel.
Thou that art now the world's fresh ornament
And only herald to the gaudy spring
Within thine own bud buriest thy content,
And, tender churl, mak'st waste in niggarding.
Pity the world, or else this glutton be,
To eat the world's due, by the grave and thee.

Sonnet 65

8

Since brass, nor stone, nor earth, nor boundless sea,
But sad mortality o'ersways their power,
How with this rage shall beauty hold a plea,
Whose action is no stronger than a flower?
O, how shall summer's honey breath hold out
Against the wrackful siege of battering days,
When rocks impregnable are not so stout,
Nor gates of steel so strong, but Time decays?
O fearful meditation! Where, alack,
Shall Time's best jewel from Time's chest lie hid?
Or what strong hand can hold his swift foot back?
Or who his spoil of beauty can forbid?
O, none, unless this miracle have might,
That in black ink my love may still shine bright.

Sonnet 75

9

So are you to my thoughts as food to life,
Or as sweet seasoned showers are to the ground;
And for the peace of you I hold such strife
As 'twixt a miser and his wealth is found;
Now proud as an enjoyer, and anon
Doubting the filching age will steal his treasure;
Now counting best to be with you alone,
Then better'd that the world may see my pleasure;
Sometime all full with feasting on your sight,
And by and by clean starved for a look;
Possessing or pursuing no delight
Save what is had or must from you be took.
Thus do I pine and surfeit day by day,
Or gluttoning on all, or all away.

Sonnet 23

10

As an unperfect actor on the stage
Who with his fear is put besides his part,
Or some fierce thing replete with too much rage,
Whose strength's abundance weakens his own heart;
So I, for fear of trust, forget to say
The perfect ceremony of love's rite,
And in mine own love's strength seem to decay,
O'ercharged with burden of mine own love's might.
O, let my books be then the eloquence
And dumb presagers of my speaking breast,
Who plead for love and look for recompense
More than that tongue that more hath more expressed.
O, learn to read what silent love hath writ;
To hear with eyes belongs to love's fine wit.

Sonnet 80

11

O, how I faint when I of you do write,
Knowing a better spirit doth use your name,
And in the praise thereof spends all his might
To make me tongue-tied speaking of your fame.
But since your worth, wide as the ocean is,
The humble as the proudest sail doth bear,
My saucy bark inferior far to his
On your broad main doth wilfully appear.
Your shallowest help will hold me up afloat
Whilst he upon your soundless deep doth ride;
Or being wrecked, I am a worthless boat,
He of tall building and of goodly pride.
Then if he thrive and I be cast away,
The worst was this: my love was my decay.

Sonnet 22

12

My glass shall not persuade me I am old
So long as youth and thou are of one date;
But when in thee time's furrows I behold,
Then look I death my days should expiate.
For all that beauty that doth cover thee
Is but the seemly raiment of my heart,
Which in thy breast doth live, as thine in me.
How can I then be elder than thou art?
O therefore, love, be of thyself so wary
As I, not for myself, but for thee will,
Bearing thy heart, which I will keep so chary
As tender nurse her babe from faring ill.
Presume not on thy heart when mine is slain;
Thou gav'st me thine not to give back again.

Sonnet 3

13

Look in thy glass and tell the face thou viewest,
Now is the time that face should form another,
Whose fresh repair if now thou not renewest,
Thou dost beguile the world, unbless some mother.
For where is she so fair whose uneared womb
Disdains the tillage of thy husbandry?
Or who is he so fond will be the tomb
Of his self-love, to stop posterity?
Thou art thy mother's glass, and she in thee
Calls back the lovely April of her prime;
So thou through windows of thine age shalt see,
Despite of wrinkles, this thy golden time.
But if thou live rememb'red not to be,
Die single, and thine image dies with thee.

Sonnet 30

14

When to the sessions of sweet silent thought
I summon up remembrance of things past,
I sigh the lack of many a thing I sought,
And with old woes new wail my dear time's waste.
Then can I drown an eye unused to flow,
For precious friends hid in death's dateless night,
And weep afresh love's long since cancelled woe,
And moan th' expense of many a vanished sight.
Then can I grieve at grievances foregone,
And heavily from woe to woe tell o'er
The sad account of fore-bemoanèd moan,
Which I new pay as if not paid before.
But if the while I think on thee, dear friend,
All losses are restored, and sorrows end.

Sonnet 106

15

When in the chronicle of wasted time
I see descriptions of the fairest wights,
And beauty making beautiful old rhyme
In praise of ladies dead, and lovely knights,
Then, in the blazon of sweet beauty's best,
Of hand, of foot, of lip, of eye, of brow,
I see their antique pen would have express'd
Even such a beauty as you master now.
So all their praises are but prophecies
Of this our time, all you prefiguring;
And, for they look'd but with divining eyes,
They had not skill enough your worth to sing:
For we, which now behold these present days,
Had eyes to wonder, but lack tongues to praise.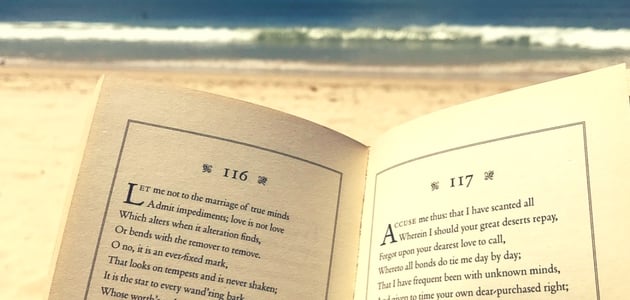 Understanding a Shakespeare Sonnet
Understanding these sonnets can be tough. The archaic language and the lack of context make them a real challenge for actors. Here is my process for unlocking the sense and beauty of these sonnets:
#1 Look up unfamiliar words. Get a dictionary, ideally Shakespeare's Words, and make sure you understand all the words in your sonnet.
#2 One thought at a time. Make sure you understand each thought. It's not enough to understand the themes or the overarching sentiment. You have to understand every word, every line and every thought.
#3 Research. There are a lot of resources out there for your sonnets. Look up the context of your sonnet. Who is Shakespeare talking to and why is he saying these words? Of course you have to use your own instincts, but always best to do some research first.
#4 Read more Shakespeare. Shakespeare is like another language. To truly master Shakespeare's 450 year old words you need to be reading, watching and working on Shakespeare text as often as you can.
We recently made a Shakespeare sonnet app, search StageMilk in the app store. It's free and gives you access to all 154 sonnets. Make sure you check it out.