Stage Milk / Resources / Male Shakespeare Monologues
Male Shakespeare Monologues
This is our list of the best male Shakespeare monologues. We have chosen monologues from a range of Shakespeare's plays, and all the pieces are of varying styles. If you are auditioning for a drama school or simply looking to work on some great text, this list should be very useful.
If you are auditioning we recommend you choose two contrasting monologues to show your versatility. It's usually good to pick one comic and one serious/dramatic piece. As Shakespeare didn't use punctuation in the way we do today, we have punctuated the text ourselves. If you are using a monologue from this list we recommend you cross reference it with a published hard copy version. The Arden, RSC or Cambridge Shakespeare editions are what we would recommend, but use your instincts and ignore punctuation where necessary.
Click the boxes below to reveal full monologue text. 
List of Great Male Shakespeare Monologues
Alls Well That Ends Well (Act 1 Scene 1) | Comedy
Parolles:
Virginity being blown down man will quicklier be blown up; marry, in blowing him down again, with the breach yourselves made you lose your city. It is not politic in the commonwealth of nature to preserve virginity. Loss of virginity is rational increase, and there was never virgin got till virginity was first lost. That you were made of is mettel to make virgins. Virginity, by being once lost may be ten times found; by being ever kept it is ever lost. 'Tis too cold a companion. Away with 't!
There's little can be said in't; 'tis against the rule of nature. To speak on the part of virginity, is to accuse your mothers; which is most infallible disobedience. He that hangs himself is a virgin; virginity murthers itself, and should be buried in highways out of all sanctified limit, as a desperate offendress against nature. Virginity breeds mites, much like a cheese; consumes itself to the very paring, and so dies with feeding his own stomach. Besides, virginity is peevish, proud, idle, made of self-love which is the most inhibited sin in the canon. Keep it not; you cannot choose but loose by't. Out with 't! Within the year it will make itself two, which is a goodly increase, and the principal itself not much the worse. Away with 't!
Antony and Cleopatra (Act 4 Scene 12)
Antony: All is lost!
This foul Egyptian hath betrayed me.
My fleet hath yielded to the foe, and yonder
They cast their caps up and carouse together
Like friends long lost. Triple-turned whore! 'Tis thou
Hast sold me to this novice, and my heart
Makes only wars on thee. Bid them all fly!
For when I am revenged upon my charm,
I have done all. Bid them all fly! Be gone!
Exit SCARUS
O sun, thy uprise shall I see no more.
Fortune and Antony part here; even here
Do we shake hands. All come to this? The hearts
That spanieled me at heels, to whom I gave
Their wishes, do discandy, melt their sweets
On blossoming Caesar, and this pine is barked
That overtopped them all. Betrayed I am.
O this false soul of Egypt! This grave charm
Whose eye becked forth my wars and called them home,
Whose bosom was my crownet, my chief end,
Like a right gipsy hath at fast and loose,
Beguiled me to the very heart of loss.
What, Eros, Eros!
As You Like It (Act 2 Scene 7) | Comedy
Jacques: All the world's a stage,
And all the men and women merely players.
They have their exits and their entrances,
And one man in his time plays many parts,
His acts being seven ages. At first the infant,
Mewling and puking in the nurse's arms.
Then, the whining school-boy, with his satchel
And shining morning face, creeping like snail
Unwillingly to school. And then the lover,
Sighing like furnace, with a woeful ballad
Made to his mistress' eyebrow. Then, a soldier,
Full of strange oaths, and bearded like the pard,
Jealous in honour, sudden and quick in quarrel,
Seeking the bubble reputation
Even in the cannon's mouth. And then the justice,
In fair round belly, with good capon lin'd,
With eyes severe, and beard of formal cut,
Full of wise saws, and modern instances,
And so he plays his part. The sixth age shifts
Into the lean and slipper'd pantaloon,
With spectacles on nose, and pouch on side,
His youthful hose well sav'd, a world too wide
For his shrunk shank, and his big manly voice,
Turning again toward childish treble, pipes
And whistles in his sound. Last scene of all,
That ends this strange eventful history,
Is second childishness and mere oblivion,
Sans teeth, sans eyes, sans taste, sans everything.
---
Full breakdown of Jacques Monologue
The Comedy of Errors (Act 3 Scene 2) | Comedy
Antipholus: Sweet mistress, what your name is else I know not,
Nor by what wonder you do hit of mine;
Less in your knowledge and your grace you show not
Than our earth's wonder, more than earth divine.
Teach me, dear creature, how to think and speak;
Lay open to my earthly gross conceit,
Smother'd in errors, feeble, shallow, weak,
The folded meaning of your words' deceit.
Against my soul's pure truth, why labour you
To make it wander in an unknown field?
Are you a god? Would you create me new?
Transform me then, and to your power I'll yield.
But if that I am I, then well I know
Your weeping sister is no wife of mine,
Nor to her bed no homage do I owe;
Far more, far more to you do I decline;
O, train me not, sweet mermaid, with thy note
To drown me in thy sister's flood of tears;
Sing, siren, for thyself, and I will dote;
Spread o'er the silver waves thy golden hairs,
And as a bed I'll take thee, and there lie,
And in that glorious supposition think
He gains by death that hath such means to die;
Let love, being light, be drowned if she sink.
Cymbeline (Act 2 scene 4)
Posthumus: Is there no way for men to be, but women
Must be half-workers? We are all bastards,
And that most venerable man, which I
Did call my father, was I know not where
When I was stamp'd. Some coiner with his tools
Made me a counterfeit: yet my mother seem'd
The Dian of that time: so doth my wife
The nonpareil of this. O vengeance, vengeance!
Me of my lawful pleasure she restrain'd ,
And pray'd me oft forbearance; did it with
A pudency so rosy, the sweet view on't
Might well have warm'd old Saturn; that I thought her
As chaste as unsunn'd snow. O, all the devils!
This yellow Iachimo, in an hour, was 't not?
Or less; at first? Perchance he spoke not, but
Like a full-acorn'd boar, a German one,
Cried 'O!' and mounted; found no opposition
But what he look'd for should oppose and she
Should from encounter guard. Could I find out
The woman's part in me – For there's no motion
That tends to vice in man but I affirm
It is the woman's part: be it lying, note it,
The woman's: flattering, hers; deceiving, hers:
Lust and rank thoughts, hers, hers; revenges, hers;
Ambitions, covetings, change of prides, disdain,
Nice longing, slanders, mutability;
All faults that name, nay, that hell knows, why, hers
In part, or all: but rather all.For even to vice
They are not constant, but are changing still;
One vice, but of a minute old, for one
Not half so old as that. I'll write against them,
Detest them, curse them: yet 'tis greater skill
In a true hate, to pray they have their will:
The very devils cannot plague them better.
Hamlet (Act 1 Scene 2)
Hamlet:
O, that this too too solid flesh would melt,
Thaw and resolve itself into a dew!
Or that the Everlasting had not fixed
His canon 'gainst self-slaughter! O God, God!
How weary, stale, flat, and unprofitable
Seem to me all the uses of this world!
Fie on't! O, fie, fie! 'Tis an unweeded garden
That grows to seed: things rank and gross in nature
Possess it merely. That it should come to this!
But two months dead: nay, not so much, not two.
So excellent a king, that was to this
Hyperion to a satyr, so loving to my mother
That he might not beteem the winds of heaven
Visit her face too roughly. Heaven and earth,
Must I remember? Why, she would hang on him
As if increase of appetite had grown
By what it fed on, and yet, within a month-
Let me not think on't: Frailty, thy name is woman!-
A little month, or ere those shoes were old
With which she followed my poor father's body,
Like Niobe, all tears: why she, even she –
O, heaven! A beast that wants discourse of reason
Would have mourned longer -married with my uncle,
My father's brother, but no more like my father
Than I to Hercules. Within a month?
Ere yet the salt of most unrighteous tears
Had left the flushing in her galled eyes,
She married. O, most wicked speed, to post
With such dexterity to incestuous sheets!
It is not nor it cannot come to good.
But break my heart, for I must hold my tongue.
---
More Hamlet Monologues
Hamlet (Act 3 Scene 1)
Hamlet:
To be, or not to be, that is the question:
Whether 'tis nobler in the mind to suffer
The slings and arrows of outrageous fortune,
Or to take arms against a sea of troubles,
And by opposing end them. To die, to sleep-
No more – and by a sleep to say we end
The heartache and the thousand natural shocks
That flesh is heir to: 'Tis a consummation
Devoutly to be wished. To die, to sleep;
To sleep, perchance to dream: ay, there's the rub.
For in that sleep of death what dreams may come
When we have shuffled off this mortal coil,
Must give us pause: there's the respect
That makes calamity of so long life.
For who would bear the whips and scorns of time,
The oppressor's wrong, the proud man's contumely,
The pangs of desprized love, the law's delay,
The insolence of office, and the spurns
That patient merit of the unworthy takes,
When he himself might his quietus make
With a bare bodkin? Who would these fardels bear,
To grunt and sweat under a weary life,
But that the dread of something after death,
The undiscovered country, from whose bourn
No traveller returns, puzzles the will,
And makes us rather bear those ills we have
Than fly to others that we know not of?
Thus conscience does make cowards of us all:
And thus the native hue of resolution
Is sicklied o'er with the pale cast of thought,
And enterprises of great pith and moment
With this regard their currents turn awry
And lose the name of action. Soft you now,
The fair Ophelia! Nymph, in thy orisons
Be all my sins remembered.
---
See more Hamlet Monologues
Hamlet (Act 3 Scene 2)
Hamlet:
Speak the speech, I pray you, as I pronounced it to you, trippingly on the tongue: but if you mouth it, as many of our players do, I had as live the town crier spoke my lines. Nor do not saw the air too much with your hand, thus, but use all gently; for in the very torrent, tempest, and, as I may say, whirlwind of your passion, you must acquire and beget a temperance that may give it smoothness. O, it offends me to the soul to hear a robustious periwig-pated fellow tear a passion to tatters, to very rags, to split the cars of the groundlings, who for the most part are capable of nothing but inexplicable dumb shows and noise: I would have such a fellow whipped for o'erdoing Termagant: it out-Herods Herod. Pray you avoid it.
Be not too tame neither, but let your own discretion be your tutor: suit the action to the word, the word to the action, with this special observance: that you o'erstep not the modesty of nature; for anything so overdone is from the purpose of playing, whose end, both at the first and now, was and is to hold as 'twere the mirror up to nature, to show virtue her own feature, scorn her own image, and the very age and body of the time his form and pressure. Now this overdone or come tardy off, though it make the unskilful laugh, cannot but make the judicious grieve; the censure of the which one must in your allowance o'erweigh a whole theatre of others. O, there be players that I have seen play, and heard others praise, and that highly – not to speak it profanely – that, neither having the accent of Christians, nor the gait of Christian, pagan, nor man, have so strutted and bellowed that I have thought some of Nature's journeymen had made men, and not made them well, they imitated humanity so abominably.
O, reform it altogether. And let those that play your clowns speak no more than is set down for them, for there be of them that will themselves laugh, to set on some quantity of barren spectators to laugh too, though in the mean time some necessary question of the play be then to be considered: that's villainous, and shows a most pitiful ambition in the fool that uses it. Go make you ready.
Julius Caesar (Act 2 Scene 1)
Brutus: It must be by his death: and for my part
I know no personal cause to spurn at him
But for the general. He would be crowned:
How that might change his nature, there's the question.
It is the bright day that brings forth the adder,
And that craves wary walking. Crown him that,
And then I grant we put a sting in him
That at his will he may do danger with.
Th'abuse of greatness is when it disjoins
Remorse from power; and to speak truth of Caesar,
I have not known when his affections swayed
More than his reason. But 'tis a common proof
That lowliness is young ambition's ladder,
Whereto the climber upward turns his face;
But when he once attains the upmost round.
He then unto the ladder turns his back,
Looks in the clouds, scorning the base degrees
By which he did ascend. So Caesar may.
Then, lest he may, prevent. And since the quarrel
Will bear no colour for the thing he is,
Fashion it thus; that what he is, augmented,
Would run to these and these extremities.
And therefore think him as a serpent's egg
Which, hatched, would as his kind grow mischievous,
And kill him in the shell.
Julius Caesar (Act 3 Scene 1)
Antony: O pardon me, thou bleeding piece of earth,
That I am meek and gentle with these butchers.
Thou art the ruins of the noblest man
That ever lived in the tide of times.
Woe to the hand that shed this costly blood.
Over thy wounds now do I prophesy
(Which like dumb mouths do ope their ruby lips
To beg the voice and utterance of my tongue)
A curse shall light upon the limbs of men:
Domestic fury and fierce civil strife
Shall cumber all the parts of Italy:
Blood and destruction shall be so in use,
And dreadful objects so familiar,
That mothers shall but smile when they behold
Their infants quartered with the hands of war:
All pity choked with custom of fell deeds,
And Caesar's spirit, ranging for revenge,
With Ate by his side come hot from hell,
Shall in these confines with a monarch's voice,
Cry Havoc and let slip the dogs of war,
That this foul deed shall smell above the earth
With carrion men, groaning for burial.
Julius Caesar (Act 3 Scene 2)
Antony: Friends, Romans, countrymen, lend me your ears:
I come to bury Caesar, not to praise him.
The evil that men do lives after them:
The good is oft interred with their bones.
So let it be with Caesar. The noble Brutus
Hath told you Caesar was ambitious:
If it were so, it was a grievous fault,
And grievously hath Caesar answered it.
Here, under leave of Brutus and the rest
(For Brutus is an honourable man;
So are they all, all honourable men)
Come I to speak in Caesar's funeral.
He was my friend, faithful and just to me;
But Brutus says he was ambitious;
And Brutus is an honourable man.
He hath brought many captives home to Rome,
Whose ransoms did the general coffers fill.
Did this in Caesar seem ambitious?
When that the poor have cried, Caesar hath wept:
Ambition should be made of sterner stuff.
Yet Brutus says, he was ambitious,
And Brutus is an honourable man.
You all did see that on the Lupercal
I thrice presented him a kingly crown,
Which he did thrice refuse. Was this ambition?
Yet Brutus says he was ambitious,
And sure he is an honourable man.
I speak not to disprove what Brutus spoke,
But here I am to speak what I do know.
You all did love him once, not without cause:
What cause withholds you then, to mourn for him?
O judgment, thou art fled to brutish beasts
And men have lost their reason. Bear with me.
My heart is in the coffin there with Caesar,
And I must pause till it come back to me.
Henry IV Part 1 (Act 1 Scene 2)
Prince Hal:
I know you all, and will awhile uphold
The unyok' d humour of your idleness.
Yet herein will I imitate the sun,
Who doth permit the base contagious clouds
To smother up his beauty from the world,
That, when he please again to be himself,
Being wanted he may be more wonder'd at
By breaking through the foul and ugly mists
Of vapours that did seem to strangle him.
If all the year were playing holidays,
To sport would be as tedious as to work;
But when they seldom come, they wish' d-for come,
And nothing pleaseth but rare accidents:
So when this loose behaviour I throw off,
And pay the debt I never promised,
By how much better than my word I am,
By so much shall I falsify men's hopes;
And like bright metal on a sullen ground;
My reformation, glitt'ring o'er my fault,
Shall show more goodly, and attract more eyes
Than that which hath no foil to set it off.
I'll so offend, to make offence a skill,
Redeeming time when men think least I will.
Henry IV Part 1 (Act 1 Scene 3)
Hotspur: My liege, I did deny no prisoners,
But I remember, when the fight was done,
When I was dry with rage and extreme toil,
Breathless and faint, leaning upon my sword,
Came there a certain lord, neat and trimly dress'd,
Fresh as a bridegroom, and his chin new reap'd
Show'd like a stubble-land at harvest-home.
He was perfumed like a milliner,
And 'twixt his finger and his thumb he held
A pouncet-box, which ever and anon
He gave his nose, and took't away again —
Who therewith angry, when it next came there,
Took it in snuff— and still he smil'd and talk'd:
And as the soldiers bore dead bodies by,
He called them untaught knaves, unmannerly,
To bring a slovenly unhandsome corse
Betwixt the wind and his nobility.
With many holiday and lady terms
He question'd me, amongst the rest demanded
My prisoners in your majesty's behalf.
I then, all smarting with my wounds being cold,
To be so pester'd with a popinjay,
Out of my grief and impatience
Answer'd neglectingly, I know not what,
He should, or he should not, for he made me mad
To see him shine so brisk, and smell so sweet,
And talk so like a waiting-gentlewoman
Of guns, and drums, and wounds, God save the mark!
And telling me the sovereignest thing on earth
Was parmacity for an inward bruise,
And that it was great pity, so it was,
This villainous saltpetre should be digg'd
Out of the bowels of the harmless earth,
Which many a good tall fellow had destroy'd
So cowardly, and but for these vile guns
He would himself have been a soldier.
This bald unjointed chat of his, my lord,
I answer'd indirectly, as I said,
And I beseech you, let not his report
Come current for an accusation
Betwixt my love and your high Majesty.
Henry V (Act 3 Scene 1)
Henry V: Once more unto the breach, dear friends, once more,
Or close the wall up with our English dead.
In peace there's nothing so becomes a man
As modest stillness and humility;
But when the blast of war blows in our ears,
Then imitate the action of the tiger:
Stiffen the sinews, conjure up the blood,
Disguise fair nature with hard-favoured rage.
Then lend the eye a terrible aspect;
Let pry through the portage of the head
Like the brass cannon; let the brow o'erwhelm it
As fearfully as doth a galled rock
O'erhang and jutty his confounded base,
Swilled with the wild and wasteful ocean.
Now set the teeth and stretch the nostril wide,
Hold hard the breath and bend up every spirit
To his full height. On, on, you noblest English,
Whose blood is fet from fathers of war-proof,
Fathers that, like so many Alexanders
Have in these parts from morn till even fought,
And sheathed their swords for lack of argument.
Dishonour not your mothers; now attest
That those whom you call'd fathers did beget you.
Be copy now to men of grosser blood
And teach them how to war. And you, good yeoman,
Whose limbs were made in England, show us here
The mettle of your pasture; let us swear
That you are worth your breeding – which I doubt not,
For there is none of you so mean and base
That hath not noble lustre in your eyes.
I see you stand like greyhounds in the slips,
Straining upon the start. The game's afoot.
Follow your spirit, and upon this charge
Cry 'God for Harry, England, and Saint George!'
Henry V (Act 4 Scene 3)
Henry V: This day is called the feast of Crispian.
He that outlives this day, and comes safe home
Will stand a-tiptoe when the day is named
And rouse him at the name of Crispian.
He that shall live this day, and see old age
Will yearly on the vigil feast his neighbours,
And say 'Tomorrow is Saint Crispian.'
Then will he strip his sleeve and show his scars,
And say 'These wounds I had on Crispin's day.'
Old men forget; yet all shall be forgot
But he'll remember with advantages,
What feats he did that day. Then shall our names.
Familiar in his mouth as household words,
Harry the king, Bedford and Exeter,
Warwick and Talbot, Salisbury and Gloucester,
Be in their flowing cups freshly remembered.
This story shall the good man teach his son,
And Crispin Crispian shall ne'er go by
From this day to the ending of the world,
But we in it shall be remembered,
We few, we happy few, we band of brothers.
For he to-day that sheds his blood with me
Shall be my brother; be he ne'er so vile,
This day shall gentle his condition.
And gentlemen in England now abed
Shall think themselves accursed they were not here,
And hold their manhoods cheap whiles any speaks
That fought with us upon Saint Crispin's day.
Henry VI Part 3 (Act 5 Scene 6)
Richard, Duke of Gloucester: What, will the aspiring blood of Lancaster
Sink in the ground? I thought it would have mounted.
See how my sword weeps for the poor king's death.
O, may such purple tears be always shed
From those that wish the downfall of our house!
If any spark of life be yet remaining,
Down, down to hell; and say I sent thee thither-
(Stabs him again)
I that have neither pity, love, nor fear.
Indeed 'tis true that Henry told me of:
For I have often heard my mother say
I came into the world with my legs forward.
Had I not reason, think ye, to make haste
And seek their ruin that usurp'd our right?
The midwife wonder'd and the women cried
'O, Jesu bless us, he is born with teeth!'
And so I was; which plainly signified
That I should snarl, and bite and play the dog.
Then, since the heavens have shaped my body so,
Let hell make crook'd my mind to answer it.
I have no brother, I am like no brother;
And this word 'love,' which graybeards call divine,
Be resident in men like one another,
And not in me: I am myself alone.
Clarence, beware; thou keep'st me from the light,
But I will sort a pitchy day for thee;
For I will buzz abroad such prophecies
That Edward shall be fearful of his life;
And then, to purge his fear, I'll be thy death.
King Henry and the prince his son are gone;
Clarence, thy turn is next, and then the rest,
Counting myself but bad till I be best.
I'll throw thy body in another room,
And triumph, Henry, in thy day of doom.
King Lear (Act 1 Scene 2)
Edmund:
Thou, Nature, art my goddess; to thy law
My services are bound. Wherefore should I
Stand in the plague of custom, and permit
The curiosity of nations to deprive me?
For that I am some twelve or fourteen moonshines
Lag of a brother? Why bastard? Wherefore base?
When my dimensions are as well compact,
My mind as generous, and my shape as true
As honest madam's issue? Why brand they us
With base? With baseness, bastardy? Base, base?
Who, in the lusty stealth of nature, take
More composition and fierce quality
Than doth, within a dull, stale, tired bed,
Go to th' creating a whole tribe of fops
Got 'tween asleep and wake? Well then,
Legitimate Edgar, I must have your land.
Our father's love is to the bastard Edmund
As to th' legitimate. Fine word-,'legitimate'!
Well, my legitimate, if this letter speed
And my invention thrive, Edmund the base
Shall top the legitimate. I grow, I prosper:
Now gods, stand up for bastards!
---
Learn more about Edmund's Monologue.
King Lear (Act 2 Scene 3)
Edgar:
I heard myself proclaimed,
And by the happy hollow of a tree
Escaped the hunt. No port is free, no place
That guard and most unusual vigilance
Does not attend my taking. Whiles I may scape
I will preserve myself, and am bethought
To take the basest and most poorest shape
That ever penury in contempt of man
Brought near to beast. My face I'll grime with filth,
Blanket my loins, elf all my hair in knots
And with presented nakedness outface
The winds and persecutions of the sky.
The country gives me proof and precedent
Of Bedlam beggars, who, with roaring voices,
Strike in their numbed and mortified bare arms
Pins, wooden pricks, nails, sprigs of rosemary;
And with this horrible object, from low farms,
Poor pelting villages, sheepcotes, and mills,
Sometime with lunatic bans, sometime with prayers,
Enforce their charity. Poor Turlygod, poor Tom,
That's something yet: Edgar I nothing am.
---
Learn more about King Lear
King Lear (Act 3 Scene 2)
King Lear: Blow winds and crack your cheeks! Rage, blow!
You cataracts and hurricanoes, spout
Till you have drenched our steeples, drowned the cocks!
You sulphurous and thought-executing fires,
Vaunt-couriers to oak-cleaving thunderbolts,
Singe my white head! And thou, all-shaking thunder,
Strike flat the thick rotundity o' the world,
Crack Nature's moulds, all germens spill at once,
That makes ingrateful man!
Rumble thy bellyful! Spit, fire! Spout rain!
Nor rain, wind, thunder, fire are my daughters;
I tax not you, you elements, with unkindness.
I never gave you kingdom, called you children;
You owe me no subscription. Why then, let fall
Your horrible pleasure. Here I stand your slave,
A poor, infirm, weak, and despised old man.
But yet I call you servile ministers
That will with two pernicious daughters join
Your high-engendered battles 'gainst a head
So old and white as this. O ho! 'tis foul.
King Richard II (Act 2 Scene 3)
Bollingbroke:
As I was banish'd, I was banish'd Hereford;
But as I come, I come for Lancaster.
And, noble uncle, I beseech your grace
Look on my wrongs with an indifferent eye:
You are my father, for methinks in you
I see old Gaunt alive; O, then, my father,
Will you permit that I shall stand condemn'd
A wandering vagabond; my rights and royalties
Pluck'd from my arms perforce and given away
To upstart unthrifts? Wherefore was I born?
If that my cousin king be King of England,
It must be granted I am Duke of Lancaster.
You have a son, Aumerle, my noble cousin;
Had you first died, and he been thus trod down,
He should have found his uncle Gaunt a father,
To rouse his wrongs and chase them to the bay.
I am denied to sue my livery here,
And yet my letters-patents give me leave:
My father's goods are all distrain'd and sold,
And these and all are all amiss employ'd.
What would you have me do? I am a subject,
And I challenge law: attorneys are denied me;
And therefore, personally I lay my claim
To my inheritance of free descent.
King Richard II (Act 3 Scene 2)
Richard II:
No matter where – of comfort no man speak.
Let's talk of graves, of worms, and epitaphs,
Make dust our paper, and with rainy eyes
Write sorrow on the bosom of the earth.
Let's choose executors and talk of wills.
And yet not so – for what can we bequeath
Save our deposed bodies to the ground?
Our lands, our lives, and all, are Bolingbroke's,
And nothing can we call our own but death;
And that small model of the barren earth
Which serves as paste and cover to our bones.
For God's sake let us sit upon the ground
And tell sad stories of the death of kings:
How some have been depos'd, some slain in war,
Some haunted by the ghosts they have deposed,
Some poisoned by their wives, some sleeping kill'd,
All murdered – for within the hollow crown
That rounds the mortal temples of a king
Keeps Death his court, and there the antic sits,
Scoffing his state and grinning at his pomp,
Allowing him a breath, a little scene,
To monarchize, be fear'd, and kill with looks;
Infusing him with self and vain conceit,
As if this flesh which walls about our life
Were brass impregnable; and, humour'd thus,
Comes at the last, and with a little pin
Bores through his castle wall, and farewell king!
Cover your heads, and mock not flesh and blood
With solemn reverence; throw away respect,
Tradition, form, and ceremonious duty;
For you have but mistook me all this while.
I live with bread like you, feel want,
Taste grief, need friends – subjected thus,
How can you say to me, I am a king?
---
Want to know more about Richard II 3.2 Monologue
King Richard II (Act 5 Scene 5)
Richard II:
I have been studying how I may compare
This prison where I live unto the world;
And, for because the world is populous
And here is not a creature but myself,
I cannot do it. Yet I'll hammer it out.
My brain I'll prove the female to my soul,
My soul the father, and these two beget
A generation of still-breeding thoughts,
And these same thoughts people this little world,
In humours like the people of this world;
For no thought is contented. The better sort,
As thoughts of things divine, are intermix'd
With scruples, and do set the word itself against the word,
As thus: 'Come, little ones'; and then again,
'It is as hard to come as for a camel
To thread the postern of a small needle's eye.'
Thoughts tending to ambition, they do plot
Unlikely wonders: how these vain weak nails
May tear a passage through the flinty ribs
Of this hard world, my ragged prison walls;
And for they cannot, die in their own pride.
Thoughts tending to content flatter themselves
That they are not the first of fortune's slaves,
Nor shall not be the last — like silly beggars
Who sitting in the stocks refuge their shame,
That many have and others must sit there;
And in this thought they find a kind of ease,
Bearing their own misfortunes on the back
Of such as have before endured the like.
Thus play I in one person many people,
And none contented. Sometimes am I king;
Then treasons make me wish myself a beggar,
And so I am: then crushing penury
Persuades me I was better when a king;
Then am I king'd again, and by and by
Think that I am unking'd by Bolingbroke,
And straight am nothing: but whate'er I be,
Nor I, nor any man that but man is,
With nothing shall be pleased, till he be eas'd
With being nothing.
---
Learn more about Richard III
King Richard III (Act 1 Scene 1)
Richard III:
Now is the winter of our discontent
Made glorious summer by this son of York;
And all the clouds that lour'd upon our house
In the deep bosom of the ocean buried.
Now are our brows bound with victorious wreaths,
Our bruised arms hung up for monuments,
Our stern alarums chang'd to merry meetings,
Our dreadful marches to delightful measures.
Grim-visaged war hath smooth'd his wrinkled front:
And now, instead of mounting barded steeds
To fright the souls of fearful adversaries,
He capers nimbly in a lady's chamber,
To the lascivious pleasing of a lute.
But I, that am not shap'd for sportive tricks,
Nor made to court an amorous looking-glass;
I, that am rudely stamp'd, and want love's majesty
To strut before a wanton ambling nymph;
I, that am curtail'd of this fair proportion,
Cheated of feature by dissembling Nature,
Deformed, unfinish'd, sent before my time
Into this breathing world, scarce half made up –
And that so lamely and unfashionable
That dogs bark at me, as I halt by them –
Why, I, in this weak piping time of peace,
Have no delight to pass away the time,
Unless to spy my shadow in the sun,
And descant on mine own deformity.
And therefore, since I cannot prove a lover,
To entertain these fair well-spoken days,
I am determined to prove a villain,
And hate the idle pleasures of these days.
Plots have I laid, inductions dangerous,
By drunken prophecies, libels and dreams,
To set my brother Clarence and the King
In deadly hate, the one against the other:
And if King Edward be as true and just
As I am subtle, false and treacherous,
This day should Clarence closely be mew'd up,
About a prophecy, which says that 'G'
Of Edward's heirs the murderer shall be –
Dive, thoughts, down to my soul: here Clarence comes.
---
Check out more awesome Richard the Third Monologues.
King Richard III (Act 1 Scene 4)
Duke of Clarence:
O, I have pass'd a miserable night,
So full of ugly sights, of ghastly dreams,
That, as I am a Christian faithful man,
I would not spend another such a night
Though 'twere to buy a world of happy days,
So full of dismal terror was the time!
Methoughts that I had broken from the Tower,
And was embark'd to cross to Burgundy;
And in my company my brother Gloucester,
Who from my cabin tempted me to walk
Upon the hatches: thence we look'd toward England,
And cited up a thousand fearful times,
During the wars of York and Lancaster,
That had befall'n us. As we paced along
Upon the giddy footing of the hatches,
Methought that Gloucester stumbled, and in falling,
Struck me (that thought to stay him) overboard,
Into the tumbling billows of the main.
O Lord! Methought, what pain it was to drown:
What dreadful noise of waters in mine ears;
What ugly sights of death within mine eyes!
Methought I saw a thousand fearful wrecks;
Ten thousand men that fishes gnaw'd upon;
Wedges of gold, great anchors, heaps of pearl,
Inestimable stones, unvalu'd jewels,
All scatter'd in the bottom of the sea.
Some lay in dead men's skulls; and, in those holes
Where eyes did once inhabit, there were crept –
As 'twere in scorn of eyes – reflecting gems,
Which woo'd the slimy bottom of the deep,
And mock'd the dead bones that lay scatter'd by.
King Richard III (Act 4 Scene 4)
Richard III: As I intend to prosper and repent,
So thrive I in my dangerous affairs
Of hostile arms! Myself myself confound!
God and fortune, bar me happy hours!
Day, yield me not thy light, nor, night, thy rest!
Be opposite all planets of good luck,
To my proceedings, if, with pure heart's love,
Immaculate devotion, holy thoughts,
I tender not thy beauteous, princely daughter.
In her consists my happiness and thine;
Without her, follows to myself, and thee ,
Herself, the land, and many a Christian soul,
Death, desolation, ruin and decay.
It cannot be avoided but by this;
It will not be avoided but by this.
Therefore, dear mother—I must can you so—
Be the attorney of my love to her;
Plead what I will be, not what I have been;
Not my deserts, but what I will deserve.
Urge the necessity and state of times,
And be not peevish-fond in great designs.
Love's Labour's Lost (Act 3 Scene 1) | Comedy
Berowne:
And I, forsooth, in love! I, that have been love's whip,
A very beadle to a humorous sigh,
A critic, nay, a night-watch constable,
A domineering pedant o'er the boy,
Than whom no mortal so magnificent!
This wimpled, whining, purblind, wayward boy,
This Signor Junior, giant dwarf, Dan Cupid,
Regent of love-rhymes, lord of folded arms,
Th' anointed sovereign of sighs and groans,
Liege of all loiterers and malcontents,
Dread prince of plackets, king of codpieces,
Sole imperator and great general
Of trotting 'paritors – O my little heart!
And I to be a corporal of his field
And wear his colours like a tumbler's hoop!
What? I love, I sue, I seek a wife?
A woman that is like a German clock,
Still a-repairing, ever out of frame,
And never going aright, being a watch,
But being watched that it may still go right!
Nay, to be perjured, which is worst of all;
And among three to love the worst of all,
A whitely wanton with a velvet brow,
With two pitch-balls stuck in her face for eyes;
Ay, and by heaven, one that will do the deed
Though Argus were her eunuch and her guard.
And I to sigh for her, to watch for her,
To pray for her! Go to, it is a plague
That Cupid will impose for my neglect
Of his almighty dreadful little might.
Well, I will love, write, sigh, pray, sue and groan:
Some men must love my lady and some Joan.
Full analysis of Berowne's Monologue. 
Macbeth (Act 1 Scene 7)
Macbeth:
If it were done, when 'tis done, then 'twere well
It were done quickly: if the assassination
Could trammel up the consequence, and catch
With his surcease success; that but this blow
Might be the be-all and the end-all – here,
But here, upon this bank and shoal of time,
We'd jump the life to come. But in these cases
We still have judgment here; that we but teach
Bloody instructions, which, being taught, return
To plague the inventor: this even-handed justice
Commends the ingredients of our poison'd chalice
To our own lips. He's here in double trust:
First, as I am his kinsman and his subject,
Strong both against the deed; then, as his host,
Who should against his murderer shut the door,
Not bear the knife myself. Besides, this Duncan
Hath borne his faculties so meek, hath been
So clear in his great office, that his virtues
Will plead like angels, trumpet-tongu'd, against
The deep damnation of his taking-off;
And pity, like a naked new-born babe,
Striding the blast, or heaven's Cherubins, hors'd
Upon the sightless couriers of the air,
Shall blow the horrid deed in every eye,
That tears shall drown the wind. I have no spur
To prick the sides of my intent, but only
Vaulting ambition, which o'erleaps itself
And falls on the other.
---
Learn more about this Macbeth Monologue
Macbeth (Act 2 Scene 1)
Macbeth: Is this a dagger which I see before me,
The handle toward my hand? Come, let me clutch thee: –
I have thee not, and yet I see thee still.
Art thou not, fatal vision, sensible
To feeling, as to sight? or art thou but
A dagger of the mind, a false creation,
Proceeding from the heat-oppressed brain?
I see thee yet, in form as palpable
As this which now I draw.
Thou marshall'st me the way that I was going;
And such an instrument I was to use.
Mine eyes are made the fools o' th' other senses,
Or else worth all the rest: I see thee still;
And on thy blade, and dudgeon, gouts of blood,
Which was not so before. There's no such thing.
It is the bloody business which informs
Thus to mine eyes. Now o'er the one half-world
Nature seems dead, and wicked dreams abuse
The curtain'd sleep: Witchcraft celebrates
Pale Hecate's off'rings, and wither'd Murther,
Alarum'd by his sentinel, the wolf,
Whose howl's his watch, thus with his stealthy pace,
With Tarquin's ravishing strides, towards his design
Moves like a ghost. Thou sure and firm-set earth,
Hear not my steps, which way they walk, for fear
Thy very stones prate of my where-about,
And take the present horror from the time,
Which now suits with it. Whiles I threat, he lives:
Words to the heat of deeds too cold breath gives.
(A bell rings)
I go, and it is done: the bell invites me.
Hear it not, Duncan; for it is a knell
That summons thee to Heaven, or to Hell.
Macbeth (Act 2 Scene 3) | Comedy
Porter:
Here's a knocking indeed! If a man were porter of Hell gate, he should have old turning the key.
(Knocking) Knock, knock, knock! Who's there, i' th' name of Beelzebub? Here's a farmer, that hanged himself on the expectation of plenty: come in, time –pleaser; have napkins enow about you; here you'll sweat for't.(Knocking) Knock, knock! Who's there, i'th' other devil's name? Faith, here's an equivocator, that could swear in both the scales against either scale; who committed treason enough for God's sake, yet could not equivocate to heaven: O, come in, equivocator.(Knocking) Knock, knock, knock! Who's there? Faith, here's an English tailor come hither, for stealing out of a French hose: come in, tailor; here you may roast your goose.(Knocking) Knock, knock. Never at quiet! What are you? But this place is too cold for Hell. I'll devil-porter it no further: I had thought to have let in some of all professions that go the primrose way to the everlasting bonfire. (Knocking)
Anon, anon: I pray you, remember the Porter.
(Opens the gate)
Macbeth (Act 5 Scene 5)
Macbeth: I have almost forgot the taste of fears.
The time has been, my senses would have cool'd
To hear a night-shriek; and my fell of hair
Would at a dismal treatise rouse, and stir,
As life were in't. I have supp'd full with horrors:
Direness, familiar to my slaughterous thoughts,
Cannot once start me.
(Re-enter Seyton)
Wherefore was that cry?
She should have died hereafter:
There would have been a time for such a word. —
To-morrow, and to-morrow, and to-morrow,
Creeps in this petty pace from day to day,
To the last syllable of recorded time;
And all our yesterdays have lighted fools
The way to dusty death. Out, out, brief candle!
Life's but a walking shadow, a poor player
That struts and frets his hour upon the stage,
And then is heard no more: it is a tale
Told by an idiot, full of sound and fury,
Signifying nothing.
Measure for Measure (Act 2 Scene 2)
Angelo:
What's this? What's this? Is this her fault, or mine?
The tempter, or the tempted, who sins most, ha?
Not she; nor doth she tempt; but it is I
That, lying by the violet in the sun,
Do as the carrion does, not as the flower,
Corrupt with virtuous season. Can it be
That modesty may more betray our sense
Than woman's lightness? Having waste ground enough,
Shall we desire to raze the sanctuary
And pitch our evils there? O fie, fie, fie!
What dost thou, or what are thou, Angelo?
Dost thou desire her foully for those things
That make her good? O, let her brother live!
Thieves for their robbery have authority,
When judges steal themselves. What, do I love her,
That I desire to hear her speak again?
And feast upon her eyes? What is't I dream on?
O cunning enemy,that, to catch a saint,
With saints dost bait thy hook! Most dangerous
Is that temptation that doth goad us on
To sin in loving virtue. Never could the strumpet
With all her double vigour, art and nature,
Once stir my temper: but this virtuous maid
Subdues me quite. Ever till now
When men were fond, I smil'd and wonder'd how.
---
Check out Measure for Measure Monologues
Measure for Measure (Act 2 Scene 4)
Angelo:
Who will believe thee, Isabel?
My unsoil'd name, the austereness of my life,
My vouch against you, and my place i'th' state
Will so your accusation overweigh,
That you shall stifle in your own report,
And smell of calumny. I have begun,
And now I give my sensual race the rein:
Fit thy consent to my sharp appetite;
Lay by all nicety and prolixious blushes,
That banish what they sue for. Redeem thy brother
By yielding up thy body to my will;
Or else he must not only die the death,
But thy unkindness shall his death draw out
To lingering sufferance. Answer me tomorrow,
Or, by the affection that now guides me most,
I'll prove a tyrant to him. As for you,
Say what you can: my false o'erweighs your true.
---
Learn more about Angelo's Monologue
The Merchant of Venice (Act 1 Scene 3)
Shylock:
Signior Antonio, many a time and oft
In the Rialto you have rated me
About my moneys and my usances:
Still have I borne it with a patient shrug,
(For sufferance is the badge of all our tribe)
You call me misbeliever, cut-throat dog,
And spit upon my Jewish gaberdine,
And all for use of that which is mine own.
Well then, it now appears you need my help:
Go to then, you come to me, and you say,
'Shylock, we would have moneys,' you say so;
You, that did void your rheum upon my beard,
And foot me as you spurn a stranger cur
Over your threshold, moneys is your suit.
What should I say to you? Should I not say
'Hath a dog money? is it possible
A cur can lend three thousand ducats?' Or
Shall I bend low, and in a bondman's key,
With bated breath, and whisp'ring humbleness say this:
'Fair sir, you spit on me on Wednesday last,
You spurn'd me such a day, another time
You call'd me dog: and for these courtesies
I'll lend you thus much moneys'?
---
Learn more about Shylock's Monologue.
The Merchant of Venice (Act 2 Scene 2) | Comedy
Launcelot:
Certainly, my conscience will serve me to run from this Jew my master: the fiend is at mine elbow, and tempts me, saying to me, 'Gobbo, Launcelot Gobbo, good Launcelot,' or 'good Gobbo,' or 'good Launcelot Gobbo, use your legs, take the start, run away.' My conscience says 'No; take heed honest Launcelot; take heed, honest Gobbo,' or as aforesaid 'honest Launcelot Gobbo, do not run, scorn running with thy heels.' Well, the most courageous fiend bids me pack, 'Fia!' says the fiend, 'away!' says the fiend, 'for the heavens, rouse up a brave mind' says the fiend, 'and run.' Well, my conscience, hanging about the neck of my heart, says very wisely to me: 'My honest friend Launcelot' – being an honest man's son,' or rather an honest woman's son, for indeed my father did something smack, something grow to; he had a kind of taste; well, my conscience says 'Launcelot budge not!' – 'Budge!' says the fiend, –'Budge not!' says my conscience. 'Conscience,' say I, 'you counsel well, – Fiend' say I, 'you counsel well,' – to be ruled by my conscience, I should stay with the Jew my master, who (God bless the mark) is a kind of devil; and to run away from the Jew, I should be ruled by the fiend, who (saving your reverence) is the devil himself: certainly the Jew is the very devil incarnation, and in my conscience, my conscience is but a kind of hard conscience, to offer to counsel me to stay with the Jew; the fiend gives the more friendly counsel: I will run fiend, my heels are at your commandment I will run.
---
Discover The Merchant of Venice.
The Merchant of Venice (Act 3 Scene 1)
Shylock: To bait fish withal. If it will feed nothing else, it will feed my revenge. He hath disgraced me, and hindered me half a million; laughed at my losses, mocked at my gains, scorned my nation, thwarted my bargains, cooled my friends, heated mine enemies, and what's his reason? I am a Jew. Hath not a Jew eyes? Hath not a Jew hands, organs, dimensions, senses, affections, passions? Fed with the same food, hurt with the same weapons, subject to the same diseases, healed by the same means, warmed and cooled by the same winter and summer, as a Christian is? If you prick us, do we not bleed? If you tickle us, do we not laugh? If you poison us, do we not die? And if you wrong us, shall we not revenge? If we are like you in the rest, we will resemble you in that. If a Jew wrong a Christian, what is his humility? Revenge. If a Christian wrong a Jew, what should his sufferance be by Christian example? Why, revenge. The villany you teach me, I will execute, and it shall go hard but I will better the instruction.
The Merchant of Venice (Act 3 Scene 2)
Bassanio: So may the outward shows be least themselves,
The world is still deceived with ornament.
In law, what plea so tainted and corrupt,
But, being seasoned with a gracious voice,
Obscures the show of evil? In religion,
What damned error, but some sober brow
Will bless it and approve it with a text,
Hiding the grossness with fair ornament?
There is no vice so simple but assumes
Some mark of virtue on his outward parts;
How many cowards, whose hearts are all as false
As stairs of sand, wear yet upon their chins
The beards of Hercules and frowning Mars;
Who, inward searched, have livers white as milk.
And these assume but valour's excrement
To render them redoubted! Look on beauty,
And you shall see 'tis purchased by the weight;
Which therein works a miracle in nature,
Making them lightest that wear most of it:
So are those crisped snaky golden locks
Which make such wanton gambols with the wind
Upon supposed fairness, often known
To be the dowry of a second head,
The skull that bred them in the sepulchre.
Thus ornament is but the guiled shore
To a most dangerous sea, the beauteous scarf
Veiling an Indian beauty; in a word,
The seeming truth which cunning times put on
To entrap the wisest. Therefore, thou gaudy gold,
Hard food for Midas, I will none of thee;
Nor none of thee, thou pale and common drudge
'Tween man and man. But thou, thou meagre lead,
Which rather threaten'st than dost promise aught,
Thy paleness moves me more than eloquence;
And here choose I. Joy be the consequence!
A Midsummer Night's Dream (Act 1 Scene 1)
Egeus: Full of vexation come I, with complaint
Against my child, my daughter Hermia.
Stand forth, Demetrius. My noble lord,
This man hath my consent to marry her.
Stand forth, Lysander: and my gracious duke,
This man hath bewitched the bosom of my child.
Thou, thou, Lysander, thou hast given her rhymes,
And interchanged love-tokens with my child.
Thou hast by moonlight at her window sung,
With feigning voice verses of feigning love,
And stolen the impression of her fantasy
With bracelets of thy hair, rings, gauds, conceits,
Knacks, trifles, nosegays, sweetmeats – messengers
Of strong prevailment in unharden'd youth –
With cunning hast thou filched my daughter's heart,
Turned her obedience, which is due to me,
To stubborn harshness. And, my gracious duke,
Be it so she will not here before your grace
Consent to marry with Demetrius,
I beg the ancient privilege of Athens:
As she is mine, I may dispose of her;
Which shall be either to this gentleman
Or to her death, according to our law
Immediately provided in that case.
A Midsummer Night's Dream (Act 3 Scene 2) | Comedy
Puck: My mistress with a monster is in love.
Near to her close and consecrated bower,
While she was in her dull and sleeping hour,
A crew of patches, rude mechanicals,
That work for bread upon Athenian stalls,
Were met together to rehearse a play
Intended for great Theseus' nuptial-day.
The shallowest thick-skin of that barren sort,
Who Pyramus presented in their sport,
Forsook his scene, and enter'd in a brake,
When I did him at this advantage take:
An ass's nole I fixed on his head.
Anon, his Thisbe must be answered,
And forth my mimic comes. When they him spy—
As wild geese that the creeping fowler eye,
Or russet-pated choughs, many in sort,
Rising and cawing at the gun's report,
Sever themselves and madly sweep the sky,
So, at his sight, away his fellows fly;
And, at our stamp, here o'er and o'er one falls;
He murder cries and help from Athens calls.
Their sense thus weak, lost with their fears thus strong,
Made senseless things begin to do them wrong:
For briers and thorns at their apparel snatch;
Some sleeves, some hats, from yielders all things catch.
I led them on in this distracted fear,
And left sweet Pyramus translated there;
When in that moment, so it came to pass,
Titania wak'd, and straightway lov'd an ass.
A Midsummer Night's Dream (Act 4 Scene 1)
Oberon: Welcome, good Robin.
See'st thou this sweet sight?
Her dotage now I do begin to pity.
For, meeting her of late behind the wood,
Seeking sweet favours from this hateful fool,
I did upbraid her and fall out with her.
For she his hairy temples then had rounded
With a coronet of fresh and fragrant flowers.
And that same dew, which sometime on the buds
Was wont to swell like round and orient pearls,
Stood now within the pretty flowerets' eyes
Like tears that did their own disgrace bewail.
When I had at my pleasure taunted her,
And she in mild terms begged my patience,
I then did ask of her her changeling child,
Which straight she gave me, and her fairy sent
To bear him to my bower in fairy land.
And now I have the boy, I will undo
This hateful imperfection of her eyes.
And, gentle Puck, take this transformed scalp
From off the head of this Athenian swain;
That, he awaking when the other do,
May all to Athens back again repair,
And think no more of this night's accidents
But as the fierce vexation of a dream.
But first I will release the fairy queen.
Be as thou wast wont to be;
See as thou wast wont to see.
Dian's bud o'er Cupid's flower
Hath such force and blessed power.
Now, my Titania, wake you, my sweet queen.
Much Ado About Nothing (Act 2 Scene 3) | Comedy
Benedick: This can be no trick: the conference was sadly borne; they have the truth of this from Hero. They seem to pity the lady: it seems her affections have their full bent. Love me! Why, it must be requited. I hear how I am censured: they say I will bear myself proudly, if I perceive the love come from her; they say too that she will rather die than give any sign of affection. I did never think to marry: I must not seem proud: happy are they that hear their detractions and can put them to mending. They say the lady is fair — 'tis a truth, I can bear them witness; and virtuous — 'tis so, I cannot reprove it; and wise, but for loving me— by my troth, it is no addition to her wit, nor no great argument of her folly, for I will be horribly in love with her. I may chance have some odd quirks and remnants of wit broken on me because I have railed so long against marriage: but doth not the appetite alter? A man loves the meat in his youth that he cannot endure in his age. Shall quips and sentences and these paper bullets of the brain awe a man from the career of his humour? No, the world must be peopled. When I said I would die a bachelor, I did not think I should live till I were married. Here comes Beatrice. By this day, she's a fair lady! I do spy some marks of love in her.
Much Ado About Nothing (Act 2 Scene 3) | Comedy
Benedick: I do much wonder that one man, seeing how much another man is a fool when he dedicates his behaviours to love, will, after he hath laughed at such shallow follies in others, become the argument of his own scorn by failing in love: and such a man is Claudio. I have known when there was no music with him but the drum and the fife, and now had he rather hear the tabor and the pipe. I have known when he would have walked ten mile afoot to see a good armour, and now will he lie ten nights awake, carving the fashion of a new doublet. He was wont to speak plain and to the purpose, like an honest man and a soldier, and now is he turned orthography — his words are a very fantastical banquet, just so many strange dishes. May I be so converted and see with these eyes? I cannot tell; I think not. I will not be sworn, but love may transform me to an oyster; but I'll take my oath on it, till he have made an oyster of me, he shall never make me such a fool. One woman is fair, yet I am well; another is wise, yet I am well; another virtuous, yet I am well; but till all graces be in one woman, one woman shall not come in my grace. Rich she shall be, that's certain; wise, or I'll none; virtuous, or I'll never cheapen her; fair, or I'll never look on her; mild, or come not near me; noble, or not I for an angel; of good discourse, an excellent musician, and her hair shall be — of what colour it please God. Ha! the Prince and Monsieur Love! I will hide me in the arbour.
Othello (Act 2 Scene 1)
Iago: That Cassio loves her, I do well believe't:
That she loves him, 'tis apt and of great credit.
The Moor – howbeit that I endure him not —
Is of a constant, loving, noble nature,
And I dare think he'll prove to Desdemona
A most dear husband. Now, I do love her too,
Not out of absolute lust — though peradventure
I stand accountant for as great a sin —
But partly led to diet my revenge,
For that I do suspect the lusty Moor
Hath leaped into my seat, the thought whereof
Doth, like a poisonous mineral, gnaw my inwards:
And nothing can or shall content my soul
Till I am even'd with him, wife for wife,
Or failing so, yet that I put the Moor
At least into a jealousy so strong
That judgment cannot cure. Which thing to do,
If this poor trash of Venice, whom I trace
For his quick hunting, stand the putting on,
I'll have our Michael Cassio on the hip,
Abuse him to the Moor in the rank garb—
For I fear Cassio with my night-cap too—
Make the Moor thank me, love me and reward me
For making him egregiously an ass
And practising upon his peace and quiet
Even to madness. 'Tis here, but yet confused:
Knavery's plain face is never seen tin used.
Othello (Act 5 Scene 2)
Othello: Soft you; a word or two before you go.
I have done the state some service, and they know't —
No more of that. I pray you, in your letters,
When you shall these unlucky deeds relate,
Speak of me as I am: nothing extenuate,
Nor set down aught in malice. Then must you speak
Of one that loved not wisely but too well:
Of one not easily jealous, but being wrought,
Perplex'd in the extreme: of one whose hand,
Like the base Judean, threw a pearl away
Richer than all his tribe: of one whose subdued eyes,
Albeit unused to the melting mood,
Drop tears as fast as the Arabian trees
Their medicinal gum. Set you down this;
And say besides, that in Aleppo once,
Where a malignant and a turbaned Turk
Beat a Venetian and traduced the state,
I took by the throat the circumcised dog,
And smote him, thus.
Romeo and Juliet (Act 1 Scene 4) | Comedy
Mercutio: O, then I see Queen Mab hath been with you:
She is the fairies' midwife, and she comes
In shape no bigger than an agate stone
On the forefinger of an alderman,
Drawn with a team of little atomies
Over men's noses as they lie asleep:
Her wagon spokes made of long spinners' legs,
The cover of the wings of grasshoppers,
Her traces of the smallest spider web,
Her collars of the moonshine's wat'ry beams,
Her whip, of cricket's bone, the lash of film,
Her wagoner, a small grey-coated gnat,
Not half so big as a round little worm
Pricked from the lazy finger of a maid,
Her chariot is an empty hazel-nut
Made by the joiner squirrel or old grub,
Time out o' mind the fairies' coachmakers.
And in this state she gallops night by night
Through lovers' brains, and then they dream of love,
On courtiers' knees, that dream on curtsies straight,
O'er lawyers' fingers, who straight dream on fees,
O'er ladies' lips, who straight on kisses dream,
Which oft the angry Mab with blisters plagues,
Because their breaths with sweetmeats tainted are:
Sometimes she gallops o'er a courtier's nose,
And then dreams he of smelling out a suit:
And sometimes comes she with a tithe-pig's tail
Tickling a parson's nose as 'a lies asleep,
Then dreams he of another benefice.
Sometimes she driveth o'er a soldier's neck,
And then dreams he of cutting foreign throats,
Of breaches, ambuscadoes, Spanish blades,
Of healths five-fathom deep, and then anon
Drums in his ear, at which he starts and wakes,
And being thus frighted, swears a prayer or two
And sleeps again. This is that very Mab
That plats the manes of horses in the night,
And bakes the elflocks in foul sluttish hairs,
Which once untangled much misfortune bodes.
This is the hag, when maids lie on their backs,
That presses them and learns them first to bear,
Making them women of good carriage.
This is she!
Romeo and Juliet (Act 2 Scene 1)
Romeo: But, soft! What light through yonder window breaks?
It is the east, and Juliet is the sun.
Arise, fair sun, and kill the envious moon,
Who is already sick and pale with grief,
That thou her maid art far more fair than she:
Be not her maid, since she is envious:
Her vestal livery is but sick and green
And none but fools do wear it; cast it off.
It is my lady, O, it is my love!
O, that she knew she were!
She speaks yet she says nothing: what of that?
Her eye discourses: I will answer it.
I am too bold, 'tis not to me she speaks:
Two of the fairest stars in all the heaven,
Having some business, do entreat her eyes
To twinkle in their spheres till they return.
What if her eyes were there, they in her head?
The brightness of her cheek would shame those stars,
As daylight doth a lamp, her eyes in heaven
Would through the airy region stream so bright
That birds would sing and think it were not night.
See, how she leans her cheek upon her hand!
O, that I were a glove upon that hand,
That I might touch that cheek!
Taming of the Shrew (Act 2 Scene 1) | Comedy
Petruchio: I'll attend her here,
And woo her with some spirit when she comes.
Say that she rail, why then I'll tell her plain
She sings as sweetly as a nightingale:
Say that she frown, I'll say she looks as clear
As morning roses newly wash'd with dew:
Say she be mute and will not speak a word,
Then I'll commend her volubility,
And say she uttereth piercing eloquence.
If she do bid me pack, I'll give her thanks,
As though she bid me stay by her a week:
If she deny to wed, I'll crave the day
When I shall ask the banns, and when be married.
But here she comes, and now, Petruchio, speak.
The Tempest (Epilogue)
Prospero: Now my charms are all o'erthrown,
And what strength I have's mine own,
Which is most faint. Now, 'tis true
I must be here confined by you,
Or sent to Naples. Let me not,
Since I have my dukedom got
And pardoned the deceiver, dwell
In this bare island by your spell;
But release me from my bands
With the help of your good hands.
Gentle breath of yours my sails
Must fill, or else my project fails,
Which was to please. Now I want
Spirits to enforce, art to enchant;
And my ending is despair,
Unless I be relieved by prayer,
Which pierces so that it assaults
Mercy itself, and frees all faults.
As you from crimes would pardoned be,
Let your indulgence set me free.
Timon of Athens (Act 4 Scene 2)
Steward: O the fierce wretchedness that glory brings us!
Who would not wish to be from wealth exempt,
Since riches point to misery and contempt?
Who would be so mock'd with glory, or to live
But in a dream of friendship,
To have his pomp and all what state compounds
But only painted, like his varnish'd friends?
Poor honest lord, brought low by his own heart,
Undone by goodness; strange, unusual blood,
When man's worst sin is he does too much good!
Who then dares to be half so kind again?
For bounty, that makes gods, does still mar men.
My dearest lord, bless'd, to be most accurs'd,
Rich, only to be wretched — thy great fortunes
Are made thy chief afflictions. Alas, kind lord,
He's flung in rage from this ingrateful seat
Of monstrous friends,
Nor has he with him to supply his life,
Or that which can command it.
I'll follow and inquire him out.
I'll ever serve his mind, with my best will;
Whilst I have gold I'll be his steward still.
Titus Andronicus (Act 5 Scene 1)
Aaron: Ay, that I had not done a thousand more.
Even now I curse the day—and yet, I think,
Few come within the compass of my curse—
Wherein I did not some notorious ill,
As kill a man or else devise his death,
Ravish a maid or plot the way to do it,
Accuse some innocent and forswear myself,
Set deadly enmity between two friends,
Make poor men's cattle break their necks,
Set fire on barns and hay-stacks in the night
And bid the owners quench them with their tears.
Oft have I digged up dead men from their graves
And set them upright at their dear friends' doors,
Even when their sorrows almost were forgot,
And on their skins, as on the bark of trees,
Have with my knife carved in Roman letters,
'Let not your sorrow die though I am dead.'
Tut, I have done a thousand dreadful things
As willingly as one would kill a fly,
And nothing grieves me heartily indeed
But that I cannot do ten thousand more.
The Two Gentlemen of Verona (Act 2 Scene 3) | Comedy
Launce: Nay, 'twill be this hour ere I have done weeping. All the kind of the Launces have this very fault. I have received my proportion, like the prodigious son, and am going with Sir Proteus to the Imperial's court. I think Crab, my dog, be the sourest-natured dog that lives: my mother weeping; my father wailing; my sister crying; our maid howling; our cat wringing her hands, and all our house in a great 600 perplexity; yet did not this cruel-hearted cur shed one tear. He is a stone, a very pebble stone, and has no more pity in him than a dog. A Jew would have wept to have seen our parting. Why, my grandam, having no eyes, look you, wept herself blind at my parting. Nay, I'll show you the manner of it. This shoe is my father. No, this left shoe is my father; no, no, this left shoe is my mother; nay, that cannot be so neither. Yes, it is so, it is so: it hath the worser sole. This shoe with the hole in it is my mother; and this my father. A vengeance on't, there 'tis. Now, sit, this staff is my sister; for, look you, she is as white as a lily, and as small as a wand. This hat is Nan, our maid. I am the dog. No, the dog is himself, and I am the dog. O, the dog is me, and I am myself. Ay; so, so. Now come I to my father: 'Father, your blessing.' Now should not the shoe speak a word for weeping; now should I kiss my father; well, he weeps on; now come I to my mother. O that she could speak now like a wood woman! Well, I kiss her. Why, there 'tis: here's my mother's breath up and down. Now come I to my sister: mark the moan she makes. Now the dog all this while sheds not a tear; nor speaks a word; but see how I lay the dust with my tears.
The Winter's Tale (Act 1 Scene 2)
Leontes:
Gone already!
Inch-thick, knee-deep; o'er head and ears a fork'd one.
Go, play, boy, play: thy mother plays, and I
Play too; but so disgrac'd a part, whose issue
Will hiss me to my grave: contempt and clamour
Will be my knell. Go, play, boy, play. There have been,
(Or I am much deceiv'd) cuckolds ere now,
And many a man there is (even at this present,
Now, while I speak this) holds his wife by th' arm,
That little thinks she has been sluic'd in's absence
And his pond fish'd by his next neighbour, by
Sir Smile, his neighbour: nay, there's comfort in't,
Whiles other men have gates, and those gates open'd,
As mine, against their will. Should all despair
That have revolted wives, the tenth of mankind
Would hang themselves. Physic for't there's none;
It is a bawdy planet, that will strike
Where 'tis predominant; and 'tis powerful, think it,
From east, west, north, and south; be it concluded,
No barricado for a belly. Know't,
It will let in and out the enemy,
With bag and baggage: many thousand on's
Have the disease, and feel't not. How now, boy?
Shakespeare Monologues for Men (A Guide)
Working on a Shakespeare monologue can be a lot of fun, but it can also be a challenge. Each time you work with one of these great male monologues you get more and more confident. Here is our guide to working on your monologue:
#1 Read the play. This is non-negotiable, make sure you read the play, and many times at that.
#2 Look up unfamiliar words. Get a Shakespeare dictionary, and look up any unfamiliar words.
#3 What does your character want? Back to basics here. Think about what your character wants. Remember a monologue is still a scene, it is still a conversation. Furthermore that scene is always part of a broader story. In the monologue why does your character continue to speak? What drives the monologue forward?
#4 Who are you talking to? Many actors get tripped up when working on a Shakespeare monologue because they aren't clear about who they are talking to. If the monologue is a soliloquy then you are in conversation with the audience. That should still be specific. Who is the audience and what do they look like? If you are talking to another character who is it? Especially in an audition setting it is important to have a clear idea of who you are speaking to.
#5 These words have never been said. You might be performing one of the most famous male Shakespeare monologues, but for your character it is the first time. Remember to think on the line and don't get lost in the poetry of the monologue.
#6 Let go! Once you've done your work don't hold onto that work in performance. Allow the preparation to inform your work, but don't try to get it right. Perfection is a helpful way of looking at performing a Shakespeare monologue.
If you need more advice on how to act Shakespeare we have plenty of information on this site. So have a look around and see what you can learn. If you have any ideas of other great male Shakespeare monologues let us know in a comment below.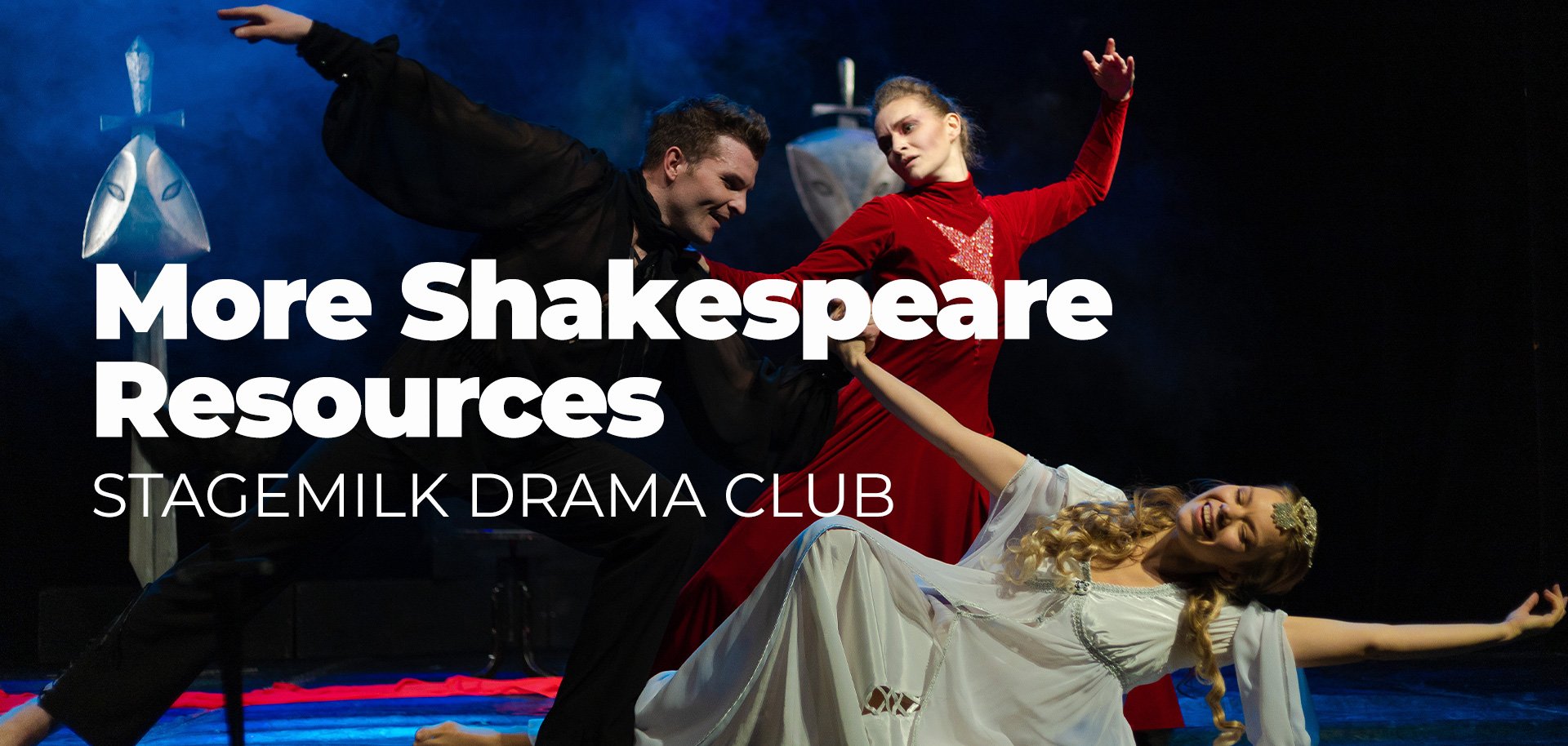 About the Author
Is made up of the core Stage Milk writers. We work together to come up with a number of our lists and articles.