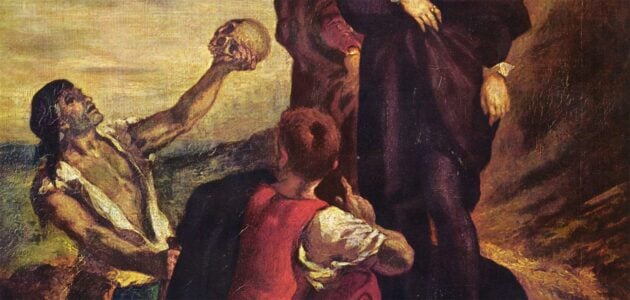 Hamlet. Arguably Shakespeare's most lauded play. Hamlet is an incredible play and if you're lucky enough to be involved in a production, be prepared for a rollercoaster ride. Whether you are auditioning for drama school, a play, film or whatever, it's important to have a great monologue up your sleeve. Hamlet is a great play for finding monologues.
Hamlet, of course, is one of the greatest characters ever penned, but there are a number of great male and female characters in the play, and where there are great characters there are great monologues. So enjoy!
We are committed to providing the best monologue resources out there and so here is our list of best Hamlet Monologues:
Hamlet Monologues (Men)

Act 1 Scene 2 (Hamlet Monologue)
O, that this too too solid flesh would melt
Thaw and resolve itself into a dew!
Or that the Everlasting had not fix'd
His canon 'gainst self-slaughter! O God! God!
How weary, stale, flat and unprofitable,
Seem to me all the uses of this world!
Fie on't! ah fie! 'tis an unweeded garden,
That grows to seed; things rank and gross in nature
Possess it merely. That it should come to this!
But two months dead: nay, not so much, not two:
So excellent a king; that was, to this,
Hyperion to a satyr; so loving to my mother
That he might not beteem the winds of heaven
Visit her face too roughly. Heaven and earth!
Must I remember? why, she would hang on him,
As if increase of appetite had grown
By what it fed on: and yet, within a month–
Let me not think on't–Frailty, thy name is woman!–
A little month, or ere those shoes were old
With which she follow'd my poor father's body,
Like Niobe, all tears:–why she, even she–
O, God! a beast, that wants discourse of reason,
Would have mourn'd longer–married with my uncle,
My father's brother, but no more like my father
Than I to Hercules: within a month:
Ere yet the salt of most unrighteous tears
Had left the flushing in her galled eyes,
She married. O, most wicked speed, to post
With such dexterity to incestuous sheets!
It is not nor it cannot come to good:
But break, my heart; for I must hold my tongue.
Act 1 Scene 2 (Claudius Monologue)
'Tis sweet and commendable in your nature, Hamlet,
To give these mourning duties to your father:
But, you must know, your father lost a father;
That father lost, lost his, and the survivor bound
In filial obligation for some term
To do obsequious sorrow: but to persever
In obstinate condolement is a course
Of impious stubbornness; 'tis unmanly grief;
It shows a will most incorrect to heaven,
A heart unfortified, a mind impatient,
An understanding simple and unschool'd:
For what we know must be and is as common
As any the most vulgar thing to sense,
Why should we in our peevish opposition
Take it to heart? Fie! 'tis a fault to heaven,
A fault against the dead, a fault to nature,
To reason most absurd: whose common theme
Is death of fathers, and who still hath cried,
From the first corse till he that died to-day,
'This must be so.' We pray you, throw to earth
This unprevailing woe, and think of us
As of a father: for let the world take note,
You are the most immediate to our throne;
And with no less nobility of love
Than that which dearest father bears his son,
Do I impart toward you. For your intent
In going back to school in Wittenberg,
It is most retrograde to our desire:
And we beseech you, bend you to remain
Here, in the cheer and comfort of our eye,
Our chiefest courtier, cousin, and our son.
Act 3 Scene 1 (Hamlet Monologue)
To be, or not to be: that is the question:
Whether 'tis nobler in the mind to suffer
The slings and arrows of outrageous fortune,
Or to take arms against a sea of troubles,
And by opposing end them? To die: to sleep;
No more; and by a sleep to say we end
The heart-ache and the thousand natural shocks
That flesh is heir to, 'tis a consummation
Devoutly to be wish'd. To die, to sleep;
To sleep: perchance to dream: ay, there's the rub;
For in that sleep of death what dreams may come
When we have shuffled off this mortal coil,
Must give us pause: there's the respect
That makes calamity of so long life;
For who would bear the whips and scorns of time,
The oppressor's wrong, the proud man's contumely,
The pangs of despised love, the law's delay,
The insolence of office and the spurns
That patient merit of the unworthy takes,
When he himself might his quietus make
With a bare bodkin? who would fardels bear,
To grunt and sweat under a weary life,
But that the dread of something after death,
The undiscover'd country from whose bourn
No traveller returns, puzzles the will
And makes us rather bear those ills we have
Than fly to others that we know not of?
Thus conscience does make cowards of us all;
And thus the native hue of resolution
Is sicklied o'er with the pale cast of thought,
And enterprises of great pith and moment
With this regard their currents turn awry,
And lose the name of action.–Soft you now!
The fair Ophelia! Nymph, in thy orisons
Be all my sins remember'd.
Act 3; Scene 3 (Hamlet Monologue)
Now might I do it pat, now he is praying.
And now I'll do't. And so he goes to heaven.
And so am I revenged. That would be scanned.
A villain kills my father; and for that
I, his sole son, do this same villain send
To heaven.
Why, this is hire and salary, not revenge.
He took my father grossly, full of bread,
With all his crimes broad blown, as flush as May;
And how his audit stands, who knows save heaven?
But in our circumstance and course of thought,
'Tis heavy with him. And am I then revenged,
To take him in the purging of his soul,
When he is fit and seasoned for his passage?
No.
Up, sword, and know thou a more horrid hent.
When he is drunk asleep, or in his rage,
Or in th'incestuous pleasure of his bed,
At game, a-swearing, or about some act
That has no relish of salvation in't —
Then trip him, that his heels may kick at heaven,
And that his soul may be as damned and black
As hell, whereto it goes. My mother stays.
This physic but prolongs thy sickly days.
More Male Shakespeare Monologues…

Hamlet Monologues (Women)
Act 3 Scene 1 (Ophelia Monologue)
O, what a noble mind is here o'erthrown!
The courtier's, scholar's, soldier's, eye, tongue, sword,
Th' expectancy and rose of the fair state,
The glass of fashion and the mould of form,
Th' observ'd of all observers- quite, quite down!
And I, of ladies most deject and wretched,
That suck'd the honey of his music vows,
Now see that noble and most sovereign reason,
Like sweet bells jangled, out of tune and harsh;
That unmatch'd form and feature of blown youth
Blasted with ecstasy. O, woe is me
T' have seen what I have seen, see what I see!
Act 4 Scene 7 (Gertrude Monologue)
There is a willow grows aslant a brook,
That shows his hoar leaves in the glassy stream.
There with fantastic garlands did she come
Of crowflowers, nettles, daisies, and long purples,
That liberal shepherds give a grosser name,
But our cold maids do dead men's fingers call them.
There on the pendant boughs her coronet weeds
Clamb'ring to hang, an envious sliver broke,
When down her weedy trophies and herself
Fell in the weeping brook. Her clothes spread wide
And, mermaid-like, awhile they bore her up;
Which time she chaunted snatches of old tunes,
As one incapable of her own distress,
Or like a creature native and indued
Unto that element; but long it could not be
Till that her garments, heavy with their drink,
Pull'd the poor wretch from her melodious lay
To muddy death.
For more Female Shakespeare Monologues…