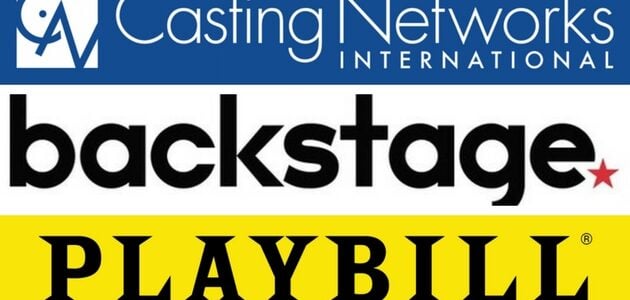 Top 5 Most Reputable U.S. Casting Websites
As someone who has been steadily climbing the acting ladder for many years, I feel I have gradually gained an inkling of what the "path" toward success might be. For instance, I've become quite cemented in the fact that there simply is no correct or straightforward journey. However, I do know some things for sure (kind of like that Oprah book, right?). I am positive that clicking on an ad urging actors to "sign up today" for a shot at stardom (for a fee, of course) will not do anything but waste money. Yep, sorry Hamilton, but I'm going to throw away that shot. It sincerely irks me when I see such scams floating around. Thinking a hopeful actor out there might innocently answer one breaks my heart.
So, my friends, I've taken a moment to compile five reputable companies that have been proven to get actors legitimate work. While most of these have fees, it is because they provide a service. You never want to pay to audition for someone, but it's acceptable to pay for a platform that provides you with endless opportunities for work. Once you have your headshot and resume fine-tuned, you can register and create a profile on one of the websites below (which is a great place for professionals to see what you're about). Good luck!
#1 Backstage
Dubbed a "bible for actors," Backstage is probably the most known and trusted casting service around. Formerly named "The Ross Reports" in print form, the company has moved online where actors can easily search for casting notices based on their specific needs. Don't worry, though, for you old school folks they still offer a print edition!
Take it from Oscar-winner Sandra Bullock who famously said, "I wouldn't be standing here today if it wasn't for Backstage!"
Pricing: starting at $12.50 per month.
#2 Casting Networks
If you've ever signed in electronically at an audition, you've probably used Casting Networks. Having an updated profile on here is almost mandatory, especially for on camera work, as many industry professionals use it.
Pricing: free to have an account, but costs money for "add-ons" like additional photos. It's worth doing at least a few add ons to give your profile a bit of edge.
#3 ACTORS ACCESS
With a more recent surge in popularity, Actors Access is now a go-to platform for not only talent, but also casting professionals. Run by Breakdown Services, the site has an incredible network of projects and offers the most high profile gigs you can find without having an agent.
Pricing: while registration is free and you can pay per role individually, the recommended one-time yearly fee is $68.
#4 NYCastings.com
While it's not entirely necessary to be on this one if you have other accounts, NYCastings is still a worthwhile service. It's clearly for talent located in New York City only, providing more specific results for your searches.
Pricing: free to sign-up/ starting at $11.95 a month to be a member.
#5 Playbill
You may recognize this company from existing in that little yellow rectangle on your theatre pamphlets. However, Playbill offers so much more outside the box. Primarily, it's a free resource for theatre professionals of all kinds to peruse casting notices. While they don't have a system for "submitting" to parts just yet, the majority of their listings will have a way for you to contact the production teams and reach out on your own. They vet their postings heavily – so you always know you're applying to a legit job!
Happy submitting!