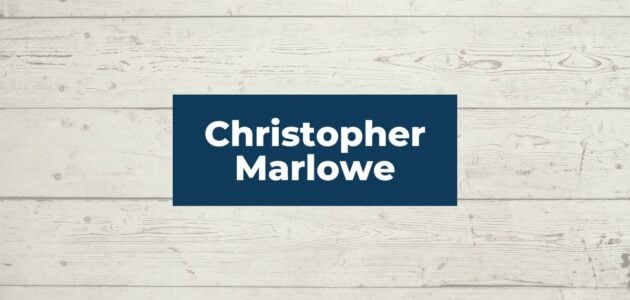 Best Christopher Marlowe Plays
About Marlowe…
Christopher Marlowe was a contemporary of William Shakespeare. Born in fact in the same year, he was an eminent playwright of the Elizabethan era. Though today his name doesn't share the same familiarity and prestige as Shakespeare, he is one of the great playwrights of all time. We wanted to help you guide the way with some of the best Marlowe plays. The first three on this list are must reads as far as StageMilk is concerned.
Marlowe studied at the illustrious Cambridge University where he received a Bachelor of Arts and a Master of Arts. Like Shakespeare, Marlowe wrote mainly using blank verse and his plays are wonderfully detailed and poetic.
It is purported that Shakespeare was heavily influenced by Marlowe. And there is evidence for this in the many Marlowe references in Shakespeare's plays. These two great playwrights of the same age would surely have shared a close, albeit tumultuous relationship, if Marlowe's reputation is in any way accurate. One can fantasise about the fervent competitions these two great writers must have had. (I wish I had a time capsule).
A shroud of controversy surrounds Christopher Marlowe. Rumours of him being a spy, a passionate atheist, a homosexual, as well as the confusion over his premature death, add to his illusive persona. It is speculated that he faked his own death, and then wrote under the guise of William Shakespeare. A theory that excites, but holds little weight with academics. In truth, like many of the writers of his era, we have only a smattering of facts about the man, and so he will forever remain the mysterious and brilliant Christopher Marlowe.
Born: 10 February 1898
Died: 14 August 1956
Place of Birth: Augsburg, German Empire
Best Marlowe Plays
1

1589 or 1593

2

1592

3

1587

4

1589

5

1587-89
---
Reading a Marlowe Play
Marlowe is not an easy read. Like Shakespeare, most of his plays are long and feature archaic language which can be testing when you are used to reading plays in an hour or so. I urge you to press on. The poetic language is such a gift and the challenge of simply reading a Marlowe play will make you a better actor.
I always encourage actors to read at least sections of the play out loud and even find a monologue or two to work on. Teachers like Larry Moss and Patsy Rodenburg constantly talk about the importance of actors working on these kinds of texts.
There are also some great film versions of some of Marlowe's work. For those who struggle with reading, I recommend checking them out.