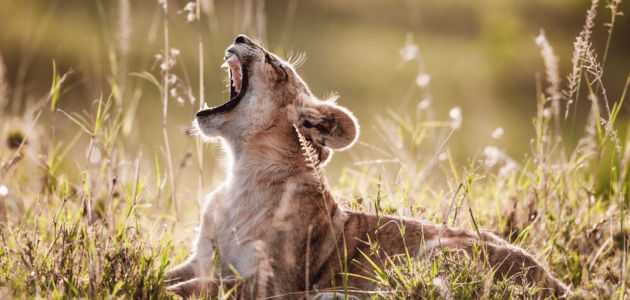 If you went to drama school, you probably had a strong reaction to the title of this article. Animal work in acting is a contentious topic for some! If you didn't have a reaction, you may still have heard tales of 'Animal Week' where a bunch of second year acting students are prescribed an animal that they have to pretend to be for five days. How embarrassing. But useless? Certainly not…
Animal work in acting refers to exercises in which performers study animals in an attempt to mimic the creature. Often, animal work begins outside of the classroom—in nature, at a zoo or a similar enclosure—although it can be undertaken through the watching of documentaries. Animal work can subsequently inform physicality of a character, and even the character's personality and behaviour.
Just about every drama school I'm aware of teaches animal work to some extent. This is heartening for those of us who paid money to act like a mouse or a bee for a week straight. So let's talk about what animal work in acting is, how to go about the process and how it can help with developing and complexifying a character.
Animal Work in Acting
Before we get our Dolittle on, let's cover  some acting theory. For animal work at drama school, my studies were centred on Laban Movement Efforts.
Laban Movement Efforts are a sub-category of Laban Movement Analysis (LMA)—which is a terminology used to describe different qualities of movement. Its creator, Rudolf von Laban, was a dancer and choreographer. He laid the groundwork for LMA, which was extended and developed by practitioners such as Lisa Ullman, Irmgard Bartenief, Warren Lamb and many other talented folks.  The Laban Movement Efforts are a way of understanding and interpreting subtle movement characteristics and can be applied to anything and anyone:
The Four Laban Movement Efforts
SPACE which can be DIRECT or INDIRECT. If you saw someone on the street moving with direct space

, they would know exactly where they were going and would be moving directly towards it. Someone with

indirect space

could be lost and spinning around in circles trying to find the right street.

WEIGHT which can be STRONG or LIGHT. Someone with strong weight

could be moving with very heavy footsteps whereas someone with

light weight

could be moving silently.

TIME which can be SUDDEN or SUSTAINED. Someone moving with sudden time

could be moving slowly in one moment, then quickly in the next: stopping and starting a lot with no rhyme nor reason. Someone moving with

sustained time

could be moving at one single pace with very deliberate and calculated starts and stops.

FLOW which can be BOUND or FREE. Someone moving with bound flow

could appear rigid or upright whereas someone moving with

free flow

could appear loose and wavy.
Each of these efforts combine to create all kinds of weird and wonderful ways of understanding movement, but that's a whole other article in itself. The reason Laban Movement Efforts are so commonly used in acting and dance is because they serve as a shared language for understanding movement and can be easily replicated later on.
Homework: See if you can assign these movement efforts to people on the street and note what efforts come up the most. 
A Trip to the Zoo
Back in drama school, Animal Week rolled around and we went on excursion to the zoo. (It's amazing how similar drama school is to primary school, at times.) Our task for the day was to watch the animals we had been given to study and assign Laban Movement Efforts to them. 
My animal was the kangaroo rat, which I decided had the following efforts: Direct Space, Light Weight, Sudden Time and Bound Flow. The following days in the studio were spent replicating these efforts to embody each of our animals.
Where the practice got interesting and started to make more sense for me was when we introduced a sliding scale from 0 to 100. When we were at 100, we were 100% animal; moving like them, breathing like them, behaving like them. As we moved down the scale, we became more human whilst retaining qualities from the animal which started to develop some really interesting and embodied characters that we hadn't seen before.
To Animal, or not to Animal
Human move quite similarly to one another. The movement of our bodies reflects a lot of things, including culture, societal expectations and more personal reasons such as long-term injuries or familial influence.
I think the reason animal work in acting is such a common practice is because it helps to break us out of our learned structures of movement so that we can explore the possibilities and limits of our own bodies. But when is this most useful in acting? Let's return to the sliding scale and how it can be applied to different styles of acting:
Animal to Stage to Screen
At 100% of the scale, you're playing an animal. Now that might sound far-fetched that you'd ever be playing a role that is 100% an animal. But think about motion capture, video games, the technology that can turn human bodies into just about anything. I always think of this scene from Ruben Östlund's The Square featuring an incredible performance from Terry Notary. He is primarily a stunt performer and motion capture artist, but watch the clip below and tell me this isn't a committed performance…
70% – 100%: Motion Capture
If you're doing any kind of motion capture or voice-over work, you'll most likely be working somewhere between 70% to 100% animal. These mediums demand actors who can stretch their voices and bodies into subhuman or inhuman characters, and I think strong animal work in acting is one of the most effective ways you can achieve such feats.
60%: Stage Acting
As we move down the scale to 60%, this is most likely the realm of stage acting. Characters on stage need to be somewhat larger than life to reach the audience members in the back row. If you're playing a character who is loud, proud and takes up a lot of space, you could look at animals like lions, tigers and bears (oh my). There are plenty of plays like Rhinoceros by Eugene Ionesco and Animal Farm by George Orwell where the characters turn into or are already animals. And let's not forget poor Bottom in A Midsummer Nights' Dream. I'd argue that for such productions, animal work is essential. 
<60%: Screen Acting
The further down the scale we move, the closer we get to screen acting. It might sound bizarre that you'd ever need animal work for the characters you'd play in front of a camera. But there are still some undeniable benefits. Remember that what animal work is ultimately trying to do is to break you out of your personal movement patterns and show you other possibilities.
One of my tutors used to say there are generally two kinds of actors: the ones who bring their own personality to roles and the ones who develop entirely new characters for roles. Neither actor is necessarily better or worse than the other. But if you think you're more of the latter, animal work is going to be a huge help to you.
Beyond the Body, Improving your Voice
Another great thing about animal work that I've yet to mention is its ability to influence the voice. Growing up, I learned that being loud was annoying and unlikeable. Wo without even realising it, I started to constrict my throat and change my posture so as not to let the full power of my voice come through.
Try this: tuck your chin in towards your neck and try to keep your neck straight and your eyes level, without straining. Now say "Hello, how are you today?" Next, stick your neck out as far forward as you can and say that again. Notice the difference in how your voice sounds? The way we move and stand has a huge impact on our voices because our voice and our bodies are not separate things.
Thankfully, for us poor conditioned humans, animals are blissfully unaware of how loud or quiet they're being or what they look like. They don't change the way they hold themselves, which means their voices are exactly as they should sound. By embodying different animals and making sounds in these weird and wonderful shapes, we can start to explore not only the possibilities and limits of our bodies but our voices as well. Maybe we can even rediscover what we're actually supposed to sound like. Doesn't that sound cool?
Conclusion
Whether or not you're a drama school graduate who spent a week of their lives imagining they were a rat, animal work in acting can unlock some really interesting potential. I also think it does a lot for our egos as we tap into a more primal, unique way of moving and being. I'm a firm believer that we already have everything we need to be great actors in the world around us. Animals can serve as a good reminder of what we're really capable of outside of polite society. So do yourself a favour: pick an animal, plan a daytrip to the zoo and pretend you're a hippopotamus for a while; see what you discover.
Hope this helped. See you around the traps!