StarNow is the leading open casting board in Australia and is on the rise in the US, UK and South Africa. Started back in 2004 by a couple of Kiwi's looking to find a way to get a gig for a mate, the service that it offers is two-fold. Firstly, casting professionals or people with a role to cast can post a job ad for free, actors and performers can create a profile for free and hopefully, the two can find each other, connect via a job ad and wham-bam-thankyou-ma'am we've got ourselves a casting! If you are an actor without representation, StarNow is one of your best avenues to get into short films, community theatre and independent film. However, wherever open castings reside, there will always be creeps and charlatans trying to make money off of or extort creatives looking for a gig. Towards the end of this article, I will give you some tips on how to watch out for red flags in casting calls and how to protect yourself while being open to new and exciting opportunities.
I will also mention that we have not been paid by StarNow for this review, this is an independent look at how their site can be best used by actors, written by a bloke who has scored a couple of good and bad gigs off it!
What is StarNow?
The easiest way to describe it is for you to see for yourself! Go check out www.starnow.com and report back. What you will see is a pretty advanced search function, if you are looking for jobs and auditions, clicking that tab will give you a series of options that looks a little something like this: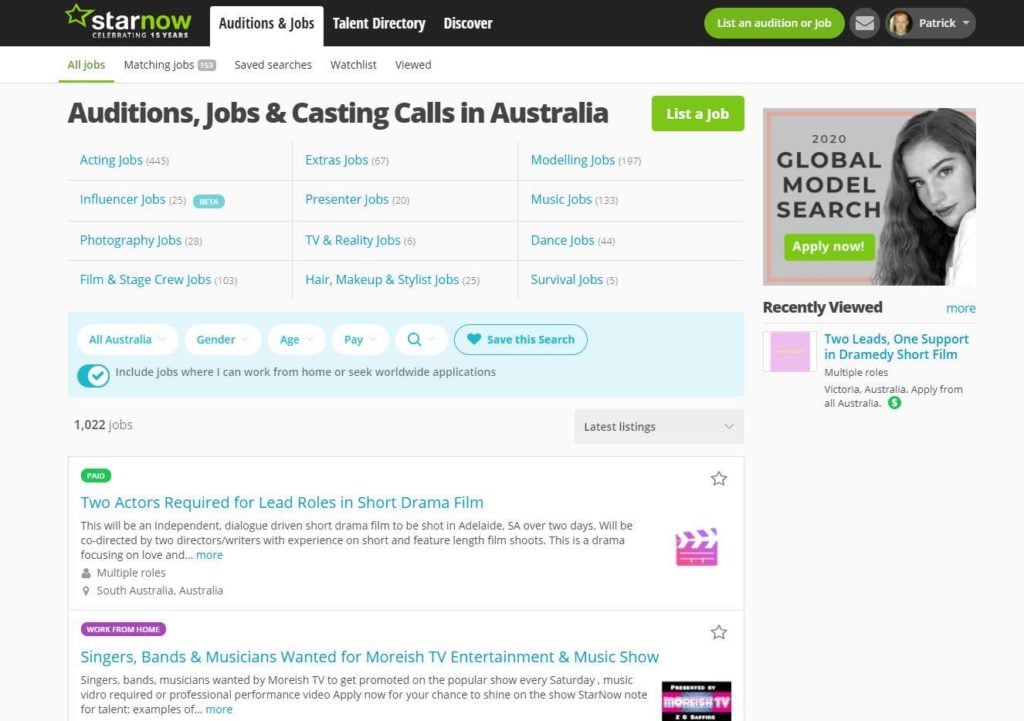 As you can see, a lot of filters to play with here. This is probably the best thing about StarNow is how specific you can make the search parameters. If you click on the talent directory, you can sift through literally millions of actors from all over the world, with literally every level of experience. From professionals who have been in the industry for thirty years through to beginners who have signed up that day. It also covers a range of jobs outside of acting, from presenters to survivalists, there is an exceptional range of jobs posted on the listings here.
How to use StarNow?
Okay, so we are primarily going to be looking at this from the perspective of being an actor, or someone who wants to get into acting, using StarNow. The site itself is pretty simple, create an account and set up a profile. You can choose a paid option if you want more access to castings or more video and photo content. I typically do this for a month or two here and there and cancel it when I am not using it very much. Check what is going to be best for you. By and large, the free account is great. In your profile, the more information you can give about yourself and the more supporting information you can provide the better your outcomes are likely to be. Very importantly – Do not exaggerate. This goes for all casting websites, but if you say you can ride a horse and juggle and you most definitely cannot, you're going to be found out in the worst possible way. Keep it authentic, keep it honest!
StarNow gives you the ability to add photographs, video and voice reels. The basic package gives you a photo, and video slot to upload some content. As well as a listing to add your experience. Effectively it gives you a headshot, a CV and a showreel and is listed online. You can then search for jobs using the filters in the "Search" section to find a gig that is right for you!
How to nail your StarNow profile
Usually, on StageMilk, we subscribe to the modicum that less is more. StarNow is a bit of a different beast, however, in this case, more is more! The more photos, videos and content you can provide to give backing evidence to your profile the better. Especially if you are very new to acting and do not have many professional credits, having a few self-tapes on your profile and a range of photographs is a great idea. When it comes to photographs, there is a big difference between a good headshot and a bad one. We have a full guide to headshots here. You really want to use photographs that are professionally taken, nicely lit, that showcase how much a beautiful human you are. Remember that at this early stage, you ARE the character. It's not about who you can pretend to be, but who you are as a person. Get a range of photographs and video content to back up your photos and to show who you are as a person, under imaginary circumstances. If you're going to use self-tapes to show your acting chops, watch out for the common mistakes! We have a full guide to shooting your own self-tapes here.
Finding acting jobs on StarNow
StarNow initially had a mixed reputation, there were a lot of dodgy jobs posted that were problematic when it launched. However, in recent years they have worked really hard to double-check ads that are posted on their site and verify the people posting them. However with every online casting noticeboard as with Backstage to Mandy, you always need to keep your guard up, so here are some things to watch out for when picking a job from StarNow.
Spelling and grammar: Put simply, if they can't write a job ad, they cannot write a script. Makes sense right? Now it could just be that the ad poster doesn't have English as their first language and this is completely fair and understandable – if you are unsure do some research about the production company. Google them, find them on IMDB or Linkedin. See what they have done in the past, if it is a student production and you really like the sounds of it, by all means, proceed, but do so with caution.
Sounds dodgy: if an ad sounds dodgy, it probably is. E.g.

Sexy models wanted for a private photoshoot. Unpaid. Nudity and kissing required. Come alone. No phones.

This is an exaggeration – but you get the idea. Trust your gut. Particularly for young women, there are people that have used casting boards to get themselves in a position of power with a vulnerable person who wants a job. This as you can imagine is fraught with danger. Again StarNow has been really clamping down on this sort of thing in recent years, but do keep your wits about you.

Unrealistic expectations:

This film is going to be bigger than Stranger Things with Avatar's special effects! We know everyone at Netflix and your career will be huge as soon as you finish this short film.

Folks. Keep it on the level. This short may be great, but be aware of anyone who has unrealistic expectations of their own abilities. Look for people that value the story they are trying to tell over the potential critical acclaim. You want to work with people who are in it for the right reasons.

Compensation: Are they going to pay you? Are they at least going to feed you? I don't work on an empty stomach and neither should you! Also travel, if the job is a 4-hour train ride and you have a 7 am call time, I would at least want my train fare and a coffee covered by production.
Don't sign anything! Okay listen, just don't sign anything on the initial meeting. If they insist, get a lawyer or an agent to look at it for you. A student film does not require an NDA, please keep your head on a swivel here.
Do your research: Check peoples claims against their IMDB profiles. If they're talking a big game, see what they have to back it up. Don't take their word for it, the internet exists! Check yourself before you wreck yourself.
If the ad is well written, they have realistic expectations and can back up their claims with experience, they're going to compensate you where they can and it all checks out – apply for that job! They will contact you through the site or through your email if you provided it and arrange a time for a self-tape or an audition. 
How to Audition on StarNow
Oh, man, have we got you covered on this front. Check out our guides about auditioning and self-taping:
Auditioning Guide
How to Film a Self-Test
How to Act!
Also, if you have a physical audition to do, be aware of any red flags. No one should touch you without your consent first, that goes for everything from a brush on the shoulder to fight scenes, to shaking your hand. Under no circumstances should anyone be kissing in a first audition scene. Also where and when is the audition taking place? If it is in a private residence, late at night, take a family member, colleague or friend with you. If at any point it feels uncomfortable or dodgy – get out of there. You don't owe these people anything.
Ideally, an audition should happen at a studio space, during business hours Monday through Friday. There are of course alternatives here, but it should be a professional experience. If it at all feels unprofessional consider walking out. Trust your guts here folks!
You got a gig!
Okay so great! So the audition was very professional, the script is good and even better the production team loved your work! Of course they did, you're great remember?! They will be in touch with dates and times for rehearsal and shooting. Make sure you get to work on the script as soon as you have access to it! Remember it is all about preparation! We have great articles on how to act in film and how to act in theatre on StageMilk.
What happens after I've done a job from StarNow?
Filmmaking is a challenging process, it also takes a lot of time. There is pre-production, where they work out who is going to be in the cast and crew and where the shooting is going to take place, the shoot itself which is full of challenges, then the post-production. In my experience, post-production, even on small projects, usually takes between 6 months and a year, up to 2 years to be fully completed. The editing process, sound mixing and colour grading just take a really long time. Especially if the techs required for those jobs are doing it for free. So long story short, you have to be patient. Keep in touch with the filmmakers, see if you can get a timeline from them for when the film might premiere! As soon as you can, get some footage so you can add it to your StarNow page and your other casting pages as a showreel! We have a great guide to making a great showreel here.
Conclusion
Now you have done a job from StarNow you are ready to repeat the process and find another! Hopefully, this guide has helped you set up your account, make sure you're working on legit projects and given you some focus for how to get the best performance and results possible from a StarNow audition. Remember, you will always need more training and experience when it comes to acting. If you haven't yet, you should check out the Stagemilk Scene club by clicking the link below. We have a great, affordable program [StageMilk Drama Club] to help you work on your acting skills, so next time you get an audition, you can totally nail it!