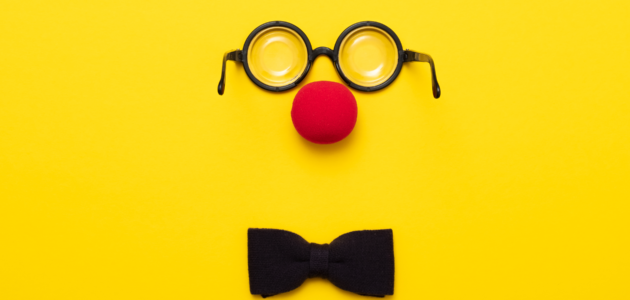 I've always wondered what exactly makes clowns so terrifying for some people. Is it the nose? The face paint? The crazy wig? The fact that it's an adult human being behaving like a child in a strange costume? Who's to say… Whether you're scared of them or not, learning how to become a clown will improve your acting massively. Strap on those red noses, folks, as we step out into the circus ring to talk all things clowning!
Clowning is the study and practice of a form of comedic performance. Clowns are usually characterised by loud make-up, bright clothing and acts that utilise slapstick—usually in ridicule of the clown themselves. Despite the 'low brow' comedy and the open, simplistic nature of most clown personas, the study of clowning is extremely rigorous and requires great physical and mental focus on the part of the actor.
Most actors will do some form of clowning in drama school, or at the very least some kind of training in physical theatre. And while you can sell all your possessions and move to France to study the art of clowning, there are plenty of things you can incorporate into your actor's toolkit that don't require buying red noses in bulk.
Keen to discover more about clowning? Read Discovering the Clown by Christopher Bayes. Many of the ideas I talk in this article about come from Mr Bayes, who is one of the modern masters of clowning.
Clowning: The Fact of Joy
The stereotypical iteration of the clown (think Pennywise without the teeth) is a fairly modern iteration. Turns out clowning has been around since 2400 BCE in Egypt, and has popped up in almost every culture since. To me, this suggests that it's an innate part of the human condition—speaking a lot to do with our desire for joy and play. Everyone looks for joy in some capacity throughout life, and the one of the earliest forms of joy we experience is playing as children. Play is at the heart of clowning. But while it sounds simple enough, it can throw up some big obstacles when we take classes in the art as adults.
We're generally taught, as we grow up, that making mistakes is bad. The mistakes we make when we're children often occur when we follow our emotional impulse. "I feel so angry right now; I'm going to throw this stone at that window!" Smash. We learn that being impulsive or emotional leads to scary reactions from parents and teachers, so we train ourselves not to be. Clowning wants to us to unlearn this behaviour: to express it in a safe and controlled way.
Perhaps this is the reason why some people are afraid of clowns? It's genuinely strange to watch an adult behave impulsively and openly. When we practice clowning, what we're really doing is unlearning this highly restrictive way of being. This teaches us how to be more magnetic performers.
The Little Driver
Inside all of us, there's something Christopher Bayes calls the Little Driver. It's like your inner child, the one who I talked about in my Morning Pages article, who looks at everything with awe and wonder and says things like: "What if we climbed that tree all the way to the top and howled at the moon like a wolf then grew wings and flew to Jupiter?" The Little Driver is always looking for ways to have the most fun and the practice of clowning is all about letting the Little Driver go crazy.
It's a little tricky to explain just how amazing it is to watch someone let their Little Driver take over. If someone is following their Little Driver with joyous abandon, it is impossible to take your eyes off them. Isn't that exactly what we're all trying to achieve when we perform?
Clowning is about Letting Go
I started clowning classes in my second year of drama school. It was terrifying. Every class, we took turns to get up by ourselves and try to make everyone laugh. For the first few classes, I sat there hoping I wouldn't be the first to have to go up so that I could plan my attack. I sat in my chair racking my brain for things that I could say or do that I thought everyone else would find funny. When it was finally my turn to get up, I felt sure that I had it in the bag. I took a deep breath, got up and delivered. Nothing. Not a peep from my tutor or my classmates. It was nightmarish. 
I eventually learned a very important lesson about clowning. We all know what it feels like when we're home alone and doing weird stuff to entertain ourselves like strutting around, making faces, singing at the top of our lungs and making terrible jokes. We do that because it's fun and it feels good. Well, that's what clowning wants you to do.
It's not about being a comedic genius and having a full stand-up routine planned out and ready to go, it's about following whatever you find funny in the moment. Human beings are pack animals. And whether we list it on our Hinge profiles our not, we're very empathetic creatures. If we see someone enjoying themselves and laughing, then we'll feel inclined to do the same. But the same is true of the opposite, too. If we see someone feeling uncomfortable, then we find ourselves cringing. "Is that a party you'd want to be at?" is what our tutor used to ask when someone was trying too hard. Watching someone experience a childlike joy and being brave enough to share it with everyone is incredibly special.
Why do Clowns wear Red Noses?
Ever asked yourself this question? There are a few ideas, many of which are related to the famous, influential clown Albert Fratellini (who was associated with the appendage.) Some say it symbolises the red, swollen nose of a drunkard—perhaps explaining the loose behaviour of the clown character. But many believe it's more to do with mask work.
Like clowning, mask work is something you tend to encounter once in drama school. If you're unfamiliar, mask technique is a style of acting informed by the wearing of masks. Much like clowning, mask technique has cropped up across many cultures over human history. Modern mask technique is informed by Commedia dell'arte—a sixteenth century Italian form with instantly recognisable character archetypes.
Masking and clowning is often taught hand-in-hand, because the two are so closely related and informed. Whether you're opening your mind up in a clowning exercise, or donning a mask to shed your everyday persona, such techniques are about letting go of the person you are and giving over to impulse.
You're So Impulsive
What I realised, after three years at drama school, was that every single one of our classes was ultimately trying to hone our impulses. The paradox of acting is that you're rehearsing for a performance that shouldn't look rehearsed. You need to know your lines back to front but say them as if you're speaking them for the first time. It's hard. Acting is hard. But the key to good acting, I believe, is to have razor sharp impulses and not be afraid of following them. 
Clowning is one of the most effective practices for honing your impulses because it's the most tangible way to test them. If people are laughing and cheering, you're following your impulses! If they're not, then chances are you aren't. The more you do it, the better you get at identifying your impulses and following them. And you can take that skill into any acting you do, whether it be dramatic or comedic.
Taking a Class in Clowning
You've probably gathered from all of this that clowning makes you vulnerable. Therefore, it's super important to find a teacher who knows the craft well and who will maintain supportive and safe space for people to work in. I can personally recommend my two teachers, Budi Miller and Fabio Motta at The Clowning Workshop. They operate out of Melbourne, Australia and run a handful of great workshops throughout the year. Whilst I haven't trained with him personally, Giovanni Fusetti is very highly regarded amongst my peers who have taken his workshops and he runs them all over the world. 
If you want to go for the white whale of clowning, there is the great Philippe Gaulier in France, whose teaching and reputation marks him a living legend. But no matter where you hail from, there's no shame in looking close to home first. Wherever you end up, I can guarantee you'll learn something and challenge yourself.
Clowning Exercises
Finally, there are plenty of clowning exercises and techniques you can discover on your own actor's journey. I'm going to include a couple of favourites below, but there are hundreds out there you can learn. Much like a good physical or vocal warm-up, seek out your fellow actors for inspiration.
Exaggeration exercise. Start with one actor walking around the rehearsal space. Then have another person follow them and exaggerate their movements. Be as precise as possible: do they swing their arms, move their head, have a particular expression? If you have a third actor, have them exaggerate these movements again behind the second. You can do simple tasks, emotions, even performances of other scenes!
Mystery object. Put an object in the centre of the space between the actors. Each performer has a turn stepping into the circle and announcing "This object is not an [OBJECT] … it's a-" and declare it to be something totally different to what it actually is. Chair? Snail shell. Pencil? Tiny submarine. Egg-beater? Mic for karaoke. You can extend this exercise by using the new object as the inspiration for an improvised scene.
The chair. This is a fairly famous clowning exercise: put a chair in the centre of the room. Your character has to interact with it, without touching it. Eventually, you are allowed to touch the chair but you mustn't use it as a chair. Take your time with this exercise. Enjoy the build-up of tension in the room before you finally get to interact!
Conclusion
Clowning is hard work. It takes a lot of practice to un-polite your adult brain and get used to embarrassment (something our self-obsessed selves fear above all else!) But clowning attempts to train this bias out of us. It reminds us that within this fear of being embarrassed or failing, is a joyous state of play that resonates with every single human being. 
So: go learn how to trust your impulses by being an idiot for a few hours a week. Pop on that red nose and play.
See you around the traps!