How to get the most out of acting class
"Once you stop learning, you start dying"- Albert Einstein
Learning, and being in class, is the best thing any actor can do. Never think you've "got it" – the craft of acting is elusive, every-changing and developing, as are you, and therefore, you will never be able to fully master the craft. Which I think is wonderful! So, get your butt into acting class, and keep going. If you're not in class, keep reading, go see films, go see plays, and if you're poor – then Google.
Going to acting class could be the best thing you've ever done in your life, or a complete waste of money. So how do you get the most out of it?
Find the right class
First things first, you've gotta find the right class. There's a lot out there, and not everything will be right for you. Also find something that challenges you, if you find you're at the top of the class, move on, find a new class with different actors that might challenge you a bit more. Do you need to just work on your screen acting, and getting up in front of camera, or do you want to challenge yourself on dense classical texts in a theatre setting? Do your research, find something that works for you.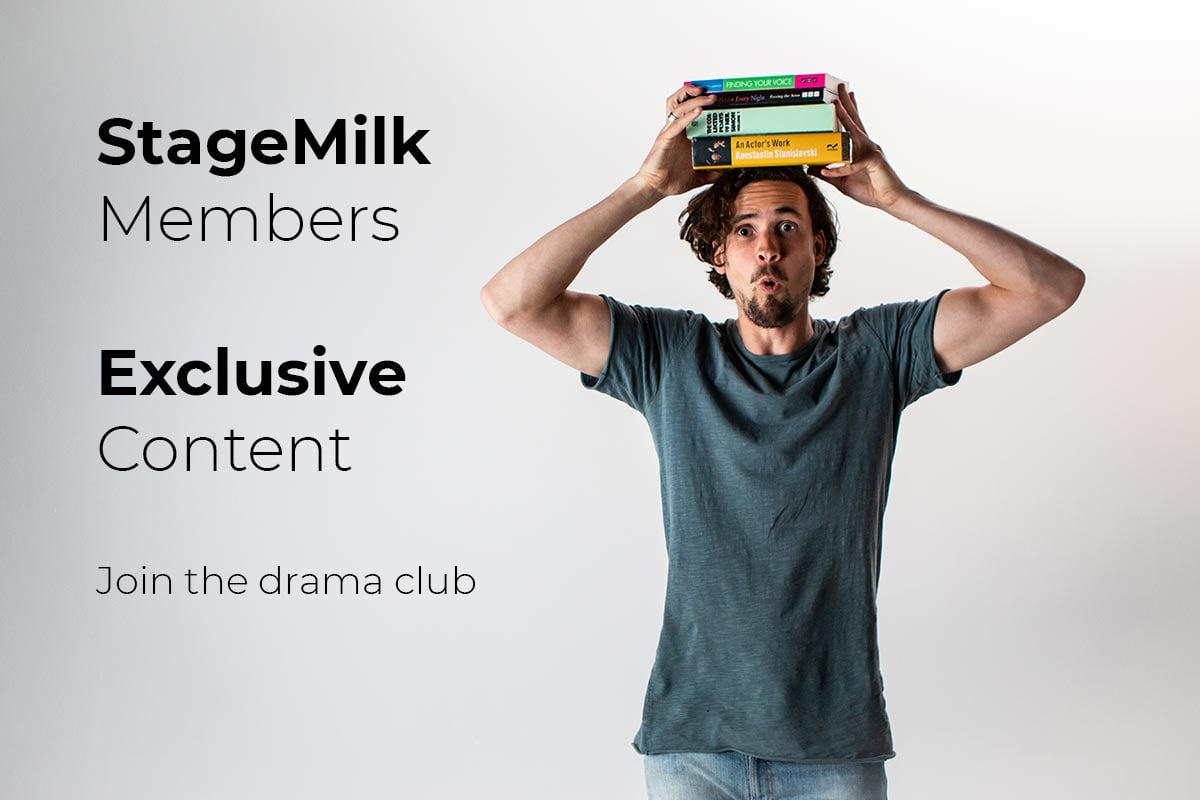 As an actor it is VITAL that you work on your craft consistently. In order to build on your technique, gain flexibility with your craft, and become a working actor, you need to be working on your acting daily. We created StageMilk Drama Club to provide you with the opportunity to do just that.
Together, we'll work on our craft every month: submitting scenes and monologues, getting personal feedback from industry professionals, doing live play readings, Q&As with industry experts, discussions in the Facebook group, as well as learning from all the exclusive content available on the platform. It's kind of like acting class, but WAY cheaper, with 24/7 access, guidance available whenever you need it, and also covers the business side of the craft (which is often overlooked.) It's one thing to be a talented actor, it's another to be a working, career actor.
What You Get:
An assigned scene or monologue every month
Personal feedback on the work you submit from industry professionals
Join in on live play readings
Q&As with industry experts
Live acting classes in Webinar format with industry experts
Hours of HD video tutorials (updated every month)
Access to exclusive members only articles
Downloadable e-book guides
Access to our huge monologue and scene database
Access to Industry lists (contact agents and casting directors)
Interact with other members in the Facebook Group
Hours of Industry Interviews
We would love to work with you and help you on your acting journey. Join the drama club today!