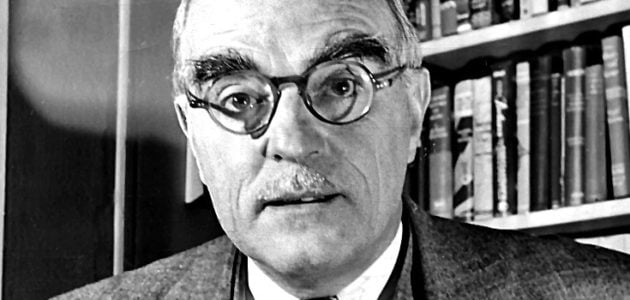 Thornton Wilder (A Life in Theatre)
Thornton Wilder Biography
In the late 1930's, Americans were mired in the Great Depression and were looking for escapism both on the screen and on stage. Lavish sets and costuming were commonplace. Enter Thornton Wilder to shake things up a little.
Audience members arriving at the Henry Miller Theatre for the New York debut of Wilder's Our Town on Feb. 4, 1938 wondered if they had gotten the curtain time wrong as they gazed at the almost empty stage before them.
Wilder biographer Penelope Nixon said in an interview with National Public Radio that the playwright wanted audience members "to envision the play, to experience it, through the filter of your own life and your own imagination… He told us, soon after he had written Our Town that our true lives are lived in the imagination and the memory, and that was one of the principle reasons that he avoided props and sets and scenery."
Wilder was born in Madison, Wisconsin in 1897. He had an older brother, Amos, but the writer's twin brother died at birth. This loss haunted him for most of his life and affected his writing. In fact, Wilder's last novel, Theophilus North, is his imagined re-creation of his twin brother's life.
Wilder attended Oberlin College in Ohio and then transferred to Yale University, graduating in 1920. After spending a year in Rome, he took a job teaching French at a prep school in New Jersey and started writing on the side. Wilder published his first novel, The Cabala, in 1926, but he earned his first fame and recognition as a writer when he was awarded the Pulitzer Prize for The Bridge of San Luis Rey (1927). The royalties from this novel allowed him to pursue writing on a full-time basis. Wilder soon became a literary celebrity, mixing with the likes of Ernest Hemingway, F. Scott Fitzgerald and Gertrude Stein.
Stung by negative reviews of his 1934 novel Heaven's My Destination, however, Wilder turned to playwriting and to creating what he called "an allegorical representation of life" in Our Town, the fictional Grover's Corners, New Hampshire.
Wilder's main theme in Our Town—that we should appreciate the details of everyday life while we live them—became critical at a time when political tensions were growing in Europe. When the play debuted in Princeton, New Jersey in 1938, World War II was on the horizon, and citizens around the world were fearful of the future.
Our Town won Wilder his second Pulitzer and went on to become one of the most performed American plays of the twentieth century. Wilder earned a third Pulitzer for his 1942 play The Skin of Our Teeth, and his hit play The Matchmaker, a reworking of his earlier script The Merchant of Yonkers, was adapted as the 1964 musical Hello, Dolly. Wilder's screenplay for Alfred Hitchcock's Shadow of a Doubt is thought of as a classic psycho-thriller. Thornton Wilder died in his sleep of an apparent heart attack in December 1975 at his home in Hamden, Connecticut. We have listed him as one of the greatest playwrights of all time. 
Top Five Thornton Wilder Plays
Our Town

1

1938

The Matchmaker

2

1954

The Skin of Our Teeth

3

1942

The Merchant of Yonkers

4

1938

The Long Christmas Dinner

5

1931
---
Thornton Wilder Quotes
Ninety-nine percent of the people in the world are fools and the rest of us are in great danger of contagion.
Thornton Wilder
The more decisions that you are forced to make alone, the more you are aware of your freedom to choose.
Thornton Wilder
There's nothing like eavesdropping to show you that the world outside your head is different from the world inside your head.
Thornton Wilder