Best Plays by John Webster
A figure of mystery, we don't know a lot about John Webster's life. It's believed he was born sometime around 1580 and died sometime around 1632. During his short time he had a remarkable career, which unfortunately was mostly dismissed and forgotten during the 19th and 18th century before being revitalised post war. Why you may ask? Well John Webster's plays dealt with incredibly dark themes and were often quite grim in their outlook, especially compared to counterparts such as this one guy, William Shakespeare, who you might have heard of. In general, he was described as having quite a dark outlook on life. In his poem Whispers of Immortality, T.S Eliot says he "always saw the skull beneath the skin". He was remembered and a complex, detailed, and learned man and his work proves that point. Let's take a look at why John Webster is ranked number 47 in our best playwrights of all time.
The White Devil (c.1611)
According to John Webster himself, this plays first performance was a catastrophic failure. However that doesn't diminish the literary mastery that Webster weaves in this play and it's counterpart.
Centring around the love affair of Vitoria Corombona and The Duke of Brachiano, this play is packed to the rafters with political intrigue, adulterous desire, and bloody revenge. 
The White Devil is considered one of the finest tragedies of the Jacobean Era.
The Duchess of Malfi (c.1612)
The companion piece to The White Devil, The Duchess of Malfi is a play you may have heard of before. The play is centered around the court of Malfi, Italy and the recently widowed Duchess, who falls in love with Antonio, a lowly steward.
The play may start as a love story, when the Duchess marries beneath her class, but it makes a hard left turn to tragedy-ville as her two brothers undertake their revenge, destroying themselves in the process.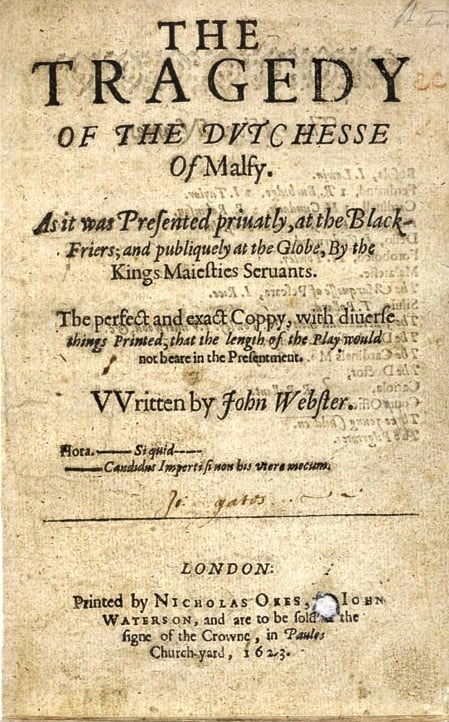 Appius and Virginia (c.1608-1634)
The third and probably least famous of Websters plays Appius and Virginia was likely a collaboration with Thomas Heywood. The play is set in ancient Rome, in the time of the Decemvirate, from 451 to 449 BCE. Remind you of anyone? Appius and Virginia is a tale of unrequited lust between the two titular characters. Appius lusts after Virginia but she would rather die than be with him, and thus she does, by her fathers hands in an honour killing. Her father, having slain his own daughter leads a rebellion and ultimately has the final word with Appius opting to commit suicide for his crimes. But this will never bring back his daughter or right the wrongs done to her.
The Devils Law Case (c.1617)
A tragicomedy surrounding the love story of Jolenta, and Contarino, who despite their love for each other are thwarted by Jolentas brother, who wishes for her to marry someone else. But Jolenta and Contarino have a plan. This play is quite interesting in that it has no central clown figure, however the comic relief is provided by a series of minor characters throughout. This play saw John Webster "reverse his anarchic position" according to critics.
Gone But Not Forgotten
Now unfortunately, many of John Webster's plays were lost or never even printed. Who knows why. But that means we have no idea what else we could have had. These are the plays we know of.
Caesars Fall

Christmas Comes but Once a Year
He also collaborated on many works that did survive the test and sands of time such as.
Westward Ho

Northward Ho

The Malcontent

Anything For a Quiet Life

A Cure For a Cuckold

Keep the Widow Waking

The Fair Maid of the Inn
Conclusion
While there isn't much we know of John Webster or his works, what we have is more than enough. His sometimes forgotten works are truly remarkable and it goes without saying that he certainly earned his seat at the big kid table, long with Shakespeare, Marlow, Behn, Johnson and their compatriots.