The Dilemma
What on earth can an actor do to make money? Certainly not acting. Too negative? Well look what you're currently reading. If you were merely befuddled by the title and are struggling to decide which are the 'good acting jobs' to take out of the many offers you're receiving, I dislike you greatly and ask you to leave the site promptly. You clearly don't need us! This is 'good jobs for actors' who can't get good jobs acting.
Aside from the very select few who manage to remain in consistent acting work, or who manage to stay in consistent parental dependency mode, we all have to work at some stage in our careers.
The dilemma is how to balance having enough money to eat and pay the rent and at the same time maintain a level or freedom and flexibility so that you can audition and work as an actor – if that goal is ever achieved. It is also essential to have a job that doesn't stifle your creativity and make you miserable.
So here are some ideas for jobs, or ways of making money as an actor.
Writing
Writing is a fantastic job for an actor, especially if you can work freelance. You can, to an extent, choose your hours and work as much or as little as you like. The only real limit is your ability, proactivity and connections. There are websites where you can bid for writing work, but it can take time to establish a reputation. However, if you crack this, it's really the perfect job and the best perk is that you can write yourself into your own plays, films and TV shows. Difficult perhaps, but worth the effort.
Reader for a Casting Director
This is arguably the best job for an actor. Basically you read opposite actors that are screen testing. You get to see acting all day and learn from other actors. You also have an opportunity to meet and spend time with a casting director and practice acting yourself. The only downside is simply lack of work. It is also more or less out of your hands getting this job, but take it if it comes. It can also be inconsistent and often you are given very short notice, but you're an actor, so you should be used to those two things.
Photography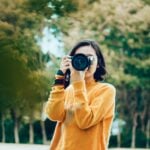 If you are a photographer or have skills in photography, go for it. This is another excellent job. It's flexible and when you get work it is typically well paid. The issue is that to get steady flow of work you have to put in a lot of ongoing business development, or sales. It can also be an arduous process establishing a reputation. It can be difficult balancing two passions and if you begin to see any real success you may let go of the acting altogether.
Teaching
I am currently teaching acting and have taught a number of kids camps before. Camps are great. They are paid well and lots of fun. Ongoing teaching can also be great, but it depends heavily on the kids and the company you are working for. If you are working for a well-managed company and have a great bunch of kids or teenagers that are passionate and well behaved, it is fantastic and again it is usually paid very well.
Personal Trainer
This is another great job for an actor. It offers flexible hours and you are interacting with people and working with your body everyday. Usually it requires you to do a quite expensive course and it is again quite competitive, however, if you can get into it, fantastic!
Driving for Uber
Driving for Uber can be a great way to make money as an actor. The best part about Uber is that you can choose when you work. If you have a big audition coming up, you won't have to swap shifts or ask for time off. Just don't turn on the app. If you are thinking about driving for Uber, sign up using the StageMilk promo code: HAB9W. There isn't always a promotion on but occasionally Uber will give you anywhere between $100 – $1000 for completing your first 20 trips. Heck, it's worth signing up just for the bonus!
Web Design/Graphic Design
If you are computer-savvy I recommend pursuing web and graphic design. These sorts of jobs can offer great cash and are often quite flexible. Just watch the old curvature of the spine from sitting at a desk too long.
Promotional Work
Promotional work is typically paid very well, which is great. It can also be a lot of fun, depending on the campaign you are working on. The main problem is lack of work and inconsistency. However if you can sign up to a company it is a great way to help supplement your income. Usually they send around group texts or emails and you simply respond to jobs that interest you. Some acting agents don't like their clients doing promotional work, as they are getting their faces out there for the wrong reason, but check with your agent and if they don't have an issue, go ahead.
Usher
A lot of actors work as ushers. Firstly it is usually fairly consistent and flexible, especially if you have other colleges that are actors or other creatives. You also get to see a lot of shows, depending on where you work. This for me sounds like hell, as sitting through even the best piece of theatre 20 plus times would be a serious struggle. However, if you can try to learn from each performance you can arguably get a lot out of it. Some people think it isn't great to work as an usher at a theatre you really want to be acting at, but I don't really see a big issue with it.
Telemarketing
I know a lot of actors that work as telemarketers. It is paid quite well and you are interacting with people all day, which actors tend to prefer in a job. It is fairly monotonous and you need to check how flexible the company will be about auditions.
Bartender
Bartending is great in that it is at night. This means you are free in the days to do as you please and also to do auditions when they come along. Constant late nights and dealing with drunks can be tiring, but if you enjoy it, it pays quite well and might be worth pursuing.
Retail
The main issue with retail is the flexibility issue. Unless your boss is a really cool cat it's often not great for skipping shifts. If you like interacting with people and can find a shop that sells something you are passionate about it may just be the job for you. I would let them know you are an actor early on.
Barista or Hospitality
At the end of the day 90% of actors are in this category and are desperately trying to scramble out of it, reading articles like this. Hospitality is really not great, unless you can find a great little cafe where the owners are flexible and not cheapskates. It is good to meet people and can be fun for a period, but I recommend rereading this article…
So get out there!
There is no simple solution to this dilemma. My advice is that combining is good. I think it is essential to remain creatively free, so find a way to earn enough to survive that frees up as much time as possible. Make sure you continue to hone your craft when you aren't acting. If you have a passion like web design or photography, pursue it, as these skills will be invaluable as you continue your career as an actor.
Whatever you do don't get stuck in a job that destroys your soul and is all-consuming. Your focus is being an actor. Remember that!