The Dilemma
What on earth can an actor do to make money? Certainly not acting. Too negative? Well: look what you're currently reading. If you were merely befuddled by the title and are struggling to decide which are the 'good acting jobs' to take out of the many offers you're receiving, I dislike you greatly and ask you to leave the site promptly. You clearly don't need us! This is 'good jobs for actors' who are currently between Hamlet and Hedda Gabler.
Aside from the very select few who manage to remain in consistent acting work, or who manage to stay in consistent parental dependency mode, we all have to work at some stage in our careers.
The dilemma is how to balance having enough money to eat and pay the rent and at the same time maintain a level or freedom and flexibility so that you can audition and work as an actor—if that goal is ever achieved. It is also essential to have a job that doesn't stifle your creativity and make you miserable.
So here are some ideas for jobs, or ways of making money as an actor.
Article updated May 17 2022
"Survival" Job
Before we get into our list, let's take a moment to interrogate the term "survival job". It's a popular, semi-affectionate phrase for those side hustles that pay the rent: sometimes pleasant, sometimes soul-crushing, always important. Just remember that having a survival job is an important part of most actors' lives—everybody's worked one at some point, and most have worked more than one on their way to fame/fortune/financial stability.
Making money through an avenue other than your craft does not mean you're less of a "legitimate actor" (whatever the hell that means). To most people in the industry, it's a sign that you've got a good work ethic and are unafraid of doing whatever it takes to pursue your goals. Power to you!
Best Survival Jobs And Side Hustles For Actors
Voice Over Work
This first one's practically an acting job. In a post-COVID world, more actors than ever are set up to deliver professional-grade self-tape and voice over material from makeshift home-studios. Plenty of actors are making a healthy wage gigging on sites like Fiverr, where they can connect with small, medium and independent business looking for voice-related content. It might not be glamorous—it might not even make it onto your reel. But it's a great side hustle where you can call the shots in terms of workload and schedule.
For more info on voice-over:
Writing
Writing is a fantastic job for an actor, especially if you can work freelance. You can, to an extent, choose your hours and work as much or as little as you like. The only real limit is your ability, proactivity and connections. There are websites where you can bid for writing work, but it can take time to establish a reputation. However, if you crack this, it's really the perfect job and the best perk is that you can write yourself into your own plays, films and TV shows. Difficult, perhaps, but worth the effort.
For more info on writing:
Working In Film/Television Production
Working as a runner, production assistant or even being a producer can be a highly lucrative gig when you're not acting. The demand for your time and energy is absolute while on a production, but it's engaging work that can set you up financially for weeks—if not months—after a single gig. Just don't walk on set expecting to be 'discovered': you're there to do a job as part of a team and there are other, more legitimate ways to get in front of the camera.
Reader for a Casting Director
This is arguably the best job for an actor. Basically, you read opposite actors that are screen testing. You get to see acting all day and learn from other actors. You also have an opportunity to meet and spend time with a casting director and practice acting yourself. However, it is also more or less out of your hands whether or not you get this job. It can be inconsistent and often you are given very short notice. But it's extremely fulfilling; and, as an actor, you should be used to inconsistency and short notice anyway. Take it if it comes to you!
Photography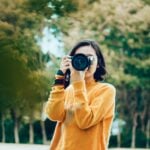 If you are a photographer, or have skills in photography, this is the perfect side hustle. It's flexible, and when you get work it is typically well-paid. There are opportunities as a set photographer, photographer at events and in doing your fellow actors' headshots. And that's just within your immediate industries. Just be aware that you need to invest your time and efforts to ensure a steady flow of work. But it's a great, creative career to pursue; you may even find yourself enjoying it more than acting!
Teaching
I am currently teaching acting, and have taught at a number of kids' camps before. (Camps are great. They pay well and are lots of fun.) Ongoing teaching jobs can be extremely beneficial, but it depends heavily on the students and the company you are working for. If you are working for a well-managed company and have a great bunch of students, it can be a rewarding and prosperous way to earn a living. It's also a chance for your to hone your own acting skills, as acting students (especially young people) will force you to articulate and stand by your own process. Most acting teaching work relates to children, but you might also find yourself teaching older actors as well.
For more info on teaching:
Personal Trainer
This is another great job for an actor. It offers flexible hours, and allows you to interact with interesting people and work with your body every day. It can be a little tough to get a foothold: it usually requires some expensive study and the field is quite competitive. But if you can get yourself established, it's a fantastic way to maintain your instrument and keep yourself fed all at once!
Yoga/Pilates Instructor
As an extension to the personal trainer role: a lot of actors supplement their income by teaching disciplines like yoga or Pilates. Demand for teachers in these fields is in high, and you can work either for yourself or at an established gym/studio. Some teachers can wrap up the day's work early in the morning/late in the evening, leaving them with ample time to pursue other work or acting goals.
Driving for Uber
Driving for Uber can be a great way to make money as an actor. The best part about Uber is that you can choose when you work. If you have a big audition coming up, you won't have to swap shifts or ask for time off. Just don't turn on the app! If you are thinking about driving for Uber, sign up using the StageMilk promo code: HAB9W. There isn't always a promotion, but on some occasions, Uber will give you anywhere between $100 – $1000 for completing your first 20 trips. Heck, it's worth signing up just for the bonus!
Web Design/Graphic Design
If you are computer-savvy, I would strongly recommend pursuing web and graphic design. These sorts of jobs can offer great cash and are often quite flexible—again, look to gig economy sites such as Fiverr. And given the relative ease of design platforms like Canva, you don't need years of college to knock out a quickie logo for a client! Just watch the old curvature of the spine from sitting at a desk too long.
Promotional Work
Promotional work is typically high-paying, which is great. It can also be a lot of fun, depending on the campaign you are working on. If you can sign up with a reputable company, they'll send around group texts or emails with opportunities, and you simply respond to jobs that interest you. Some acting agents don't like their clients doing promotional work, as they are getting their faces out there for the wrong reason; however, if you check with your agent and they give you their blessing, it's definitely worth a go!
Usher/Front of House Staff
A lot of actors work as ushers, or in related FOH positions. It is usually fairly consistent and flexible, and your colleagues are usually fellow actors or creatives. You also get to see a lot of shows, depending on where you work (although pray you don't need to sit through 100+ performances of Mamma Mia.) Depending on the show itself, you might also be able to learn something from watching the performance each night to use in your own craft.
Telemarketing
I know a lot of actors that work as telemarketers. While it tends to sit firmly at the "soul-crushing" end of the survival job spectrum, it usually pays very well. As an actor, you are able to use your 'empathy super powers' to interact with the people you call; for this reason, there are some call centres that like to hire actors if they can—and offer some flexibility around hours for audition opportunities.
Bartender
Bartending offers flexibility in your daytime hours. For this reason, it is coveted by actors who wish to keep their days free for classes/auditions/filming. Constant late nights can be tiring, but it pays well and offers some adventure. Or, at the very least, interesting stories about drunken customers…
So get out there!
There is no simple solution to this dilemma. A lot of it is hustle, and even more of it is good or bad luck. But my advice is to keep at it: keep looking for better opportunities, and think about combining one or more survival jobs if you can—even if it's just to save up for the times when you know your hours will be tight due to acting commitments.
It's essential to keep your priorities focused on acting. Make sure you continue to hone your craft between gigs, and keep your eyes peeled for chances to network, and further your goals. This isn't to say you shouldn't opt for stability in finance and life—this is probably exactly what you're trying to do by reading this article! But remember that you're an actor, first and foremost. No amount of side hustle will change that.
Good luck!