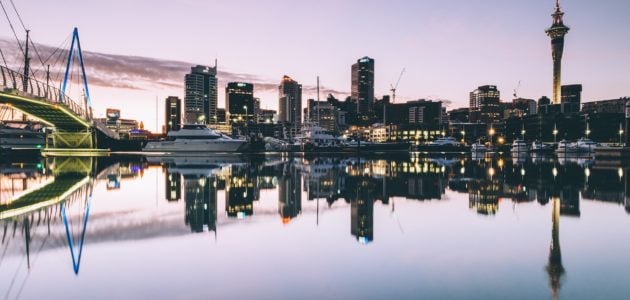 Top Drama Schools New Zealand
Whether you're considering crossing the ditch, or you call New Zealand home, we hope you'll find this list useful as you research exactly where you'd like to begin, or take the next step in your journey as an artist. As with many things, which drama school is best for you depends largely on just that: you, and what training you feel is right for you. With that being said we've compiled this list of incredible drama schools that we feel have something to offer everyone.
Toi Whakaari: New Zealand Drama School
When researching where to study in New Zealand, Toi Whakaari will most likely pop up time and time again. While everyone will gain something different from differing drama schools, Toi Whakaari is often referred to as New Zealand's most prestigious. They offer a three-year intensive course in acting all about developing you into what they call "A responsive actor". As an actor in training at Toi Whakaari, you will work across screen and live performance in class, studio and full productions. You will work solo, in an ensemble and in collaboration with other training artists across other disciplines in the Kura.
"Toi Whakaari's actor training is built around the concept of Tūrangawaewae – developing your unique place to stand as an actor and artist."
First Year: Tūranga / Second Year: Raranga / Third Year: Waewae. For more information surrounding Tūrangawaewae, check out their website.
Toi Whakaari, is a bi-cultural drama school, what this means is Toi Whakaari acknowledges Te Tiriti o Waitangi: The Treaty of Waitangi as the foundation document of the country. To honour the Treaty, the School instils an awareness of the culture of Aotearoa in its diversity and history while initiating awareness of the school's responsibility for sharing and furthering Māori culture. Through the lens of a Treaty Partnership, the school will continue to explore and celebrate the theatre, dance, film and performing arts of other cultures and races of Aotearoa. The diverse origins of immigrants over the last 50 years enriches the intake of students and expands the studies and productions within the school. 
Course Length: 3 Years
Location: Wellington/Te Whanganui-a-Tara
NASDA: Ara, Institute of Canterbury
One school, you may not come across as easily, is NASDA at Ara, Institute of Canterbury. While this isn't strictly an acting course per se, we thought it deserved a mention, particularly if you are interested in Music Theatre. NASDA offers a three year Bachelor of Performing Arts in Music Theatre. Your first year here is all about foundation and learning the key theatre disciplines you need to branch into any arm of the performing arts. In your second year, however, you begin to define your own pathway, choosing whether to specialise in MT or more broadly into the performing arts. Finally, the third year at NASDA is mostly practical, assessments are made up mostly of performances in practice that allow you to refine what you've learned into your process.
Course Length: 3 Years
Location: Christchurch/Ōtautahi
Victoria University of Wellington
Victoria University of Wellington has a learn by doing approach. In this three year BA you will have a holistic training ranging from acting all the way to production design. This school is ranked in the top 1% worldwide.  
"Learn how to express yourself through telling stories. You'll be encouraged to experiment and build your self-reliance and resourcefulness—and the emphasis on teamwork, collaboration and leadership will build your communication and people skills."
Their staff work in the industry both domestically and internationally as directors, playwrights, and designers. They also believe that research and teaching go hand in hand, so students will often collaborate with their mentors on projects. Whatever path you choose to take we think this school will develop you as a well rounded, holistic performing artist.
Course Length: 3 Years
Location: Wellington/Te Whanganui-a-Tara
The University of Auckland
The University of Auckland's Bachelor of Arts in Drama, like many theatre studies, is based on text, and what can be given and received from it. Their BA program offers everything a regular BA would however as you go through your training you can choose exactly what path you take. This can take you into acting, writing or directing. Should you choose to focus on Acting, your studies will culminate in a full-scale production at the end of the course.
They also offer a postgraduate course in Drama which focuses more on the theory and academic research of Drama and can lead you down a number of study paths such devising, dramaturgy all the way to theatre on screen. Check out their website to see the full range of studies on offer.
Course Length: 3 Years
Location: Auckland/Tāmaki Makaurau
The University of Waikato
The University of Waikato's Theatre Studies course takes place at the Gallagher Academy of Performing Arts. They have a hands-on approach to actor training with an undercurrent of critical theory. They're armed with a number of different theatres and performance spaces which you would spend the predominant time of your training in.
One of the central themes of their training is their focus on the performing arts as the living, breathing, evolving creature that it is.
Course Length: 3 Years
Location: Hamilton/Kirikiriroa
The University of Otago
The University of Otago operates relatively similar to any other acting course, however, there are certain things that make it just a little bit different. You will study acting and theatre studies, and devising; from Shakespeare to DADA. However, the difference is at Otago your course load is somewhat hands-off. "How can that be a good thing?" I hear you ask. Well, what Otago lacks in hours on the floor it makes up for in a thriving extra-curricular theatre community within the university. So really your own acting training is in your hands. Of course, you aren't credited for what you do outside of class but that doesn't matter because you are learning, learning, learning through application, failure, and success. But don't just take my word for it, take it from someone who went through the course: Alumni, Andrew William Coshan:
"But at Otago university, you have far more time off between classes. There is a thriving extra-curricular theatre world attached to the uni. You don't get credit for any of it, but there is so much to do and to be in and to audition for. So you can be lazy and do none of that and still get your degree, or you can immerse yourself in it and you'll come out a far better and more experienced actor. It gives you room to do more if you're hungry and rewards you for that in skills and experience rather than university credits." – Andre William Coshan (A View from the Bridge MTC, Hamlet ASC, Merrily We Roll Along TPC)
I think Andrew puts it pretty nicely, don't you?
Location: Otago/Ōtākou
Course Length: 3 Years
Conclusion
So hopefully this list will help you to narrow down where you might like to train. Again, as Andrew put it so eloquently, when it comes to Performing Arts training you really only get out what you put in, and the place you'll get the most out of is the one that's right for you. For more information on any of these courses check out their websites!