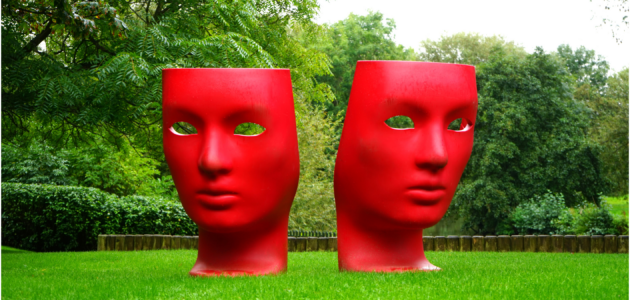 Have you ever been making faces at yourself in the bathroom mirror and suddenly your face contorts into a shape that you've never seen before, and it's so extreme that you hardly recognise yourself for a few moments? If you haven't, there's your homework for this week: see if you can freak yourself out by pulling funny faces. If you have, you've already (perhaps unknowingly) tapped into the essence of mask for actors.
Mask for actors primarily functions as a tool for developing characters. Masks used for performance can mimic popular archetypes that encourage a very specific way of moving and vocalising or they can be completely neutral, serving as a foundation upon which to build an entirely new character.
In this article, I'll talk about the historical significance of masks for actors in performance, then look more deeply into specific kinds of masks and their application in a training and performance environment. Whether you've had formal training or not, mask for actors can be an invaluable addition to your actor's toolkit!
A Brief History
Masks have been around for at least 9,000 years. They have been used in many different cultures for a variety of reasons including protection, ceremony and performance. There is a huge range of masks used specifically for performance from all over the world with characters and applications unique to the culture.
I recently returned from Bali where I was fortunate enough to live and train with Balinese artists. I learned about many traditional art forms, including Balinese mask. Balinese masks are exceptionally transformative and are generally paired with traditional dance or movement to tell stories or entertain audiences.
You might already be familiar with the theatre masks of Ancient Greece, which were used to transform actors into any gender, creature or deity they desired. What you may not know is that masks were also a way of amplifying a performer's natural voice. The Greeks knew certainly knew a thing or two about performing, so it's no surprise that mask has remained a popular training tool for actors throughout history.
The Evolution of Mask in Acting
When you think of acting, what kind of images come to mind? Could it perhaps be a pair of masks? Is one smiling and the other one frowning? I knew it. 
These two famous masks were invented a very long time ago by the Athenians who popularized theatre and mask-use all across central Europe. The masks were initially used in performances that celebrated the gods—especially fan favourite Dionysus, the god of fertility, wine and theatre. As the masks became popularised in Europe, their use extended to religious ceremonies, including funerals where professional actors would wear masks and re-create the deeds of the deceased (which is exactly how I want my funeral to go.)
Masks evolved over time and became more specialised for performance. Japanese Noh theatre came about in the 14th Century and is still performed today, using a staggering 450 different models of mask for various roles.
Fast forward to the Renaissance. Everyone from the royals to the commoners were using masks in one way or another. Masquerade emerged around this time and is still used today as a party theme by unimaginative people. The roots of ballet and clowning come from artforms then known as ballet de cour and commedia dell'arte, with masks being integral to both. 
In modern times, masks are more intricate than ever and are in use on the stage and the screen. Think of all the films that use practical effects like Alien, Predator, Friday the 13th and just about every horror movie ever that have actors sitting in chairs for six hours getting a prosthetic face put on. It all comes from the roots of mask.
Full and Partial Mask
Broadly speaking, there are two kinds of mask when it comes to acting for stage or screen: full and partial mask. Full masks cover the whole face, creating a very specific kind of character, whereas partial masks might reveal the mouth and eyes, allowing a more open interpretation. 
Full mask coaxes the body into weird, wonderful and highly exaggerated shapes. It's very difficult to speak articulately with your lips pressed up against a full mask, which is perhaps why many traditional practices don't allow speaking (Balinese Mask, Larval Mask, Neutral Mask.) Full mask forces you to communicate exclusively with your body.
Partial mask is a little less restrictive, and has quite a profound effect on the voice as well as the body. In many partial mask performance traditions, you are usually expected to vocalise which is why these masks are typically used in comedic performances so that actors can have an audible dialogue with each other or the audience. These masks can stretch an actor's voice into incredible places.
The most fascinating thing about both of these mask-types is the transformative potential they have. It's very difficult to put on a well-made mask and still behave exactly like you normally do.
The Energy of Mask
When I was studying mask in drama school (and more recently in Bali) I noticed some interesting phenomena that occurred every time I put on a mask. 
The first was that I felt safer in the mask. Every actor I know has some level of anxiety when they get up to perform, and I'm no exception. Whether I'm in the wings at a show or sitting on a plastic chair in an audition waiting room, my heart-rate goes up and my stomach floods with butterflies, no matter how many times I do it.
Putting on a mask seems to alleviate this. Not completely, mind you, but definitely a significant amount. I don't have any scientific reasoning for why this happens, but my personal theory is that wearing a mask gives me total permission to be someone or something else. Suddenly, I'm not myself: so therefore I can't get self-conscious. Weird, right? 
The second thing that happens is that the mask itself shows me how it wants to play.  I don't need to invent or intellectualise anything because it's already there in the shape of the mask's nose and eyes and the energy that it exudes. In Bali, before we wore the mask we were working with, we would hold it up and look at it, imagining that it was looking straight back at us. As we stared lovingly into each others' eyes, my posture and my expression started to shift and I started to imagine what the mask would sound like if it had a voice. This all happened really quickly. Before I knew it, I had a fully embodied character to play with.
The Applications of Mask
Perhaps the most obvious benefits of training in different kinds of masks are the physical ones. Much like animal work, they help you to create shapes and sensations in your body that you aren't typically used to. This is hugely beneficial for any kind of acting: stage, screen, even voiceover. Mask encourages a boldness of expression that few other methodologies can.
The practice also introduces you to a variety of different archetypes, depending on the mask. It might be tempting to dismiss archetypes as uninspired cliches, but I believe they are a great starting point for character generation. Cliches and archetypes and stereotypes are the way that we paint broad strokes as actors. You can't create detail without them.
After a particularly fulfilling mask class, I approached my tutor and told her that I felt so much freer and embodied when I'm wearing a mask. She replied: "All acting is a mask." It's advice that I will hold and pass on to others for the rest of my life. Regardless of whether or not we are wearing a physical mask, we are always someone or something else when we act.
The beauty of this philosophy is that it gives you full permission to be someone other than yourself. You can put on a mask when you're ready to play and take it off when you're finished. It doesn't need to come with you into your day-to-day life.
Conclusion
Mask has been around for thousands of years. It continues to serve as one of the most transformative performance practices in the world. Even if you don't own a mask, next time you're making faces at yourself in the mirror, imagine that you're creating one for yourself and see what kind of characters you can come up with.
When you find one that really shocks you, explore their voice and their posture and remind yourself that this is the essence of a practice that has informed theatre and acting as we know it today. Experiment. Play. Have fun!
See you around the traps!