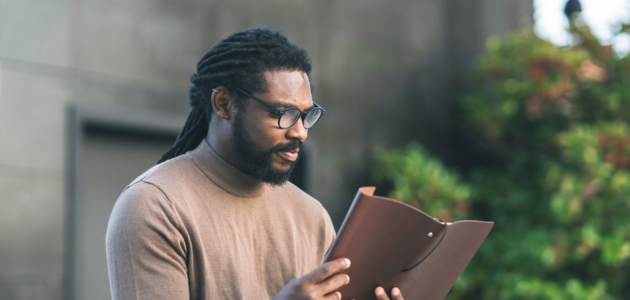 Why You Don't Need to Go to Drama School
Drama school can feel like an essential part of becoming a successful actor. For this reason, a lot of people, like me, spend years auditioning under this assumption. However, this is only one path on your acting journey, and it shouldn't be treated like the be-all-and-end-all.
You don't need to go to drama school to have a career in the arts. It can be beneficial, and provide a strong network and pathway for your future, but it is only one option. Furthermore, there are several political and economic factors to consider about drama school that might not be readily apparent. Before you make any decisions, grant yourself the advantage of some unbiased information.
An important disclaimer before we jump in: this isn't an article written to undermine drama schools, or the formal training system. It's more a chance for me to give you a few pointers (from personal experience) so that your decision-making around jumping into the drama school audition process is as rounded as possible. Let's jump in!
NOTE: this is an opinion piece from one of our guest writers Frazer Shepherdson.
What We've Been Taught
This article was bound to get political at some point, so I might as well start right now. The general pathway we're taught to follow in life looks something like this: go to school → get qualified → get a job. It's important to realise that we're taught this because it's good for business. All of the time we devote to getting a career and working in one helps keep the money flowing and, whether you like it or not, money is what makes our world go around. 
I think the reason for a lot of aspiring actors being convinced that drama school is the only way to become successful is because of the way the modern world programs us. You need some kind of qualification if you want a good career, so go spend lots of money on that and then you can be successful and work for 40 years (so you can retire and spend the last 20 or so years of your life gardening and going on Mediterranean cruises.)
Acting or not, it doesn't take much to step back, look at this model and realise that it isn't the only way of doing things. A performing arts career, and many other great careers, are often dismissed as pipe dreams because they aren't perceived as being important by society. You only have to look at the insane cuts the arts suffer at the hands of the government bodies to figure out that they don't want people spending time on such an unpredictable career. And this is despite large contributions the entertainment industry makes to a country's GDP.
Acting Isn't Qualification-based
A successful career in the arts isn't dependant on any kind of qualification. What it ultimately comes down to is how much effort you're willing to put in behind the scenes. Most of that effort won't turn any kind of profit, at least initially. The golden rule of capitalism is productivity = profit, which is why we can feel disheartened and even lazy when our parents ask us whether or not we're being paid for that independent theatre show. It's what we've been taught.
We have to play the game by the rules we're given to some extent, but next time you're thinking about auditioning for drama school, ask yourself whether you genuinely want to train there or if you just feel like it's the right thing to do. Either answer is fine.
Drama School is (Mostly) Great
There are many reasons why drama school is great, and they're all compelling enough to make it worth your time. For the record, here at StageMilk we are huge fans of drama school and the formal training they offer to emerging actors. However, we're not doing our jobs if we don't give you all the options on offer. And there are some important illusions to dispel about conservatoire raining.
Most importantly, going to drama school won't guarantee success in the industry. It can give you something of a head-start in that it helps you build a network with other artists and industry professionals, but the hard truth is that many people I know who went to drama school are no longer actors. Success comes down to persistence above anything else, and three years in drama school doesn't guarantee you anything. 
As for the networking, which is the thing that even the most drama-school-cynical-person, would acknowledge is a benefit of formal training… you can get the easily get the same benefits from other courses or just through your own proactivity in the industry (doing shows, heading to opening nights, reaching out to local film makers etc.)
For more on Networking
An Australian Case Study
In Australia, the three largest, most well-known schools are WAAPA, NIDA and VCA. Every year they attract hopeful applicants from all over the world. Many years ago, each of these schools were independent organisations which meant they could dictate exactly how they were run and what they taught. Since then, mostly due to a lack of arts funding, they have had to attach themselves to a government-supported university – Edith Cowan, UNSW and University of Melbourne, respectively.
Now, each of these schools have to adhere to curriculum and policy set by the university. When I was studying at VCA, the curriculum and the faculty were chopped and changed so often that the pedagogy of the school became almost impossible to follow. There was hardly any consistency, and the quality of the training suffered greatly as a result.
Have their wider reputations suffered? Arguably, no: there is still a lot of prestige and covetous behaviour attached to these institutions. So while the quality of the teaching can't be guaranteed, the school actually continues to raise its profile (and, usually, its fees.) Don't be enchanted by the prestige of these schools, because once you get in you'll likely find that it melts away in an instant.
The important takeaway is that trusting a "prestigious" institution just purely based on the name (or the fact that Cate Blanchett went there) is not a reason to apply. You always have to research thoroughly before committing your time and money. 
You're Not Good Enough, but Come Back Next Year!
The first time I auditioned for drama school, I got a callback. The second time I auditioned, I got through to the final round. The third and fourth times … I was turned away at first round. The audition process for drama school is brutal and sometimes downright nonsensical. In fact, I think it's really quite sinister how these schools get away with stringing young people along year after year, insisting that it's a matter of life experience but that they should keep auditioning to see if they're ready next year. It is exhausting being on the receiving end of this rigmarole.
If you're feeling the sting of rejection from these schools and your confidence is starting to wane, maybe stop giving them the satisfaction. At least for a while. There are other ways you can forge ahead in the industry. Look at other universities with performing arts programs, look at reputable short courses. You can film yourself doing some scenes and monologues to post on your casting profiles and start chipping away at some small (but legitimate) gigs to start building your network.
Drama school auditions do not reflect your abilities or, more importantly, your potential. This career is what you make it and, even if you do spend three years being taught that you're not breathing correctly, you still have to back yourself when you get out into the real world like everyone else. 
Finally, the institutions you audition for will still be there. If you want to try again in a year or two, you still have that option. Just think of all the good you'll achieve between now and then, instead of waiting for what you've been sold on as the "correct path".
Final Thoughts
To summarise what has certainly been a somewhat indulgent and impassioned rant: drama school isn't everything. I want to be clear in saying that there are benefits to going to drama school. If you've read this and you still want to study in a conservatoire setting, chances are that you're pursuing it for the right reasons.
If you've been auditioning year in, year out with no luck, remember that the path of an actor is so winding and varied. There is no prescriptive trail to follow! If you've decided that drama school isn't for you, you've joined an enormous list of successful actors who didn't study conservatoire. Also, congratulations on avoiding a huge student debt. Now get out there and get to it!
See you around the traps.